Best Pole Hedge Trimmers (Extendable & Lightest)
Pole hedge trimmers should be lightweight and extendable with a seamless cutting capacity and a rotating head. WORX or Sun Joe offer some of the best products for hedge trimming.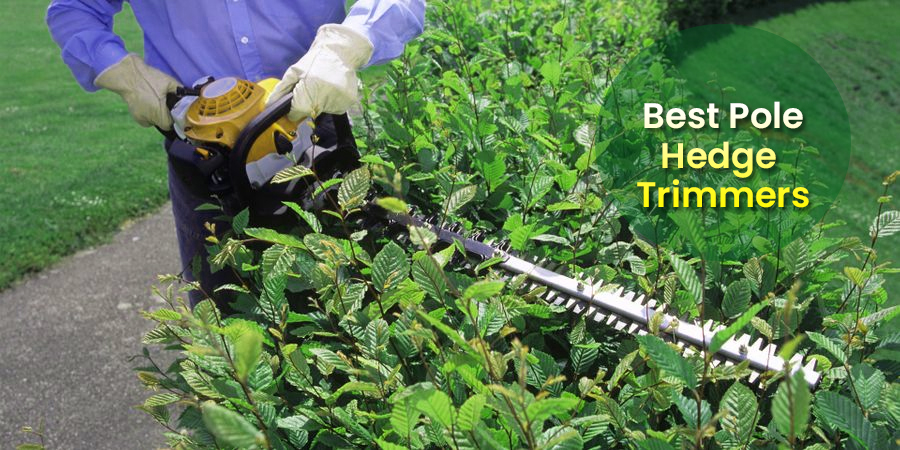 Anyone who has attempted pruning the tall hedges with a typical trimmer while simultaneously balancing on the ladder will know that not every tool in the garage is for the task you need them to.
So, if you have to reach inaccessible areas, you have two choices – buy the hedge trimmer or call a professional with the equipment.
In our view: The best pole hedge trimmer is the 20″ WORX 2-in-1 20V WG252.9 Cordless Pole Hedge Power Share Trimmer. It is lightweight. It has a 12-foot reach, dual-action cutting blades, a 10-position adjustable head, and a cordless and rotating rear handle.
With a pole hedge trimmer, over time and with practice, you can sweep across the hedges in even and nice strokes to achieve a beautiful and smoother finish. For older people, investing in a good pole hedge trimmer can make all the difference between doing a job yourself and paying to get it done. The result is obvious – a significant cash saving.
Self-Winding Retractable Garden Hose Reels To Invest In
What Is The Use Of A Pole Hedge Trimmer?
As is apparent from its name, a pole hedge trimmer is what it sounds like – a trimmer on the pole. Despite being so straightforward, the pole hedge trimmer can simplify your work around the yard because of the added reach.
So, instead of waving a regular trimmer and climbing a wobbly ladder as you simultaneously balance and try not to fall, you can easily do your trimming from the safety of the ground.
But if you still need a ladder, investing in one of the extended hedge trimmers can give you the reach to cut even the highest branches.
Top Rated Pole Hedge Trimmers
Below we will address some of the most popular hedge trimmers. So, you can read through them, and make an informed choice, depending on the trimmer that can best solve your purpose.
1. Best Cordless Pole Hedge Trimmer – 20″ WORX 2-in-1 20V WG252.9 Cordless Pole Hedge Power Share Trimmer
It is a two-in-one trimmer that lets you trim low on the ground and high in the trees. This hedge-trimming combination helps you reach every place in the yard. At 7.6 lbs, it is compact and lightweight. So, you can easily hold it for as long as you wish to. Moreover, its slim design makes it easier for you to maneuver around the leaves and branches.
Its battery powers more than 75+ 20V, 40V, and 80V garden, lifestyle, and power tools from the Power share family. Its telescopic pole can seamlessly attach sans any auxiliary device and expand to give you around 12 feet of reach. Further, you can collapse and store it easily when not in use.
This trimmer has an adjustable head. So, you can move it in ten different positions allowing you to reach even the most inaccessible branches effortlessly and trim your hedges at an angle you deem fit.
The rotating rear handle of the hedge trimmer lets you turn the whole tool onto the side by merely turning the handle to 180 degrees, meaning you won't have to contort your body to tackle the hedge sides.
What's not to love?
There are two issues with this pole hedge trimmer. One is its small teeth that can be a little too small for hedges thicker than ¼-inch.
2. Best Extendable Hedge Trimmer For Tall Large Bushes – 20" Electric Pole GARCARE Hedge Trimmer
It is a multi-faceted, long-reach hedge trimmer that comes with a retractable extension pole, which you can extend from 7.1 to 9.2 feet. The pole trimmer comes with a shoulder strap and a soft auxiliary handle that helps you work longer without any discomfort.
Engineered with a 4.8A motor, this hedge trimmer can yield solid power for a seamless trimming experience.
Further, the 20-inch 3/4-inch cutting capacity and the 20-inch dual-action laser cutting blade help you trim most hedges and bushes with almost nominal vibration. Its double switch helps with safe operation by ensuring double confirmation before the trimmer starts, allowing you to focus on trimming while balancing the tool with both hands.
Its rotating head allows you to move it in six angles, making trimming and cutting at multiple angles effortless. Further, the 10 meters long wire lets you reach every place sans any added extension. It also comes with a 12-month warranty. Also, if you do not like what you get, you return or exchange it at no cost within three months.
What's not to love?
It can feel a little heavy. So, balancing can be a little problematic when reaching and fully extended. Also, its holding strap is of subpar quality.
3. Best Budget Pick – 18" San Joe SJH901E Pole Hedge Telescoping Electric Trimmer
San Joe trimmer is made of rust-resistant, hardened steel that can last you for years and guarantee superior performance.
With good built quality, it is one of the best pole hedge trimmers for those seeking a pocket-friendly, electric, corded option. This easy-to-use trimmer offers an extra reach necessary to deal with even the most inaccessible branches in your yard.
One of the first things you will notice about this tool is the kind of extra reach it offers. Its telescoping handle can reach up to 7.4 feet, giving you an approximate height of little less than 13 feet.
Another likable factor of this trimmer is its adjusting pivoting head, designed to offer maximum flexibility in using this tool. It lets you switch the angle from -90° to +60°, allowing it to tackle all kinds of bushes, trees, and shrubs, even in the most awkward corners.
You will find it particularly beneficial to achieve a flat top for a tall bush. So, position it to a 90° and commence cutting from the ground without ever having to climb a ladder.
This trimmer has a 3.8amp motor and can easily cut anything over 0.7 inches in diameter. So, the cutting power you get with it is unmatchable. Its blade is another shining factor. Since it is 18 inches tall, you can use it for help in various jobs.
What's not to love?
It is heavy. Hence, you can experience arm fatigue as you work with it for longer hours. But, beyond that, it is easy to manage for every user. Further, its safety strap can feel useless or awkward in an overhead position. Other than that, it is a breeze to use.
4. Overall Best Pick – DCHT820B DEWALT Hedge Trimmer
It is the best pole hedge trimmer with a low-maintenance blade and a strong motor. The trimmer is durable and lightweight, allowing you to maneuver it effortlessly.
It has 22 inches-long edges, letting you cut branches up to 0.75 inches thick with a super-fast speed of 2800 stroker per minute. Further, its blade is pre-hardened and has hooked teeth.
Thus, it will not need frequent maintenance or dull as quickly as the other models. The tool depends on a 5.0Ah lithium-ion battery. However, you can buy it with or without the charger and battery.
Its anti-vibration technology, 7.5-pound weight, and effortless assembly make it one of the top picks.
What's not to love?
You do not get a sheath or a guard for the blade, which is a significant shortcoming in storage and safety.
5. Best Battery Operated – 20" Greenworks Cordless 40 V Pole Hedge Trimmer
It is battery-operated and one of the best cordless pole hedge trimmers with the same 40V battery as the other tools by the company. It is an emission-free trimmer that is quiet in its operation.
Since it is battery-powered, it implies that you have an unlimited range and do not have to worry about it getting entangled by a cord. With a single battery, you get almost 30 minutes of use. But if you need more, you can buy a spare battery for double the time.
The trimmer has a 20-inch dual-action steel blade that can effortlessly slice through the branches of approximately ⅝ inch. You can set its head in different positions, offering more control over what and how you cut. It is particularly beneficial if trimming in the most awkward corners.
It is a lightweight product. So, people can easily use it for long durations sans experiencing any fatigue. You can extend it for an additional 6.5 feet, making it perfect for taller branches that otherwise demand a ladder. One standout feature of this tool is its four-year and two-year battery warranty. It is more than what's offered by the competitors.
What's not to love?
Its shaft feels flimsy when fully extended but barely leads to any problems. In addition, its teeth can occasionally become jammed when working on solid branches, but you can clear them with some pressure.
6. Best Electric Pole Hedge Trimmer – 21" SJH902E Sun Joe Telescoping Pole Multi-Angle Electric Hedge Trimmer
It is a corded hedge trimmer that runs on a 4 Amp motor, powerful enough to trim bushes, shrubs, and hedges in the garden. The pole trimmer has a 21-inch trimming blade composed of hardened steel, offering it the required performance and durability.
Its dual-action edge assures superior performance, definitely better than a regular one. Further, the pole trimmer yields minimal vibration while trimming and can cut branches about 0.7 inches thick.
You can extend it up to 7.9 feet, giving you an overhead reach of around 13 feet, making it ideal for trimming tall hedges. Its multi-angle pivoting head can trim all sides of the hedge effortlessly.
At 8.8 pounds, it is a moderate-weighing tool. So, consider using it in short bursts while tackling the hedges to not tire yourself. It is an inexpensive product, so a good pick if you need something for occasional trimming.
However, if you have to trim a big garden, its power might not be adequate. Fortunately, it comes with a two-year warranty, which is a good plus during manufacturing defects.
What's not to love?
It is not a lightweight product, and its power is not suited for commercial use.
7. Best Lightest Pole Hedge Trimmer – 16" BEHT100 Electric BLACK+DECKER Hedge Trimmer
Everyone cannot handle a heavy trimmer. So, this beauty from Black+Decker can be a good pick if you need something easy to maneuver and lightweight. It weighs 4.2 pounds, and its lightweight and compact frame makes it easy to work with.
It offers flexibility, reduces fatigue, and does a brilliant job regardless of whether you wish to go low or reach high with the tool.
Despite its small frame, it is a good quality and beneficial trimmer packed with a 3.0 amp and a cord that guarantees prolonged use sans interruptions. You can use it for shrubs, branches, and small hedges. It is also a good, pocket-friendly pick.
The tool has sharp blades that let you cut through the branches effortlessly, courtesy of its dual-action design. It also produces minimal vibration, so there will be no numbing or pain in the wrist as you work with this Black+Decker trimmer.
What's not to love?
You have to buy the cord separately. A few customers reported that this device tends to overheat while in use. Also, its blades could be a little sharper.
How To Select The Best Extendable Hedge Trimmer?
We have discussed some of the best options for hedge trimmers. All good quality pole hedge trimmers have a few features in common. These are the features you need to keep in mind while making a selection.
A. Blade
Typically, the effectiveness of the trimmer boils down to the blade's sharpness and size. It determines what the trimmer can do. So, if your tool is small or average, you can work with a blade as small as 16 inches.
However, if you have slightly larger or average hedges, you will at least need an 18 inches blade. But a blade 20 inches or larger is mandatory for robust or larger hedges.
Beyond the blade length, you must also consider how far the teeth are when shopping for the trimmer. Tougher and larger hedges require teeth that are further apart to get the job done.
B. Power Source
It is another one of the most crucial things you need to put thought into when choosing the best pole hedge trimmer and you have three options to select from:
1. Battery-powered – They have similar advantages as the corded ones and are usually quiet and clean. Further, one of its biggest pros is your movement is not curtailed by a cord.
However, its primary disadvantage is that you can function only as long as the battery lasts. So, when the juice is over, you will have to stop to recharge. It is ideal for people who work away from a power source or do not like the cord dangling around.
2. Corded – These have surged in popularity in the last few years. They are cleaner than gas-powered trimmers and do not yield so much noise. Further, they can give tough competition to the gas trimmers in power.
Of course, the primary drawback of this trimmer is its cord, which limits the range. These are ideal for people who work where the power source is accessible.
3. Gas-powered – These traditional hedge trimmers offer maximum flexibility as you can take them anywhere. Power source does not limit you. So anytime the fuel exhausts, you can put more fuel in and continue working.
These are perfect for commercial-grade or heavy-duty work but are also suited for home gardening. However, they will be relatively more expensive and noisy and demand more maintenance than the other two listed above.
D. Choose The Best Long Reach Hedge Trimmer With Max Pole Extension Length
While some pole hedge trimmers extend, others do not, and some extend more than others. How much extension is ideal for you depends on how high your hedges are.
A good extension length is what you need to reach the top without needing a ladder if you have tall hedges. But, if you do not have very high hedges, you can opt for an average-length trimmer.
E. Weight
You should choose the lightest pole hedge trimmer, sans any compromise on reach, durability, efficiency, and power. A lightweight hedge trimmer can help you work effortlessly for long hours without getting tired or feeling arm fatigue.
F. Cut Capacity
It implies the branch's diameter that the trimmer can seamlessly cut. So, if you wish to undertake heavy-duty jobs, you must pick a tool with a larger capacity.
G. Rotating head
Most pole hedge trimmers we reviewed above have this feature. It is more crucial than you think when it comes to comfortable and efficient use. The rotating head lets you move the head to the desired angle and adds more flexibility to your work. It prevents fatigue and adds more perfection to the task.
H. Price
Whether you choose a cordless pole hedge trimmer or a corded one, high-performance and good-quality pole hedge trimmers will also have a higher price tag. We recommend shopping for a good quality tool, even if it costs a little extra. It will function well and last you a long.
However, if you wish to indulge in occasional trimming, you can opt for the budget variant to perform the task. Please note the gas-powered pole trimmers cost more than the battery-powered ones, and the battery-powered pole trimmers are costlier than the corded ones. So, choose accordingly.
I. Warranty
It is good to have a warranty. The longer the warranty, the safer you feel if anything goes wrong with the tool during the warranty window. So, always pick a hedge trimmer with a long warranty.
J. Noise
Some trimmers are louder than others. For instance, the gas-based models are louder than the portable or electric models. Having said that, most hedge trimmers are noisy. So, pick one that is easy on the ears, and always wear protective gear to shield your sensitive sense organ while working in the garden.
Related: Best Garden Tillers | Retractable Garden Hose Reels
Best Long Reach Hedge Trimmers – A Quick Recap
Ques 1. What is the best battery-powered pole hedge trimmer?
Ans. 20" Greenworks Cordless 40 V Pole Hedge Trimmer and Makita 18V LXT Hedge Trimmer XHU07 are the two best battery-powered pole hedge trimmers.
Ques 2. Who makes the best gas pole hedge trimmer?
Ans. Poulan Pro PR2322 Hedge Trimmer is the best gas pole hedge trimmer.
Ques 3. Which is the best cordless telescopic hedge trimmer?
Ans. 20″ WORX 2-in-1 20V WG252.9 Cordless Pole Hedge Power Share Trimmer is the best cordless telescopic hedge trimmer.
Ques 4. What is the longest reach pole hedge trimmer?
Ans. Some of the top rated pole hedge trimmers with the longest reach are:
Greenworks G40PSH Cordless 2-in-1 Pole Saw and Pole Hedge TrimmerVonHaus Cordless Telescopic Pole Hedge Trimmer
Ques 5. What should you wear when using your hedge trimmer?
Ans. You should follow these safety tips before using a hedge trimmer.
 
Wear long-sleeved shirts, long pants, ear protection, and eyewear when working with the hedge trimmer.
Ensure your body and hands do not come near the blades.
Never operate the trimmer over chest height.
Plan your cuts before executing them.
Work deliberately and slowly.
Take frequent breaks to avoid fatigue.
Store the trimmers away from the children's reach.
Do not leave the trimmer unattended in a household with pets and children.
Unplug or stop the engines before adjusting or cleaning.
Keep the cord of electric models away from the trimmer to avoid cutting or damaging it.
Why Trust Our Selection?
We have a vast team of gardening and landscape maintenance professionals. After thorough research, we shortlisted these products for our best pole hedge trimmers list. In our long journey in this field, we have had the chance to test a plethora of gardening tools, and we have hand-tested all the trimmers listed above. So, go ahead, and make your pick sans any second thoughts.