How Many Different Types Of Camellias Varieties Are There?
The mesmerising Camellia is available in 200+ species and 3000 hybrid varieties
Carol Yepes/ Masako Ishida/Teresa Kopec/Jackie Bale/gettyimages
The Queen of Winter flowers, Camellias, are dense shrubs renowned for their attractive foliage. Priced for their beauty, you can find several types of Camellias that offer long-blooming and bright flowers and mimic the specimen and popular foundation plants.
Their compact shapely habit and spectacular evergreen foliage only add to their likability. Camilla trees and shrubs belong to Theaceae, or the tea family, and can bring blooms to the gardens even during the harsh winter months. They are low-maintenance, and the only trick to growing them sans extensive effort is to plant them right.
You can find over two hundred true species and almost three thousand hybrid Camellias in various sizes, forms, and colors. Fortunately, it is not browsed by deer, making it a perfect pick for the outdoors in the South. Moreover, the plant loves the Southern climate and has an extended blooming season.
The Most Magnificent Camellias Varieties
A Close Look at Camellia
| | |
| --- | --- |
| Genus name | Theaceae |
| Plant type | Broadleaf evergreen shrub |
| Growth Rate | Slow |
| Light | Partial |
| Water | Two times a week for a total of one inch per week. |
| Soil | Well-drained soil with pH in the 6.0 to 6.5 range |
| Height | 2–12 ft. tall |
| Width | 2–10 ft. wide |
| Flower color | White, pink, red, yellow, or lavender |
| Zones | 7–9 (USDA); some varieties hardy in zone 6 |
| Propagation | By seeds or layering |
Different Types of Camellias
Camellias are slow growers and prodigiously blossom for weeks from spring to fall. Hence, most Camellia tree varieties are regarded as the best flowering shrubs. Not sure which Camellia to include in your garden? Continue reading to learn about the available types.
1. Camellia Sinensis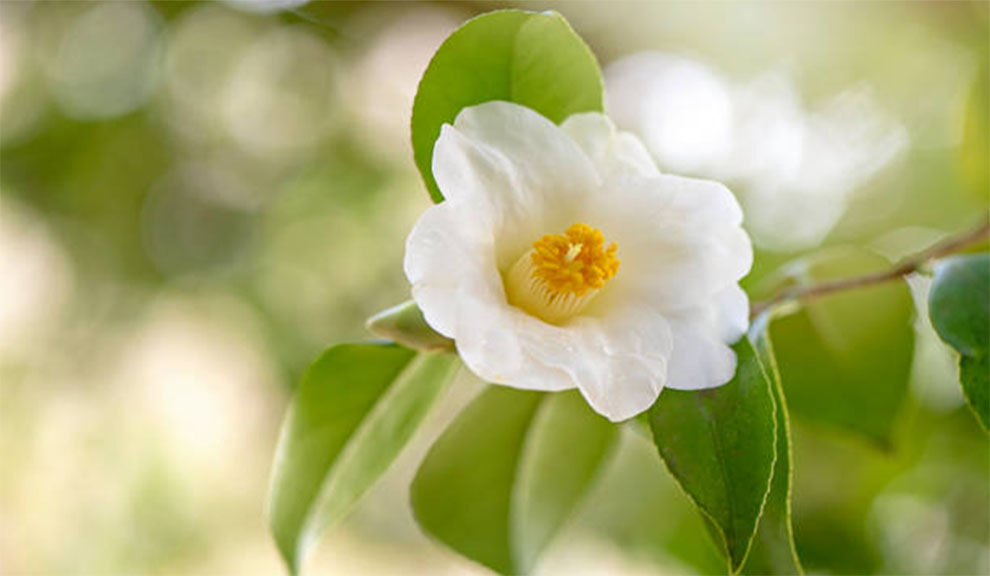 Jacky Parker Photography/gettyimages
 
Are you a tea drinker? If yes, this is the variety that may interest you. It is a tea shrub and grows leaves, which you can employ for oolong, black, green, and white tea. The plant takes about three years of growth for its shrub to complete maturation and tea leaf harvesting. It is one of the easy-to-care types of Camellias as the plant is hardy.
After the plant is three, you can harvest it regularly across the shrub's life which can be as long as five decades. Also, it can be a good pick if you need a flowering Camellia. You will see pink, white, small, and dainty flowers on the shrub. Usually, the plant grows between ten to fifteen feet.
2. Bonanza
Ivan/gettyimages
 
These are short kinds of Camellias and grow up to six feet in height with eight feet spread. It has a beautiful, four-inch wide flower with a golden stamen and is typically fluted, bright red. This Camellia sasanqua plant thrives in full sun, but you can also grow it in partial shade, provided its roots are moist and healthy. The plant yields a well-scented fall flower and looks spectacular in the large tubs and containers. You can also grow it in woodland gardens or any other garden.
3. April Bush
Rosemary Calvert/gettyimages
 
Also known as the April Bush, these are the most popular Camellia tree varieties. These usually thrive in colder temperatures. It is a slow-growing plant that typically grows between four to ten feet. These Camellias enjoy the partial shade and appreciate you protecting them from the wind when the weather gets harsh.
People grow them as hedges, and their flowers blossom from winter through spring. The plant has bluish-pink, ethereal flowers that stand out from its dark green leaves. You will find it in USDA hardiness zones six through nine.
4. Setsugekka Camellia
kouji okafuji/gettyimages
 
From its looks, you may perceive these Camellias varieties as the boutonniere made of tissue paper. However, it does not imply that the plant's white petals look cheap. Its stamen lies in the center and is typically yellow. Overall, the plant looks sophisticated in any garden where you plant it.
But, from the many different types of Camellias, it is one of the types you will find commonly growing along the walls or fences of the garden. Its dark green and bright white foliage are a sight to behold.
Moreover, its blooms have a scented fragrance that can captivate any visitor in proximity. The plant thrives in moisture. So, it enjoys a well-draining acidic soil. But similar to the other Camellias varieties, you might want to plant it in the shade as the warm sun may harm its foliage. The plant grows between eight and ten feet.
5. Anticipation or Camellia x williamsii
Hannares/gettyimages
 
Often, they look like carnations and have deep pink rose petals, which grow tall approximately fifteen feet. Hence, it is one of the taller Camellia tree varieties. It is also a winner of many international flower awards and has glossy, dark-green leaves that retain their color all year. The flowers usually bloom for four months, starting in October or March, depending on your geography.
6. C. japonica 'Australis'
imageBROKER/Erhard Nerger/gettyimages
 
It is one of the most popular red varieties. Such types of Camellias are widely accoladed. They have been lauded with the Award of Garden Merit from the Horticultural Society. It is a late bloomer, but when it does blossom, its beauty is unprecedented.
Usually, Australis grows around 12 feet tall and have 10 feet spread. In the flowering season, the plant covers itself with the peony form and bright rose-red blossoms. Like Setsugekka Camellia, even Australis has yellow stamens that peak out from the irregular and ruffled center petals, showing a warm but bright display. They act as excellent specimens.
7. Debbie
lidiagcizagrafics/gettyimages
 
Are you fond of bright pink petals and perfect pink blossoms? If yes, Debbie can be a good pick for you. These types of Camellias present a dramatic pop of color often contrasted with their glossy green foliage, lying right behind its flowers. It is also a Camellia x Williamsii hybrid with glossy leaves. It is cold-hardy. It is also one of the easiest-to-grow species as they have bred for dependability.
8. Bob Hope
Andrea Robinson/gettyimages
 
These are a Camellia Japonica variety and have bright, red, semi-double, large petals with a five-inch spread. It also has been lauded with several international flower awards. These kinds of Camellias grow up to eight feet and are usually a garden highlight, regardless of when it blooms. You can grow them in large containers or tubs, but do not forget to add a thick mulch layer at the root for better drainage.
9. Ballet in Pink
Za Pa/gettyimages
 
It is one of the varieties that is an all-around bloomer and is called Ballet in Pink because it blooms when The Nutcracker Suite, a Ballet, is performed by companies globally. During the flowering season, these Camellias varieties can easily outdo the others. Native to North Carolina, they grow up to eight to ten feet and have four to six feet spread.
The plant thrives in USDA hardiness seven through nine and enjoys an afternoon shade or morning sun. Its flowers are bright pink with yellow stamens, having ruffled inner petals.
10. Lavinia Maggie Camellia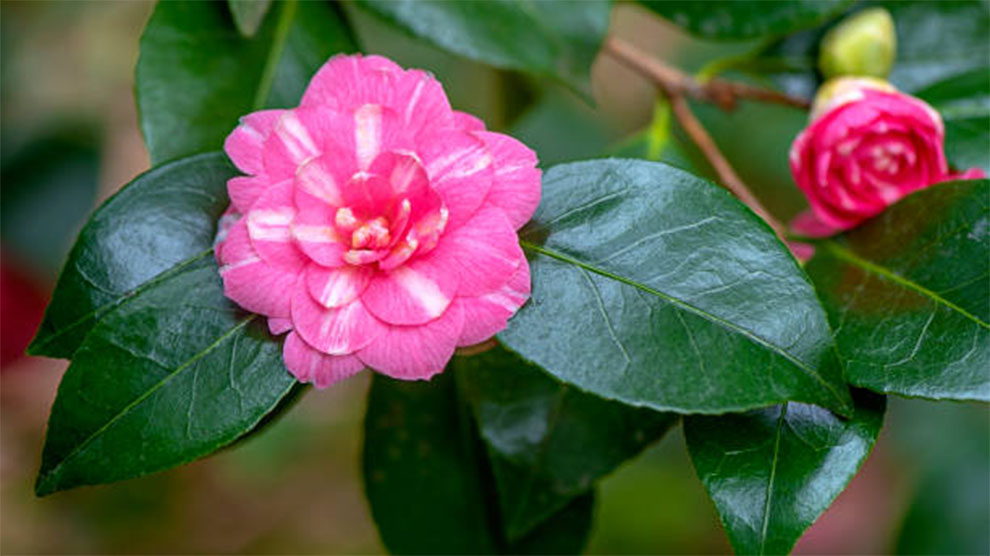 Jacky Parker Photography/gettyimages
 
It is one of the Camellia tree varieties with bewitching large flowers. Its healthy flower can have a five-inch spread and appears as rich pink marks on beautiful light pink flowers. Unfortunately, they have a relatively complex care system and are not as cold-resistant as others. Hence, be careful as you plant them. But, if you get it all right, these types of Camellias can grow to 10 feet.
11. Adolphe Audusson
Wirestock/istockphoto
 
It is a Japonica Camellia with blood-red, gold-eyed flowers. The plant has a semi-double form, which only adds to its appeal. You can grow them in a large pot or on your patio. It is a short four feet plant that produces a magnificent splash of color from Feb to April.
12. Spring Mist
Laura Stolfi/gettyimages
 
Spring Mist has semi-double blush pink, small flowers that usually have a two-inch spread. These kinds of Camellias' petals fade gradually to become completely white on the edges. Its nucleus has creamy filaments. Such varieties have a long blooming period in the Northern Hemisphere from early to mid-spring from October to March and in the Southern Hemisphere from March to August. Its glossy green leaves have bronze shades.
13. Carter's Sunburnt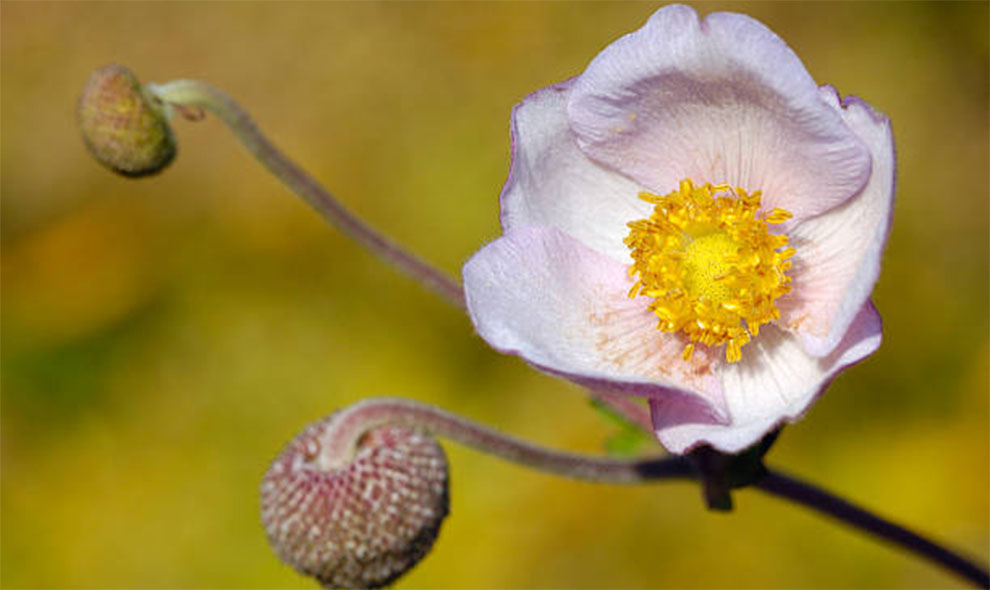 Matthias Hauser/gettyimages
 
We have seen the different types of Camellias above, and it is another one of the most delightful types of Camellia japonica. Again it has been facilitated with multiple international flower awards, courtesy of its beautiful looks, soft-pink petals adorned with lines, and specks of raspberry pink across every petal. Usually, the flower blooms for four months in the year, in April or November, depending on where you live. It is an excellent, bushy specimen plant that grows eight feet tall and has an equal spread.
14. Black Lace
photoraya/istockphoto
 
Native to Mississippi, USA, these Camellias varieties grow between six and ten feet with seven feet spread. Typical to USDA hardiness zones seven through nine, the plant loves dappled shade but can withstand more sun upon maturity. You can plant it in a location with well-drained, slightly acidic soil.
It is a popular Camellia Japonica, and contrary to its name, Black Lace is not black at all. The plant has velvety red, double-petal blooms adorning the plant from mid-winter through spring. It is a slow-growing plant that takes about a decade to mature and read six feet, but it can reach 10 feet in a relatively shorter span.
15. Drama Girl Camellia
imageBROKER/Justus de Cuveland/gettyimages
 
These are deep, large salmon-rose petals in softer pink shades. It is a small Camellia variety and grows about five inches wide. However, it does not self-prune. So, if you want to maintain its shape, you need to trim it timely. It is one of the distinctive types and is an excellent pick for tubs and pots. Drama Girl is also an evergreen variety that blooms with glossy foliage around the year.
Frequently Asked Questions
Ques 1. When does Camellia flower?
Ans. Typically, Camellia flowers bloom at an early age. However, some Camellias varieties do not flower until five years or older. If you wish to ensure that the purchased type is at its flowering age, buy one that already has a flower. Ideally, you will see most varieties flowering in winter and autumn. But, some varieties such as Camellia × williamsii and Camellia japonica cultivators, bloom in early spring and late winter.
Ques 2. Do Camellia plants need intense care?
Ans. One of the best things about Camellia care routine is that they require minimum maintenance, provided you have chosen the right spot for growing them. After you have found the right home for your preferred types of Camellias, you need to plant them. Please ensure that the location receives ample light and shade. You must shield your plant against the hot and harsh afternoon sun.
Ques 3. What is the difference between a Camellia sasanqua and a Camellia japonica?
Ans. Above, we have studied the different kinds of Camellias. So, you know Camellia sasanqua and Camellia japonica are both forms of Camellias. However, the two have varying qualities. Typically, when people think of Camellia, they are usually talking about japonica variety. These have larger flowers, which bloom in early spring and winter. On the flip side, the sasanqua has smaller flowers that blossom in the fall.
Ques 4. Which is the longest-blooming Camellia?
Ans. Camellia Betty Ridley is one of the longest-blooming Camellias varieties. They also maintain a lovely bush year-round. The blooms are abundant from early to mid-spring (November to April in the northern hemisphere and April to September in the southern hemisphere).
With this we have an understanding that Camellias are available in more than a hundred varieties. Stay tuned and keep exploring more on gardening with us.