Which Are The Different Types of Crepe Myrtles?
Understand the endless varieties of crepe myrtles on the basis of their size: Large, medium, small, and dwarf
Tsuneo Yamashita/Photos from Japan, Asia and othe of the world/Image Source/gettyimages
There are about fifty species of this evergreen and deciduous shrub that exist. Apart from that, there are many other cultivators, relatively similar in looks and features to each other, with different names. Given the extensiveness, no one can ever present a complete list of all the types of crepe myrtle trees.
You can know the science behind their existence only via gene testing. There exist several popular Crepe Myrtles in the nursery catalog or database. However, when looking for crepe myrtles in the landscape, you may not find quite many of them.
The bottom line is, new varieties will come every year, and older ones will vanish. But the list will keep evolving. Nonetheless, whether you spell it Crepe or Crape or go by its Latin name Lagerstroemia, all the crepe myrtle varieties are popular as versatile trees and shrubs.
They are the backbone plants, offering lush flowers in summer and an attractive winter color with intense shades of red, yellow, or orange.
Their beauty is unparalleled. So, if you wish to include them in your garden or backyard, you must know about the different kinds of it that will help you choose better.
 
Crepe Myrtle Overview
| | |
| --- | --- |
| Scientific name | Lagerstroemia indica |
| Plant type | Depending on the specie, it can be evergreen and deciduous |
| Hardiness Zone | Zones 7-10, but some varieties work in Zone 6 too |
| Soil | Average, medium moisture, well-drained, acidic to slightly acidic soil ranging from 5.0 to 6.5 on the pH scale. |
| Sun | Full sun |
| Water | Two to three gallons of water per inch of trunk diameter |
| Mature size range | 6-25 ft. tall, 6-20 ft. wide |
| Crepe Myrtle blooming season | July-September |
| Flower color | Red, lavender, pink, white |
Different Types of Crepe Myrtles by Height and Size
About fifty wild species of crepe myrtle grow in warm regions from India and Asia to the islands in the Pacific Ocean and Northern Australia. The varieties also include members of the Lythraceae plant family that comprises the flowering trees called 'loosestrife' and the Pomegranate Trees that grow wild in damp regions across America.
Even though there exist over fifty crepe myrtle types, only a few of them thrive in gardens or are used to cultivate the modern forms we grow today. Crepe myrtles are fast growing plants.
The wild crepe myrtles grow in tropical or warm regions as trees or shrubs and are found in the forests amongst the taller trees, on the edges of woody areas, or in sunny clearings. Some types of crepe myrtle trees yield lumber for making furniture or railway sleepers.
They play a pivotal role in natural forest ecology in the forests, providing food for the insects, and one Indian specie also finds use in producing the Tussah silk.
In the section below, we will discuss about crepe myrtles, classifying them as dwarf 10 feet or less in height, small, 11 to 20 feet in height, medium, 21 to 30 feet in height, and large, over 30 feet in height. It is an inclusive list. So, several varieties you think are popular might still not be mentioned here.
All things aside, let us discuss our chosen fifteen crepe myrtle varieties.
Category 1 – Large Varieties
We will cover some popular varieties over 30 feet in height in this category.
| | | | |
| --- | --- | --- | --- |
| Name | Flower | Height | Hybrid |
| Fauriei species | White | 35 to 50 ft | No |
| Natchez | White | 35 ft | Yes |
| Muskogee | Lt. Lavender | 35 ft | Yes |
| Fantasy | White | 35 ft | No |
1. Fauriei species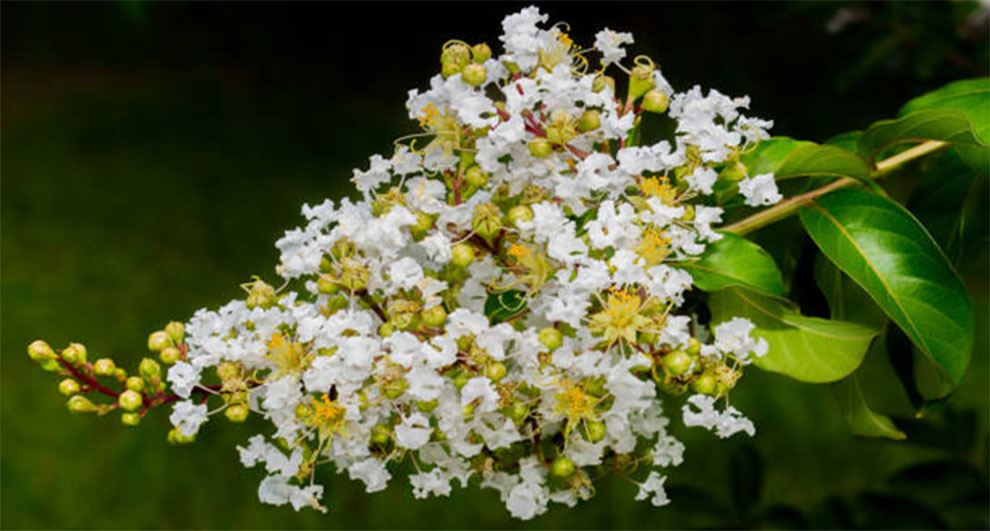 Chase D'animulls/istockphoto
 
It is a rare sedge species, popular by its common name, Alpine Flat sedge. These crepe myrtle trees are listed as endangered in the United States and are endemic to Hawaii, where it grows in the islands of Hawaii and Molokai. Fauriei grows broad-upright between 10 to 50 cm, with a solitary stem or a cluster of stems together.
It has a cinnamon trunk and yields a cluster of flowers with three to five bracts at the base, the lowest one measuring about 20 cm long. Each cluster has a few spikes that are composed of spikelets.
2. Natchez
NancyAyumi/gettyimages
 
It is one of the fast-growing crepe myrtles that grows between three and five feet per year. Natchez is one of the low-maintenance white crepe myrtle varieties and can thrive in different climatic conditions. Regardless of the harsh weather, the plant will still explode beautiful white blooms against its deep green canopies.
The tree also has an unusual cinnamon bark coloring on the stems and trunk with its sleek, smooth, and distinctive texture. Its color gives the yard winter interest with brightness, which is absent in most other trees during the cold season.
3. Muskogee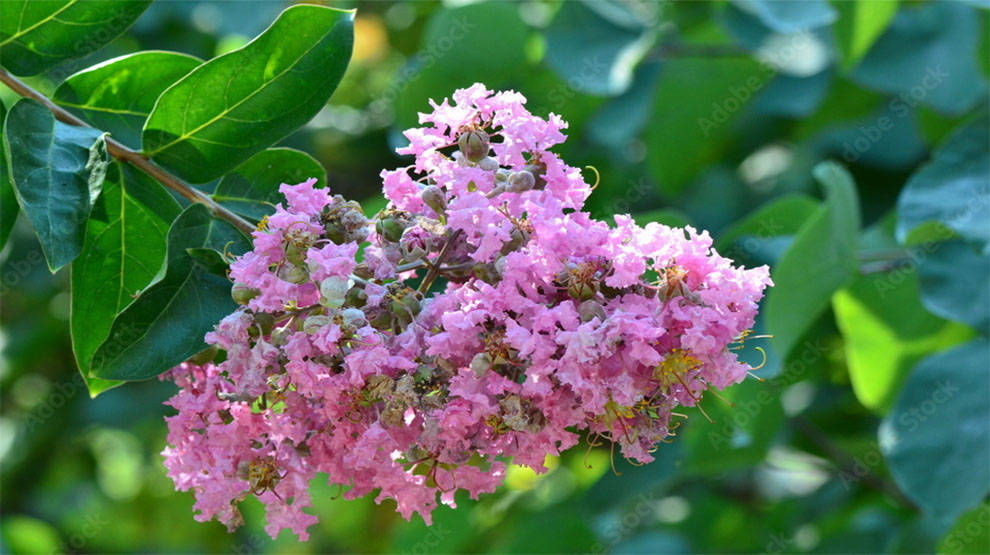 0meer/stock.adobe
 
Regardless of the size of your yard, Muskogee crepe myrtle species will most definitely work for you. Even though it is a tall plant, its compact size can cater to your needs. Its lavender, vibrant blooms can complement every house and accentuate the look of every landscape.
It is one of the only trees to bloom lavender, bright flowers, and you can use these crepe myrtles as specimen trees and bordering driveways. Its bloom time is 120 days, longer than most types of crepe myrtle trees.
4. Fantasy
Westend61/gettyimages
 
It is a fast-growing, flowering shade tree with beautiful white summer flowers and attractive cinnamon-brown bark. Moderately salt tolerant, Fantasy Crepe Myrtle is one of the most vigorous varieties. The plant thrives in well-drained soil and is a medium deciduous variety with upright branches.
It has deep-green foliage that changes its color to orange or golden in autumn, with large panicles of white flowers for a substantial period during summer. Its cinnamon-brown bark exfoliates to crème, making it one of the ornamental crepe myrtle varieties.
Category 2 – Medium Sized
Here, we will cover a few popular varieties between twenty-one and thirty feet in height.
| | | | |
| --- | --- | --- | --- |
| Name | Flower | Height | Hybrid |
| Choctaw | Clear Pink | 27 ft | Yes |
| Miami | Dark Pink | 25 ft | Yes |
| Tuscarora | Dark Coral Pink | 23 ft | Yes |
| Biloxi | Pale Pink | 27 ft | Yes |
1. Choctaw
Sino Images/gettyimages
 
It is a beautiful ornamental small tree or shrub that yields beautiful punk frilly blooms in summer and attractive, bronze-maroon foliage during fall. Amongst the different types of crepe myrtles, Choctaw is mildew resistant and can be an eye-catching focal point for every garden or yard.
The tree is adorned by beautiful pink flowers from mid-summer to early fall. It has oval leaves that change color to burgundy in fall and is a dark green tree with attractive deciduous foliage.
2. Miami
Zsolt Hlinka/gettyimages
 
It is a spectacular crepe myrtle that offers the best of both worlds, courtesy of its exfoliating bark and attractive magenta flowers. It grows to about twenty feet, quite like the pink Natchez. You can marvel at its dark pink-hued flowers in summer. These kinds of crepe myrtles bloom for about 100 days.
When fall arrives, you will astonish at its foliage as it turns orange. It is a hardy Crepe Myrtle and has good mildew resistance. The plant thrives in USDA zones seven through nine.
3. Tuscarora
Jelena990/istockphoto
 
It is a medium-height deciduous tree that yields a profusion of crepe-like coral-pink flower clusters. Tuscarora develops bright green foliage in summer that changes its color to orange-red in fall. The plant has a mottled, smooth, and light cinnamon-brown bark that adds to a year-round interest.
It is excellent to use as a large shrub and does a brilliant job of accenting the landscape. You can also use it as a phenomenal street tree or garden specimen.
4. Biloxi
Norm Lane/istockphoto
 
It is a small vase-shaped, pink, deciduous crepe myrtle bred to have a long blooming season. The plant has good drought tolerance, excellent winter hardiness, and resistance to powdery mildew, and a good pick for urban areas with small spaces. It thrives in USDA hardiness zones seven through nine A.
Category 3 – Small Sized
In this category, we will cover some popular varieties between eleven and twenty feet in height.
| | | | |
| --- | --- | --- | --- |
| Name | Flower | Height | Hybrid |
| Lavender Lace | Pastel purple | 12 ft | Yes |
| Red Rocket | Bright red | 15 ft | Yes |
| Catawba | Dark Purple | 19 ft | No |
| Townhouse | White | 20      ft | – |
1. Lavender Lace
tatyana_tomsickova/istockphoto
Lavender Lace Crape Myrtle is one of the black diamond crape myrtles. It has pastel purple flowers and deep black foliage, making it a beautiful addition to landscape beds and container gardens. They hold their own as blooming hedges too. Their traditional beauty looks attractive with their commanding presence, regardless of where you plant them.
Among the different types of crepe myrtles, these grow between 10 and 12 feet with eight feet spread. Gardeners plant them whenever they hope to add some interest to the garden. You can plant it as a standalone specimen or together with other black diamond crape myrtle varieties. They are low-maintenance, mildew-resistant, and drought-tolerant.
2. Red rocket
Reimar Gaertner/istockphoto
As is apparent, the Red rocket crape myrtle shoots up like a rocket and grows about five feet or more in only a year of its plantation. Before crepe myrtles go dormant, the plant yields beautiful bright red flowers between July and September. Every year. Red Rocket delivers an attractive, eye-catching color progression. It has a 100-days long blooming period.
Red Rocket is drought-tolerant and can thrive solely on rainfall. It is mildew-resistant and hardy, handling frigid temperatures as low as zero degrees.
3. Catawba
mtreasure/istockphoto
 
Like other crepe myrtles, even the Catawba crape myrtle finds use as an ornamental tree that offers three seasons of interest from late spring to early fall. The plant has a long flowering season that lasts into the fall. In spring, Catawba yields beautiful purple flowers that develop cone-shaped clusters.
Many botanists consider these crepe myrtle varieties as one of the best purple flowering plants on the planet. Its leaves are also beautiful, large, bright, and colorful, and foliage remains green from spring to summer, accentuating the beauty of the purple flowers.
4. Townhouse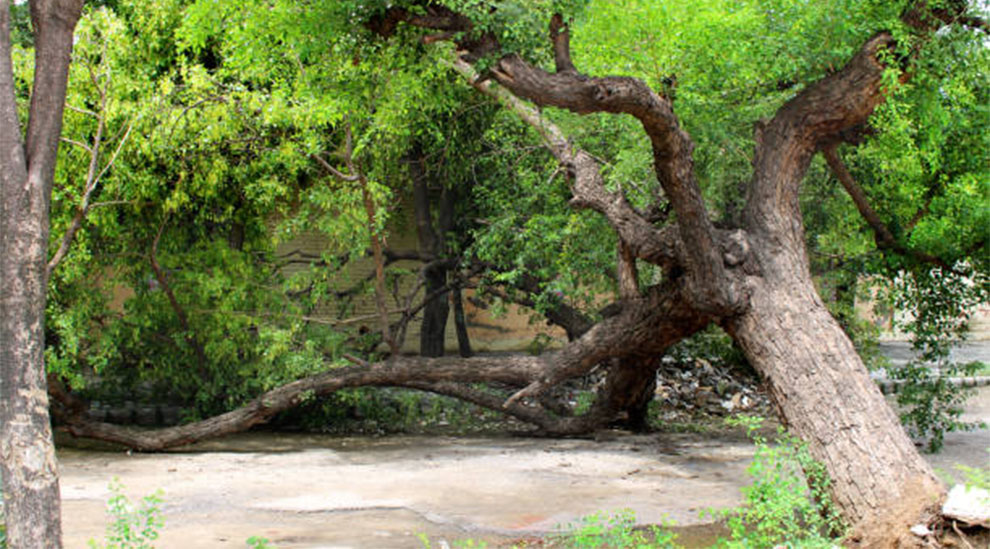 pixelfusion3d/istockphoto
 
It is a multi-stemmed crepe myrtle with excellent mildew resistance and has attractive, deep brown bark. Its habit may range from vase-shaped and upright to horizontal, low, and shrub-like. It yields beautiful white flowers from mid to late summer with particles of two to four inches. Its fall color alternates between orange and red, and its bark changes color to reddish-brown, remaining beautiful across the year. Townhouse crepe myrtle species desire fertile, well-drained soil to thrive.
Category 4 – Dwarf Crepe Myrtles
Here, we will cover some popular varieties below 10 feet in height.
| | | | |
| --- | --- | --- | --- |
| Name | Flower | Height | Hybrid |
| Chickasaw | Pink | 3 ft | Yes |
| Victor | Deep red | 5 ft | No |
| Zuni | Med. Lavender | 9 ft | Yes |
| Tonto | Dark Fuchsia | 9 ft | Yes |
1. Chickasaw
Roell_Pietersen/istockphoto
Chickasaw is one of the pink crape myrtle varieties. It is a rare species with a tiny growth habit that produces deep leaves with pinkish flowers. The plant looks attractive in small pots and is a dwarf crepe myrtle by nature and is rare but popular.
Chickasaw thrives in medium to average moisture conditions with full sun and well-drained soil. Clay, loamy soil with good drainage is recommended for the plant to grow best.
2. Victor
Grigorii_Pisotckii/istockphoto
Victor can be grown as a bushy dwarf or a small Crepe Myrtle tree. It grows between five and ten feet with a six feet spread. The plant has deep, bright-red flowers and is one of the fast-growing kinds of crepe myrtles.
Surprisingly, the more you prune Victor, the bushier they grow. The pant has a rounded, upright, deciduous habit. Victor is ideal for planting in smaller gardens where you seek long-lasting flowers.
3. Zuni

 
It is a small tree or a broad-leaved shrub. Typically upright and multi-stemmed, Zuni has reddish branches that become light brown or gray. Its older trunk and branches form an exfoliating bark, and leaves are red-hued while young, becoming glossy green and changing color to dark red or orange-red with a yellow tint in the fall. The plant thrives in well-drained, moist soil with full sun. It is mildew-resistant.
4. Tonto
Alfred Georg Sonsalla/istockphoto
 
Regardless of your landscape size, Tonto can be an excellent inclusion, courtesy of its breathtaking, huge blooms. Tonto produces fuchsia-red, rich flowers, across the summer, even in the small gardens. It is a disease-resistant plant, adaptable to various soil types.
So you do not have to dedicate hours to its maintenance. Tonto is forgiving and even thrives on neglect. The plant can survive drought and has a beautiful color from late spring to early fall.
Related: Crepe Myrtles Diseases and Problems
Frequently Asked Questions
Ques 1. Which crape myrtle has the most blooms?
Ans. Dynamite Crape Myrtle produces large, red blooms for up to four months. It reblooms across the summer into the fall.
Ques 2. What is the smallest crepe myrtle tree?
Ans. One of the smallest crepe myrtles is Baton Rouge. It grows between two and three feet.
Ques 3. Are crape myrtle trees invasive?
Ans. Even in a short lifespan of crepe myrtles, they can get a bit invasive.
Summing Up…
So, these are the top crepe myrtle varieties. If you want to add an all-season interest to your garden, you cannot go wrong with Crepe Myrtles. If you plant them in your garden, here is the care guide for crepe myrtles that you should refer to.