Different Kinds of Daylilies Varieties (Cultivars & Types)
With thousands of daylilies varieties, there is a choice for every garden and gardening enthusiast in unique colors.
Daylilies are one of the most reliable plants to have in any garden. Broadly, there are seventy different types of daylilies and thousands of cultivars derived from them. They are forgiving and low-maintenance and yield attractive blooms once established.
These flowering plants are hardy and tough. Rarely any disease or insect pests troubles them. Daylilies produce colorful, big flowers, and the availability of the vast daylilies varieties can often make it challenging to pick one that works best for your garden.
You can find deciduous, semi-evergreen, or evergreen daylilies. So, you can form a decision depending on when you want your foliage to come. You can also find a variation in daylilies growing between six inches to five feet tall.
These are the perfect pick for newbie gardening lovers. Daylily blooms show between spring to late summer. One of the most popular daylily varieties is the yellow Stella D'oro. You can find them in pink, purple, orange, and red hues. They range from eclectic polychrome patterns to simple "self" patterns.
Daylilies Information and Overview
Scientific Name
Hemerocallis spp.
Type
Herbaceous perennial
Family
Liliaceae
Growing zone
USDA 3 through 10
Flower
Purple, yellow, pink, red, and orange
Foliage
Foliage turns yellow in late fall, but some daylily cultivars stay green across winter. You can remove the spent foliage in early spring or late fall.
Bloom time
Spring to late summer
Care

They thrive in deep, fertile, medium loamy soil but tolerate heavy clay or light sandy soil. However, the soil should be slightly acidic.
Daylilies need full sun but can tolerate light woodland or part shade.
In the first growing season, water regularly, but later on, water only when the weather is dry.
Add a thick mulching layer to retain the soil moisture and guard the plant against colder winter temperatures.
They are not heavy feeders on daylily fertilizers

. So, add compost every season to ensure the daylilies gets the necessary nutrients.

Native
Central Europe and Asia
Toxic
Yes, to humans and pets
Scientifically called the Hemerocallis spp, the daylilies are hugely popular for several reasons. They are excellent for edging and borders. These easy-to-grow perennials do not get affected by high temperatures.
In addition, they can easily withstand drought episodes. You can also grow them in moist soils. There are various daylilies cultivated in warm and cool colors. Daylilies yield colorful blossoms that can go with any palette.
Different Types of Daylilies
With a plethora of cherry hues and shapes, there is a daylily for every yard and garden. Read below as we discuss some varieties and cultivars of this beautiful, hardy perennial.
1. Neon Flamingo
Do you need a specimen plant for your garden? If yes, consider growing the Neon Flamingo. These daylily flower types have shocking pink-hued blossoms that grow up to 8.5 inches across, with their pleasing petals curling under in almost all cases.
These flowers open in the early morning and have a greenish-yellow throat. Like the other varieties, you can consider growing them in partial shade or full sun. Every Neon Flamingo plant will yield around fifteen blooms in mid-summer.
2. Stella De Oro
Botanically called the Hemerocallis Stella de Oro, Stella de Oro is one of the most popular daylilies varieties. It is a small-sized plant that rapidly grows and yields some of the most colorful flowers in the garden.
It has golden trumpets with blade-like leaves and ruffled edges. Every flower in this daylily is about seven cm wide and has a lifespan of at least sixteen hours. But it is a reblooming daylily. So, you will find a plethora of blooms across the season.
The plant needs full sun to grow and do well in drier or damp locations. These are the best daylily varieties and look attractive with bee balm, purple coneflower, and Siberian Iris. It is hardy in USDA zones three through nine.
They bloom in early summer and bloom through fall. They struggle to reach 12 inches tall but can grow up to six inches onto their stalks. Its foliage remains green until the first hard frost.
3. Fooled Me
These are attractive golden-yellow daylilies that have an orangish-red hue and frilled petals. These eternally beautiful plants are ideal if you need one of the sturdiest daylilies varieties.
They bloom from early to mid-summer and rarely grow over twenty-four inches. The plant thrives in full sun. So, you must plant it in a spot that receives shade for around four hours.
4. Moon Ladder
Moon Ladder plant has vibrant blooms that look like fireworks cracking up in the sky. These are one of the best daylily varieties, courtesy of their beautiful white and lavender flowers full of dark lavender veins. Its petals change color to lime green in the center.
5. Challenger
With brick-red color, the challenger daylilies are early fall bloomers and grow approximately five inches across. They have yellow throats. Typically, the blooms on different types of daylilies last only a few hours. But such is not the case with Challenger daylilies. They will last many hours longer.
These grow to six feet, provided you expose them to the desired conditions. The Challenger daylilies do best in part shade or full sun. Moreover, to ensure they continue blooming, you must keep them consistently moist and grow them in a location with free-draining soil. You should also take proper care of daylilies post blooming.
6. Common Orange
Scientifically called the Hemerocallis lilioasphodelus, the Common Orange gained massive popularity as an ornamental plant in the late 19th century when it was introduced in America.
Since then, it has been one of the vastly grown flowers as it is loved for its bright, orange flowers that are a sight to behold.
7. Elegant Candy
It is a low-maintenance, sun-loving, reblooming daylily that opens flowers across the season. Elegant Candy is a pastel beauty that thrives in well-drained soil with organic matter in full sun to part shade.
These types of daylilies are hardy in USDA zones three through eleven. As the plant grows older, the number of flowers declines. But you can keep your gardens blooming by dividing the plants every four years.
After flowering or early spring are the best time for dividing the plants. You can cut back the leaves if you divide the plants later in the season.
8. Mighty Chestnut
Amongst the different varieties of daylilies, the Mighty Chestnut can be a good pick if you need something bold. The plant has trumpet-shaped russet-brown flowers, ruffled edges, and dark burgundy stripes.
Its burgundy and brown hues contrast with the plant's yellow throat. The plant grows up to twenty-four inches tall and does best in full sun. You can plant them in any free-draining soil. You can have them blooming from mid-summer through fall, provided you cut the spent flowers as and how you discover them.
9. Pardon Me
We have already listed some daylilies that rebloom but Pardon Me is another in the category. It is a beautiful plant that yields several velvety, rich, burgundy-red blooms.
The attractive cranberry-hued plant enjoys extended blooming periods and has flowers that grow up to seven cm wide. Its flowers do not appear until later in the season but continue to flower till frost.
Unlike the other daylilies, Pardon Me is a night-blooming plant. So, it opens during the day and stays open till the evening before finally closing again in the morning.
10. Rosy Scenario
It is a vibrant, dark pink flower with a green throat and a darker pink eye. These daylily cultivars can grow up to thirty-two inches in height, and their blooms have slightly ruffled and charming white edges with a lime green center.
11. Black friar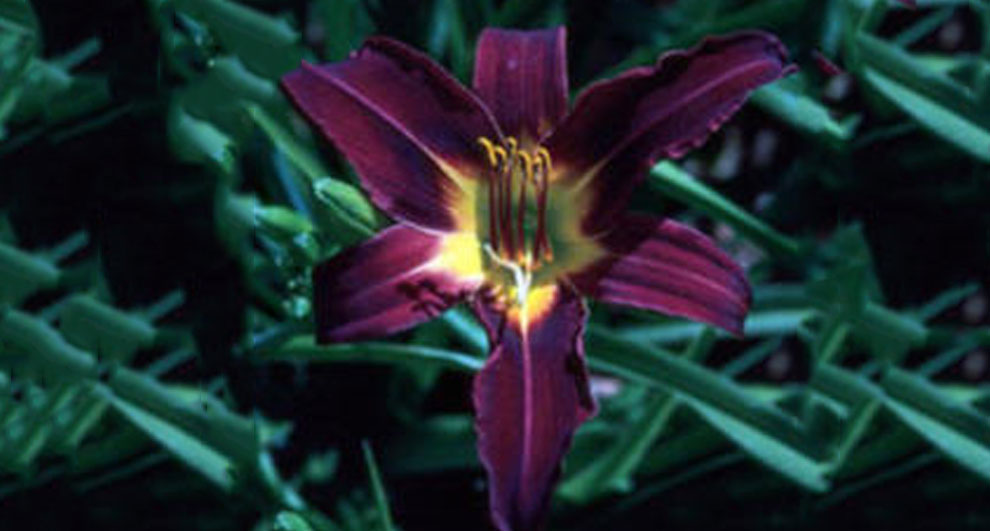 The petals of this plant resemble the Black cherry soda, and its dark color stands in contrast to the flower's giant chartreuse throat. Amplifying its beauty are its ruffled petals and attractive blossoms.
Its flowers usually are approximately 4.5 inches in diameter and show in mid-summer. However, over time, they grow up to thirty-six inches. These types of daylilies do well in full sun to part shade with evenly moist soil.
12. Amur
Native to Korea, northwest China, far east of Russia, and Japan, the Amur daylily is a beautiful plant that produces orangish-yellow blossom that thrives in mountain slopes, scrub, open woods, and meadows. In parts of Asia, Amur is cultivated for its edible flowers.
13. Circe
These daylilies have a soft lemon color that can easily make you fall in love with them. Its blooms are more petite and delicate than what you see on other different kinds of daylilies. You can grow them in well-drained soil.
The plant grows across the summer if exposed to the right conditions. It is a deciduous variety and yields a grassy clump of foliage. It grows up to thirty-four inches and requires consistently moist soil to grow, especially during the blooming season.
14. Happy Returns
It is a pale-yellow variety and is hugely popular amongst daylily growers. It has compact flowers around seven cm wide and can last sixteen hours. They do not live beyond 24 hours.
15. Out of the Blue
Out of the Blue is a compact daylily. While it lacks in size with its smaller blooms of only about three inches, it makes up through its blast of colors, comprising petals edged in pink and gradually transitioning into indigo with a dark lime green throat.
You can grow these types of daylilies in a container or near your house to enjoy their lovely color.
16. Custard candy daylily
This delightful daylily has trumpet-shaped, off-white flowers filled with buttery yellow overtones. Every flower in this variety has a purple ring near the stem and a yellow throat. These daylilies varietiesgrow up to eighteen inches and come back annually for a decade.
Grow them in a spot that receives some sun. Fortunately, it is not picky about the soil conditions. So, once planted, you will enjoy watching it bloom in the sun with its grassy foliage till the first hard frost.
17. Skywalker daylily
Unlike the different varieties of daylilies, the Skywalker daylily is a thin, long, bluish-lavender frost full of soft blue-purple-hued petals that form a beautiful contrast against the lime-green throat. The plant has flowers with a 6.5-inch diameter, which grow up to twenty-two inches tall during the summer.
It can be one of the top picks for someone who consistently forgets about watering the plants as it is one of the drought-resistant alternatives. While not blooming, it goes dormant. The plant does best in full sun or partial shade in well-drained soil.
Some other different kinds of daylilies include:
Startle
Barbara Mitchell
Peacock Alley
Super Coral
Lilting Belle
Oakes Love
Forsyth Flaming Snow
Caballero daylily
Wayside King Royale
Heavenly Hash
Yasmin
Storm Chaser
Hold Your Horses
Russian Rhapsody
Paper Butterfly
Siloam Royal Prince
Orange Velvet
Techny Breeze
Yellow Bouquet
Baronet's Badge
Red Volunteer
Hillbilly Heart
Lady Lucille
Trahlyta
Myth and Magic
How Many Daylily Cultivars Are There?
It was revealed in a report by the American Daylily Society that there are around 89,000 registered cultivators for daylily. The survey was last conducted in May 2018.
Daylily Flower Types
There can be variations in flower of different kinds based on structure and shape. As per the American Horticultural Society, various daylily flowers can have different forms. These include:
Single – These flowers have three sepals, three petals, one pistil, and six stamens. However, single varieties might have fewer or lesser parts for every whorl.
Double –Similar to the singleforms, the double daylilies varieties are available in different forms. For instance, the Peony-type doubles contain petaloid stamens within the typical petal whorl, and the Hose-in-Hose doubles have additional petal whorls, giving the illusion of a flower inside a flower.
Spider – When a flower has a length: width ratio of 4:1, it is a spider variant. Please note for the length measurement, extend the segment completely, but the width measurement is taken as the flower grows naturally.
Unusual form includes some types of daylilies exquisitely based on the sepal or petal shape. These include Spatulate, Cascade, or Crispate. You will spot one or more of these shapes on at least three sepals or petals.
Sculpted means 3D structural features emanating or involving from the midrib, throat, or elsewhere on the petal surfaces. It comprises three different groups – Relief, Cristate, and Pleated.
Quilling is floral segments turning upon self along the length to depict a tabular shape.
Curling or Cascading is floral segments that are narrow with pronounced cascading and revolving upon themselves.
Twisting is floral segments that depict a pinwheel or corkscrew effect.
Pinching is floral segments comprising sharp folds that giveaway a folded or pinched effect.
Spatulate – Floral segments seemingly wider at the edges like a kitchen spatula.
Polymerous – It refers to the daylilies varieties with more than the usual segments in every floral whorl. It implies that they have more than three petals (and sepals) in the inner whorl and four or five sepals in the outer whorl.
Related: How to grow daylilies from seeds?
Daylily Description – FAQs
Ques 1. What is the most beautiful daylily?
Ans. Four of the most beautiful daylilies include:
Amur Daylily
Yellow Daylily
Wineberry Candy
Stella De Oro Daylilies
Ques 2. Which daylilies bloom the longest?
Ans. Spice is one of the best daylily varieties and blooms nonstop for almost seventy-five days.
Ques 3. Which daylilies are invasive?
Ans. Hemerocallis fulva, or the ditch lily, is one of the invasive varieties.
Ques 4. What kind of daylilies bloom all summer?
Ans. Hemerocallis Red Hot Returns bloom all summer into the fall. Also, you might want to check out tips to keep daylilies blooming all summer.
Ques 5. Which are the heritage old daylily varieties?
Ans. Orange Man is one of the first daylilies to bloom in a garden. Other heritage old daylilies include:
 Gold Dust
 Naushon No Name
 Elizabeth
 Buckeye
Ques 6. Name some tall daylilies varieties.
Ans. Some tall daylilies include:
 Big Dolly – 48-inches
 Anything For You – 49-inches
 Lilac Spire – 48-inches
 Eloquent Elevation – 48-inches
 H. Altissima – 50-inches
Ques 7. What do daylilies symbolize?
Ans. Daylilies have been a crucial aspect of Chinese culture. Chinese associate these beautiful flowers with loss of memory and forgetfulness. In some instances, daylilies symbolize forgetting all your worries.
Hence, they are gifted to someone having a rough patch in life, so they can get past it and move on in life. In addition, there is also a Chinese superstition involving daylilies.
Locals believe pregnant women who wear a daylily in their girdle or hair give birth to a baby boy. Believe it or not, it is one of their long-standing traditions believed by many even now.