Redbud Tree Varieties, Types and Species (Hybrid + True)
There are around ten varieties of Redbud trees. More cultivars keep on coming with the hybrid being developed each day.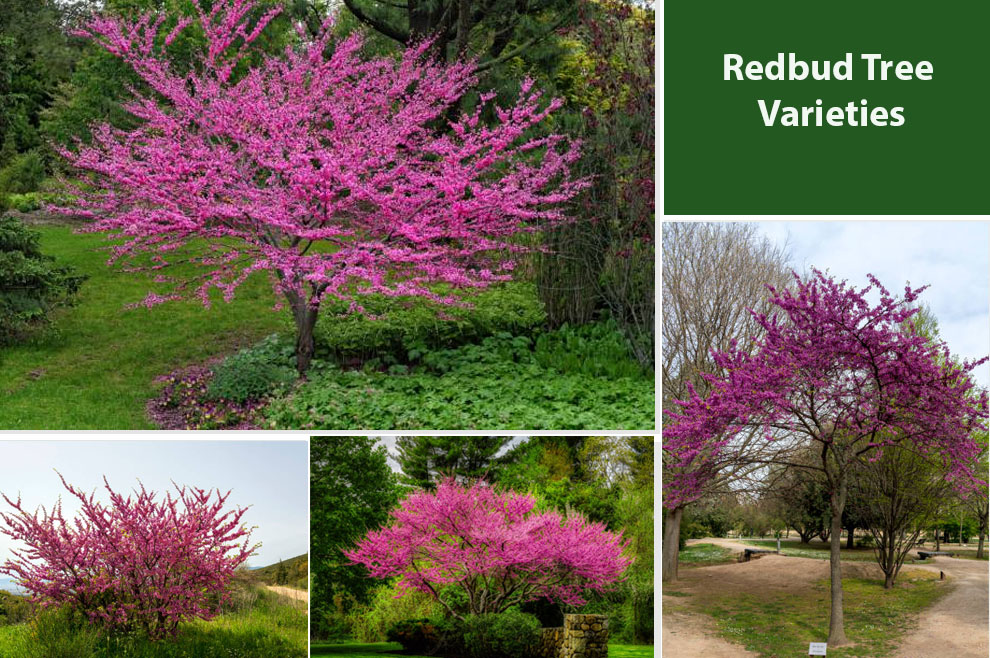 PETER HAYNES/ankarb/istockphoto
Redbud trees are a unique species that are a sight, particularly in the spring when the tree is enveloped with several small and colorful flowers. They are ideal if you wish to add color, structure, and height to your garden.
Belonging to the legume, bean, or pea family called Fabaceae and the genus Cercis, Redbud tree varieties are the most whimsical flowering trees. They are full of heart-shaped, rich foliage and brightly colored buds during summer and spring.
Native to eastern North America, Redbud trees are widely found in 10 different varieties in Florida and parts of California. It is a deciduous tree referred to as the state tree of Oklahoma. It is one of the best shade trees, courtesy of its heart-shaped and dense leaves.
Amplifying its beauty are the multi-hued leaves of the redbud cultivars, ranging from yellow, golden, orange, green, red, and burgundy, equally complimented by pink or white flowers.
Many botanists call it a sign of spring because its pink bloom declares the season's arrival. Most types of redbud trees are native to North and Eastern America. Broadly, there are ten varieties in the Cercis genus.
Of them, the four most prevalent categories are the Judas tree or European redbud (Cercis siliquastrum), Western Redbud (Cercis occidentalis), Chinese Redbud (Cercis Chinensis), and Eastern Redbud (Cercis canadensis).
Redbud Tree Overview
| | |
| --- | --- |
| Name | Cercis canadensis |
| Type | Deciduous |
| Height | 20 to 25 feet |
| Spread | 20 to 25 feet |
| Sun | Full sun or partial shade |
| Soil | Well-draining and moist soil |
| Water | Water regularly during the growing season |
| Lifespan | 50-70 years |
| Growing zone | Zones 4 through 9 |
| Flowers | Light pink to dark magenta and even white |
| Leaves | Green hearts that are 3" to 5". |
| Drawback | Sensitive to herbicides, which impacts their growth |
Different Types Of Redbud Trees
Redbud Cultivars (Hybrids)
Let's have a look at the different true varieties and hybrids of the redbud tree in detail one-by-one.
1. Eastern Redbud
larrybraunphotography.com/gettyimages
Flowers
Pink, purple, burgundy, lavender, and red
Leaves
Simple, cordate (heart-shaped) leaves about three to five inches long that change color from dark green to rich yellow in the fall.
Care

It thrives in USDA hardiness zones four through nine.
Demands full sun to partial shade
It can grow in most soil types but should have good drainage.
Botanically called the Cercis canadensis, it is one of the most popular redbud tree varieties. In fact, when most people think of the redbud, they automatically picture the Eastern Redbud. It is Oklahoma's state tree.
Eastern Redbud is prevalent in America and is native to Eastern and central North America. It grows up to thirty feet tall and is also the species from which maximum redbud cultivars are derived.
Given their various variants, you can spot this tree in many gardens globally. You will mainly find it in the meadow edges, riparian areas, and moist, rich woodlands. The plant has a smooth bark, which develops furrows and ridges over time.
2. Texas Redbud
William Steinagel/gettyimages
Flowers
Showy rose-purple flowers that show in spring
Leaves
Dull green kidney-shaped, rounded leaves
Care

It thrives in USDA hardiness zones six through nine.
Demands full sun
Appreciates well-drained fertile ground
Native to Texas, Texas Redbud is a multi-stemmed tree-like shrub with spreading, wide branches and a rounded crown. These redbud trees are relatively more drought-tolerant than the other species and have brighter flowers than others.
Moreover, it has a compact growth habit, unusual in redbuds. Botanically called the Cercis canadensis 'Texensis', it amplifies the landscape during the spring (March and April) with its attractive blooms.
3. Western Redbud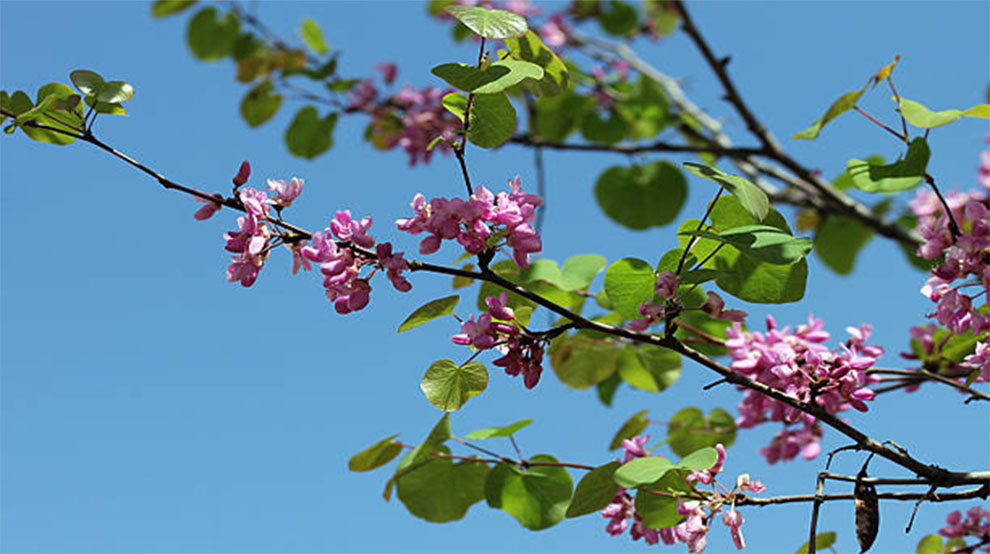 flik47/istockphoto
Flowers
Rose-purple or magenta blooms
Leaves
Tiny heart-shaped leaves in a light-green color acquire a darker shade as the tree grows older.
Care

Tolerant to several soil types like clay and alkaline soil.
It is drought-tolerant but thrives in well-drained soil.
Requires full sun to partial shade
It is one of the redbud tree varieties that are beautiful around the year. The plant guarantees a four-season interest, courtesy of its beautiful blooms that show in early spring and look alluring on the silvery-gray branches.
Its spectacular color combination attracts butterflies, hummingbirds, bees, and other pollinators. Native to the American Southwest region, primarily in Utah and Arizona, the Western Redbud is an ornamental shrub.
This deciduous plant grows between six and twenty feet with ten to fifteen feet spread. Because it is cultivated as an ornamental tree, it is an excellent pick for backyards, parks, gardens, and streets.
4. Rising Sun Redbud
Sima_ha/istockphoto
Flowers
Bright pink flowers appear on the front of the leaves.
Leaves
Young leaves are yellow-orange but become bright green when they mature. Its leaves are heart-shaped.
Care

It thrives in USDA hardiness zones five through nine.
Demand full sun and well-draining soil
It is a beautiful redbud tree species with contrasting leaves. This dwarf redbud grows about 10 feet tall and is approximately seven feet wide, making it an excellent pick for smaller landscapes. It grows into a classic single-trunk tree.
These are frost resistant and yield pea-like flowers during the early spring. The plant is called the rising sun, as it displays several breathtaking colors in its leaves and blooms all at once.
Many even refer to it as the love tree. It is one of the best picks for accent trees and mass planting.
5. Ace of Hearts Redbud
James Andrews/istockphoto
Flowers
Light pink-violet flowers that bloom for three weeks in early spring
Leaves
Heart-shaped, semi-glossy foliage
Care

The plant thrives in USDA hardiness zone five through nine.
Thrives in well-drained garden soil
It needs full sun to partial shade and a minimum of at least six hours of sun every day.
It is a dwarf redbud tree species that grows up to 12 ft tall and 15 ft wide. Hence, it is a good pick for small gardens. Its small growth habit and vibrant colors make it a popular choice.
In the early fall and late summer, its foliage changes color to warm yellow. Once the plant sheds its foliage, the branches and the silhouette continue to provide interest. It is a drought and heat-tolerant plant resistant to several pests and diseases common in several other redbud varieties.
Hence, the tree has a longer lifespan and can maintain its distinctive dome-shaped canopy year after year. It makes for an excellent specimen or a shade tree or privacy screen.
6. Chain Flowered Redbud
Serghei Starus/istockphoto
Flowers
Light pink flowers that show in long chains comprising up to forty blooms
Leaves
Cordate, alternate leaves that are dark green in summer but change colors to gold and yellow in the fall.
Care

The plant thrives in USDA hardiness zones seven through nine.
They seek full sun to partial shade.
The trees are tolerant to most soil types but demand good drainage.
Native to East Asia, Central and South China, these redbuds are common in temperate, moist forests. They are propagated in the United States and vary from other redbuds with flowers, which grow in racemes and not along the branches.
It grows about twenty-five feet tall and is enveloped by silvery brown bark. These redbuds are somewhat hairy on the undersides.
 
7. Forest Pansy Redbud
Inna Giliarova/istockphoto
Flowers
Small, dainty flowers in different pink shades
Leaves
Colorful, heart-shaped leaves with different colors in every season
Care

They are low maintenance and need well-draining soil and full sun to grow.
You can plant them in USDA hardiness zones five through nine.
These trees have alluring pea-like flowers and colorful foliage. Forest Pansy is an attractive landscape tree that captures year-round interest. In spring, they look rosy-pink when they flower.
In summer, its reddish leaves change to dark green, and the heart-shaped leaves become bronze or orange in the fall. They are perfect as ornamental specimen plants for the backyard and grow between twenty and thirty feet.
8. Chinese Redbud
zhikun sun/istockphoto
Flowers
Rosy-purple flower clusters
Leaves
Round, glossy, bright green cordate leaves that change their color to yellow in the fall.
Care

The plant thrives in USDA hardiness zones six through nine.
It does best in partial shade or full sun.
The plant needs well-draining soil that is not clayey.
Chinese Redbud is an Asian redbud that seems like a rounded mass of white or pink color while in full bloom. These are shrub-like trees with disc-like, circular leaves. The plant grows up to fifty feet in its native habitat in China.
But, because of the different environmental conditions, like in America, these kinds of redbud trees grow like shrubs between eight and fifteen feet.
Read Also: How to grow redbud tree from seed? | Best redbud tree fertilizer
 
Redbud Cultivars (Hybrids)
1. Mexican Redbud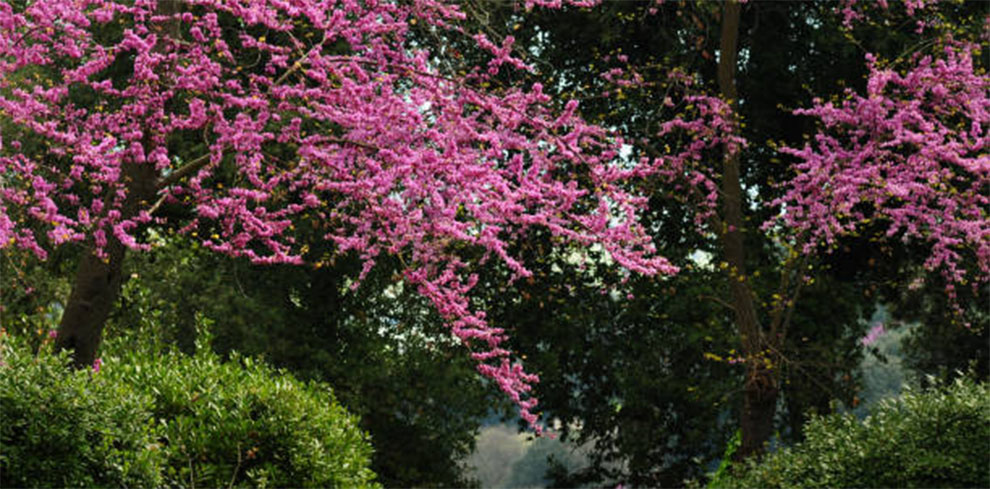 undefined/istockphoto
Flowers
Rose-lavender flowers
Leaves
Smaller and thicker with wavy ends
Care

It thrives in USDA hardiness zones six through nine.
Soil-friendly and does not need high maintenance, but requires well-draining soil to thrive
Demands full sun to part shade.
These are the smaller redbud tree varieties compared to the others, like Texas or the Oklahoma Redbuds. You will find them growing well even in the drier regions. It is a variety of redbud and has beautiful flowers that amplify the plant's beauty when spring arrives.
Moreover, it is a sight when the flowers contrast against their bluish-green foliage. It is a deciduous variety that grows between five and twelve feet. They have all the features of a classic redbud tree, making them a good pick in any planting landscape.
2. Merlot Redbud
Fagner Soares/gettyimages
Flowers
Pink and Magenta blooms
Leaves
Thick and glossy dark purple leaves
Care

Tolerant to several soil types, including sandy, clayey, or loamy, well-drained soil.
Full sun
Botanically called the Cercis canadensis Merlot, these are the hybrid redbud tree species achieved from the mix of Texas and Forest Pansy Redbud.
It has the characteristics and qualities of both these cultivars. It is called Merlot because of its glossy and thick leaves that have a color similar to the Merlot wine. Its attractiveness is amplified by the striking color of flowers that grow on the leafless branches in spring.
It grows up to 12 feet with a 15 feet spread and has a vase-shaped, semi-upright growing habit, making it a perfect fit for smaller gardens and yards. If you seek a vintage-looking lawn, this can be a good pick.
3. Weeping Lavender Twist Redbud
Andrei Bogdan Metea/gettyimages
Flowers
Small pea-like pink or lavender flowers that show in spring
Leaves
Green, heart-shaped leaves
Care

The plant thrives in USDA hardiness zones five through nine.
They grow best in full sun or partial shade.
You can grow it in well-draining soils.
It is another one of the dwarf redbud tree varieties and is a weeping cultivator of the eastern redbud. It is a fast-growing tree that reaches a maximum of ten feet. So it can be a perfect pick if you seek a specimen tree that thrives in small gardens.
It is a unique tree because, upon maturity, it looks like the Japanese Maple Tree. The plant has twisting branches that give it the name Lavender Twist. You can grow this tree as a small weeping specimen tree, shrub border, or foundation plant.
4. Ruby Falls
Burak Sejdia/gettyimages
Flowers
Purple-red flowers show in abundance at the start of spring.
Leaves
Maroon-red leaves in a heart's shape
Care

It is not a low-maintenance plant. So, you have to provide it with the desired conditions as needed.
The plant seeks full sun to part shade, moist and well-draining soil, and weekly deep watering episodes.
Spring and fall are the ideal times for growing them.
Like the other different types of redbud trees, even this one has a unique, distinctive characteristic. It is famous for its weeping habit and is a compact tree with a weeping canopy.
Hence, it is the right pick for smaller gardens and landscapes.
It is a new easter redbud cultivar and works as a brilliant specimen plant. Ruby Falls reaches an average height of five to six feet. Hence, it is a top choice for woodland gardens, naturalized landscapes, and lawns.
5. Hearts of Gold Redbud
Jen DeVos/gettyimages
Flowers
Light pink to lavender
Leaves
Cordate leaves that fade through shades of yellow over seasons. It starts as orange, matures to bright gold, and then turns yellow-green in the summer.
Care

The plant thrives in USDA hardiness zones five through nine.
It demands full sun to part shade and well-draining soil.
Botanically called the Cercis canadensis Hearts of Gold, it is a small structured plant that yields flowers in the first year. It grows only 10 feet tall with a domed canopy and is an ideal candidate for the shrub border. This dense tree has rounded growth and lush foliage, making it a good pick as a specimen plant or a privacy hedge.
Frequently Asked Questions
Ques 1. What is the prettiest redbud tree?
Ans. Forest Pansy is the prettiest redbud tree. The color if its foliage stands out and it absolutely mesmerizing.
Ques 2. What is the largest redbud tree?
Ans. Growing at 25-35 feet, Eastern Redbud is the largest redbud.
Ques 3. What's the smallest redbud tree?
Ans. Ruby falls is one of the smallest varieties of Redbud that does not grow over six feet.
Ques 4. How to care for redbud trees?
Ans. For taking care of different kinds of redbud trees, remember that:
Redbud trees thrive in full sun or partial shade.
The plant needs well-draining soil and regular watering.
Its flowers bloom the best in full sun.
If the temperature is hot, you must plant it in a spot with partial shade.