How To Get Rid Of Leafhoppers Without Harming Your Plants?
You can use safe and natural ways like sticky traps, soapy water, diatomaceous earth to get rid of leafhoppers. Apart from these you can use some preventive measures or kill them with store bought insecticides.
When spring comes around, gardeners are interested in planting and growing their favorite vegetation. The downside of the warm weather returning is that it also signals the return of some plant-eating pests like leafhoppers.
These range in size and go from 1/8th of an inch to 1/2 an inch and are brown to white and green, with several colorful designs.
There's no easy way to say that these pesky little creatures could be very irritating so how to get rid of leafhoppers organically? Well, row covers, beneficial insects, and a thorough garden clean-up are a few ways to tackle leafhoppers. 
With more than 20,000 species around the world, Leafhoppers are a vast family of insects. Both nymphs and adults feed on the plant by puncturing the underside of the leaves and robbing them of the plant juices.
They yield toxic saliva that can result in plant distortion, stunting, leaf curling, and yellowing. The leafhoppers also transmit the organisms causing the virus diseases in the plant. Some prevalent hosts include roses, grapes, potatoes, beets, lettuce, corn, beans, and others.
Leafhopper Identification
Before we discuss how to deal with this problem, you must be able to identify the leafhoppers to ensure what you are dealing with. If you misidentify it, it might result in employing the wrong pesticides and treatment methods. Here are some general traits for leafhopper identification:
Leafhoppers come in an array of colors and types. Depending on the specie, they may be in shades of brown, yellow, or green with various specks on the body.
Typically, they are very tiny and range from 1/8th to 1/2 of an inch.
A significant trait of a leafhopper is the blunt-shaped wings and head that look like a leaf.
Leafhopper is called so because of its phenomenal leaping skills. When they feel threatened, they can jump up to two feet high. The nymphs and adults look similar, except they do not have wings.
Some prevalent leafhoppers include the six-spotted leafhopper, rose leafhopper, potato leafhopper, grape leafhopper, and beet leaf hopper.
Since the leafhoppers are usually very small, the damage is also minor. However, they occur in large numbers. Hence, the damage is noticeable on the plant they employ for their food source.
What Attracts Leafhoppers?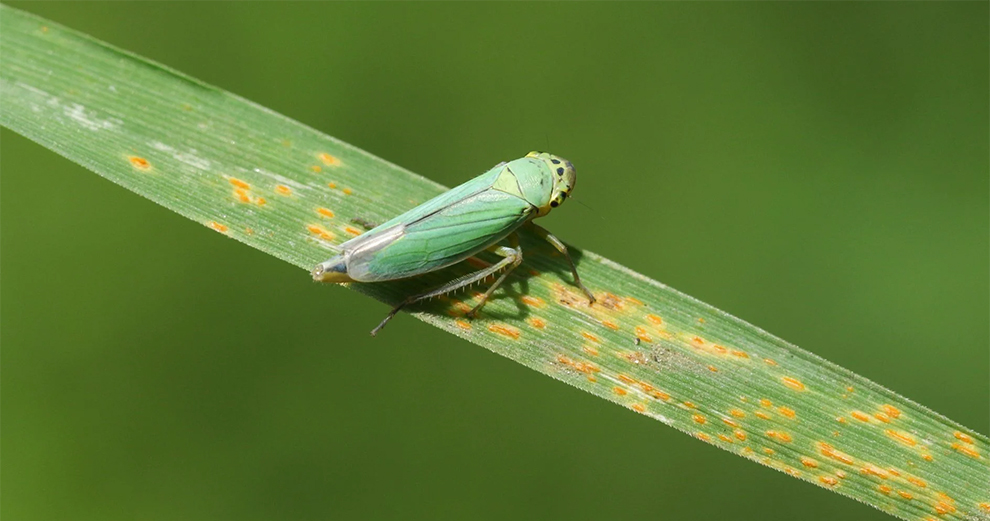 Broadly, leafhoppers are enticed by various factors, such as the plant's scent and color, the presence of other leafhoppers, and the texture of the leaves. Some factors that attract the leafhoppers include:
Chemical cues: Leafhoppers are attracted to the volatile organic compounds or the chemical compounds that the plant releases. These compounds indicate the presence of other resources, mates, or food.
Visual cues: Many leafhoppers are lured by the bright colored flowers and plants, particularly the ones that are green or yellow. They also get attracted to the reflected sources, such as metallic or shiny objects.
Textural cues: Leafhoppers love succulent and smooth leaves. They will rarely feed on the fibrous or tough leaves.
Humidity and temperature: These pests thrive in humid and warm environments and are active during the day when the outside temperature is high.
Existence of other leafhoppers: Leafhoppers are social insects. So, the presence of existing leafhoppers can attract more leafhoppers. They employ chemical and visual cues to locate their kin and eventually create groups for mating and feeding.
How To Get Rid Of Leafhoppers Naturally?
If you have confirmed the presence of leafhoppers infestation, you must take measures to eliminate it. There are some natural methods to combat leafhoppers. Below we will discuss a few of them:
1. Sticky traps
It is the most straightforward method of killing and attracting leafhoppers and numerous other garden pests. These are available at a local garden center or online. You can also make your DIY leafhopper trap.
You only need some cardboard pieces and coat them with a sticky substance like molasses or non-drying glue. Even though different colors lure different pests, yellow works best for leafhoppers. You can hang the sticky traps around the house and near your plants.
2. Control them using natural predators: What eats leafhoppers?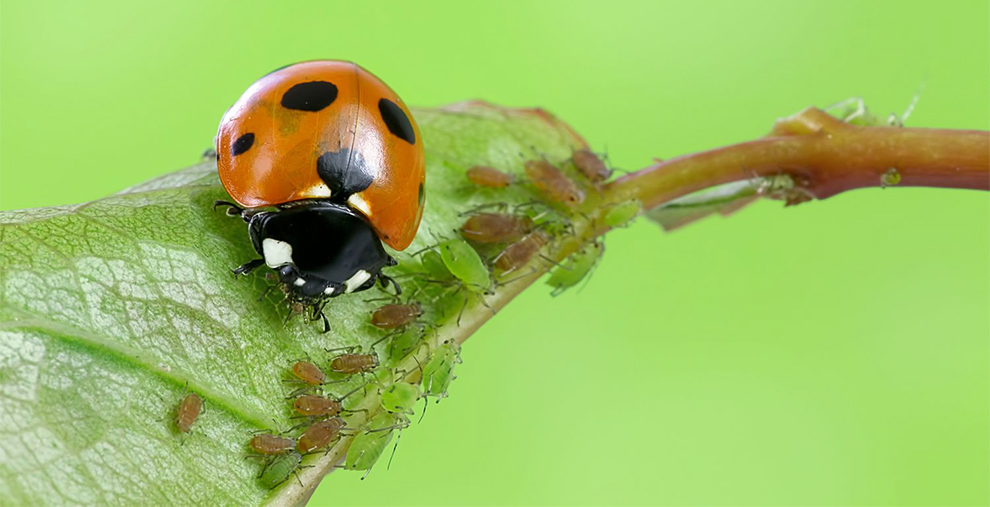 It is one of the best, most effective, and most natural ways to tackle leafhoppers. There are some beneficial predatory insects that can consume large numbers of larvae, eggs, and even adult stages of many insect pests, including leafhoppers.
Some beneficial insects include damsel bugs, minute pirate bugs, lacewings, and ladybugs. In addition, parasitic wasps can also eat leafhopper eggs.
3. Row cover
It is one of the most effective methods to keep leafhoppers and other insects at bay. Row covers offer adequate protection from insect attacks. These are breathable, lightweight fabrics draped onto the plant to build a physical barrier between the insects and the plants.
Please be cautious when picking row covers and choose one that lets the water and light reach the growing plants. Ideally, you must put on this cover before the plant flowers and remove them once the flowering season commences allowing the pollinators inside.
4. Does neem oil kill leafhoppers?
Neem oil does not kill leafhoppers, but it can control or prevent their appearance.
Neem oil can be an effective way to control leafhopper populations, as it contains azadirachtin, a compound that is toxic to several insect pests like leafhoppers. However, please be cautious when using neem oil and apply it to the affected plant.
Use them on the leaves of the affected plant, covering the top and the underside. You can use a spray bottle for application. Further, apply neem oil early in the growing season before the leafhopper crowds the plant. Sadly, if the leafhopper is already present, neem oil may not work.
One of the best products you can use is Natria Neem Oil Spray.
5. Will soapy water kill leaf hoppers?
Soapy water can be incredibly effective in controlling the leaf hoppers on the plants. The soap in the water breaks down the waxy coating on the leaf hoppers' bodies. Hence, it gets difficult for them to breathe, resulting in their death. However, this method might not be 100 percent if the infestation is severe.
Take a few drops of mild dish soap in a spray bottle and mix it with water. Spray this solution directly onto the affected leaves, ensuring you wet both the top and the underside.
Botanists recommend doing it late in the evening or early in the morning when the sun is not intense, as the soap may harm the plant if applied during the hottest part of the day. Repeat this process till the leafhoppers are in check.
6. Diatomaceous Earth
Diatomaceous Earth is an organic and natural product that helps control leafhoppers' presence on plants. It is composed of fossilized remains of diatoms, a type of algae with silica-based, hard shells. Diatomaceous Earth applied on the leaves damages the pests' exoskeletons, drying them out and eventually killing them.
But it is imperative to employ only a food-grade Diatomaceous Earth labeled for use on plants. Please follow the instructions during the application to avoid harming beneficial predators and animals.
When using Diatomaceous Earth, ensure that the plants are dry. Now, lightly dust the plant's leaves with a thin layer of Diatomaceous Earth using a duster or a soft-bristled brush. Apply it on both sides.
How To Get Rid Of Leafhoppers In Grass Using Chemical Products
Since leafhoppers do not have several natural enemies, people prevalently take measures to control the infestations with synthetic or chemical pesticides. You can find many such products commercially at the home gardener. Ideally, you must pick ones that contain carbaryl, diazinon, and malathion.
Please note these are toxic to beneficial insects and pests and can harm other mammals and people. Thus, employ them in moderation and strictly when you cannot manage infestation through environmentally friendly options. Further, please read through the manufacturing label directions to apply them.
Here are some of your options:
 
1. Southern Ag Natural Pyrethrin Concentrate
Available in an eight oz container, it is an organic insecticide composed of a relative of chrysanthemum. Use this insecticide to combat insects on ornamentals, vegetables, livestock, barns, and houseplants.
It contains 9.6% piperonyl Butoxide and 0.96% pyrethrins. It helps kill leafhoppers and controls the mosquitoes outdoors. You must use 2/3-2 teaspoons for every gallon through dip or spray.
 
2. LG 6274 Monterey Vegetable and Fruit Tree Systemic Soil Drench Pesticide Concentrate or Insecticide
 
It is a renowned insect killer, ideal for flea beetles, aphids, trips, leafhoppers, Japanese beetles, mealy bugs, whiteflies, and other pests. The insecticide helps guard the nut and fruit trees, such as citrus, bananas, pome fruits, cashews, grapes, chestnuts, berries, stone fruits, pistachios, cashews, avocadoes, mangoes, walnuts, and several others.
You can use this product on various vegetables and herbs, such as Chive, Basil, Thyme, Tarragon, Dill weed, Cilantro, Kale, Parsley, Lettuce, Celery, Brussels sprouts, mustard greens, Kale, Cauliflower, Parsley, and others.
A standout attribute of this insecticide is that it offers year-long protection. For best results, you must dissolve it in water through the soil, where it gets absorbed by the roots. Once absorbed, it moves through the shrub or tree, offering year-long protection against insecticides.
Fortunately, it also actively prevents new growth. The insecticide readily mixes with water. You must pour the soil around the plant's base.
 
3. Bonide Pyrethrin Fast-Acting Ready-to-Mix Insecticide
It is a fast and effective pest control method to kill aphids, leafhoppers, webworms, beetles, and other garden and yard insects.
The insecticide helps guard the ornamentals, flowers, trees, and vegetables and is designed for broccoli, beans, asparagus, spinach, roses, tomatoes, peppers, geraniums, dogwoods, begonias, geraniums, and azaleas. You can also use it on ornamental shrubs and trees.
This insecticide has Pyrethrin, a biodegradable insecticide, present by in-default in the chrysanthemum flowers. It kills the insects by directly targeting their nervous systems. You can use the garden insect spray on vegetables up to the day of the harvest.
It does not leave any objectionable residue. It is easy to apply the product that mixes with the water quickly. A hand sprayer, a sprinkler can, or low-pressure sprayers can help with the application. Before using, please read through the directions on the label. Three tablespoons for every gallon of water is recommended. It is safe for vegetable gardens.
Related Infestation Problems: How to get rid of goat heads | How to treat scales on plants | Removing Fungus Gnats from Houseplants |
Homemade Leafhopper Spray
You can also use some homemade leafhopper sprays to get rid of these insects. Here are a few of your options:
1. Pepper and Garlic Spray: It employs the hot pepper and garlic's natural repellent properties to keep leafhoppers at bay. You can make the mix by using one or two finely chop cloves of garlic with one or two hot peppers and steeping them in one 1 quart of water for at least a day.
Once prepared, strain the mixture and 2-3 drops of mild dish soap into it. Now, spray it directly onto the infected plants, ensuring you cover both the top and bottom ends of the leaves.
2. Lemon Juice Spray: It is acidic and can be beneficial home-remedy to deter or kill the leaf hoppers. It is easy to make this spray. You need to take the juice of two to three lemons and mix it with one quart of water.
Add 2-3 drops of dish soap to the mixture, and spray it onto the affected plants, covering both sides of the leaves.
3. Neem Oil Spray: If you do not want to invest in a store bought spray, you can make one yourself. Take one to two tablespoons of neem oil with one quart of water. Further, add two to three dish soap drops to it. Now, spray the mixture on the leaves, covering both sides.
Though this homemade leafhopper spray can be beneficial, it might not be as effective as commercial insecticides, especially during heavy infestations. Thus, you must regularly monitor your plants and reapply the mixture to keep infestation in control.
Further, it helps to test the spray on the smaller area before applying them on the entire plant to ensure it does not cause any damage.
What To Do With The Plants Infected With Leafhoppers?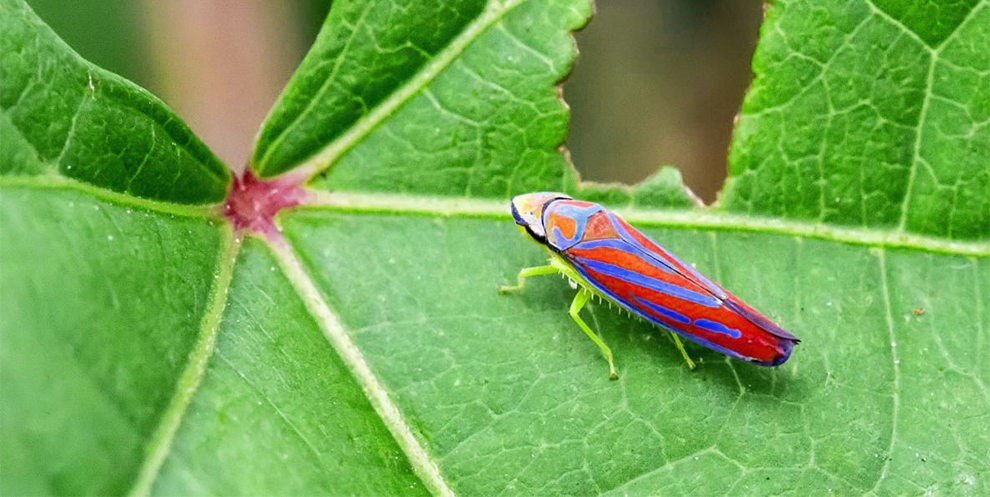 If the plant is infected with leafhopper, you can do one of the things to control infestation:
Remove the infested leaves: When the infestation is localized, remove the infected leaves by hand and dispose of them in a trash can. It can reduce the number of leafhoppers on the plant and prevent their spread.
Employ insecticides: Insecticides exquisitely formulated for controlling or killing the leafhoppers can be beneficial. You can find both synthetic and organic variants. Please read through the label instructions to avoid damage to beneficial predators and other animals.
Use natural remedies: As already stated, several natural remedies can also help control leafhopper spread. Some popular options include homemade sprays, diatomaceous earth, and soapy water. However, they might not be as effective as insecticides, but if you prefer a natural approach, it is a good pick.
However, if the infestation is severe and has badly infected the plant, we recommend removing the entire plant to prevent the infestation from spreading further.
After removing the plant, please dispose of it in the trash, not the compost pile, where leafhoppers might continue reproducing on the plant material.
How To Get Rid Of Leafhoppers In Lawn and House?
Broadly, leafhoppers are outdoor insects that feed on plants. Hence, they are not a prevalent sight indoors. But if you spot leafhoppers indoors, here are some steps you can take:
Identify the source: Try to locate the source, as they may have entered the house through an open door or window or via the gaps or cracks in the foundation or wall. Once you find the source, seal the entry points to ensure more leafhoppers do not come in.
Manually remove them: If the count is few, you can manually remove them using a dustpan and broom or a vacuum cleaner and dispose of them outside the house.
Use insecticides: If the infestation is severe, you can employ insecticides exquisitely formulated for controlling the leafhoppers.
Contact a pest control professional – If you do not want to use insecticides or the infestation is highly severe, contact a pest control professional. They can assess the situation and help you with suitable treatment options.
Leafhopper Symptoms
Leafhoppers feed on the plant's sap by piercing the plant tissues with their mouth, resulting in one or more of the below-listed symptoms:
Wilting: Leafhoppers can cause the stems and leaves to wilt during severe infestations. Wilting might kill the plant eventually.
Yellowing leaves: Usually, the infested leaves change color to yellow. It is a sign of chlorosis, a condition where the leaves lose their green color.
Stunted growth: Leafhoppers might also result in stunted growth by disrupting the water and nitrogen flow in the plants.
Distorted or curled leaves: Leafhoppers can cause the leaves to become distorted or curl. It hampers the plant's ability to perform photosynthesis and produce energy.
Visible insects: You can spot the pests walking across the plant and the leaves. 
Honeydew: Like other sap-sucking insects, leafhoppers excrete a sticky, sweet substance called honeydew. Honeydew attracts insects and ants, resulting in sooty, black mold growing on the infected leaves.
Hence, anytime you suspect leafhopper growth, act immediately to prevent the infestation from spreading and causing more damage. Routine inspection can help you catch the infestation before it becomes too severe.