Fresh Small Front Porch Landscaping Ideas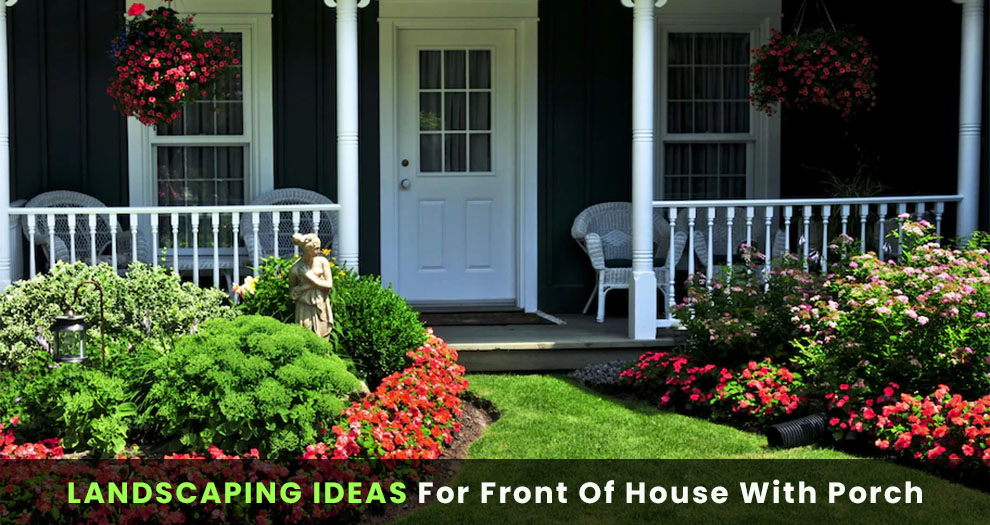 When people see your home, they're most likely to notice the front yard. A lovely front yard landscape is natural, but it's also a good idea to incorporate elements of your home's architectural style into the design.
 
When it comes to designing the exterior of your home, there is a wide range of options. If you're looking for new front porch landscaping ideas for decorating and designing, we've gathered a list of the top landscaping ideas for front of house with porch.
 
Jump To
How Do I Landscape My Front Porch?
Landscaping your front porch is not that difficult. In reality, it's fairly simple to make it look beautiful. Keep the area tidy for a better outlook with our front porch landscaping ideas.
1. Clean the house frontage including front garden
Before we talk more about small front porch landscape ideas, let's talk about this important preparatory step.
 
Cobwebs and litter might quickly build up on porches, which deter potential customers. With regular maintenance, you can get rid of those unsightly blemishes.
 
Make sure to vacuum, mop, and clean surfaces as needed. Also, keep your plants trimmed and your rugs and cushions shaken out.
 
Regularly cleaning the front porch is essential. Using a broom or mop, you can sweep off any residual dust.
2. Decide upon a theme if you want
Deciding a theme for a simple front porch landscaping is fairly personal. It completely depends on one's style and requirements. Choose some of the following themes:
 
Rustic, modern farmhouse, outdoor living space, wood & concrete, minimalist, greenery, and many more. Once you know your theme, you could landscape according to it.
 
3. Get rid of excess patio furniture and revamp the needed ones
A welcoming front porch doesn't require a whole room's worth of furniture; a couple of folding chairs and ottomans, along with a rug, plants, and a light-up ceiling fan, is all you need.
 
Outdoor couches and armchairs are popular choices for outdoor furniture. If your patio doesn't have nice furniture, you won't even want to spend time there.
 
To make the most of front porch landscaping ideas, invest in long-lasting pieces like pillows and coverings and decorate them with bright accents.
4. Paint the outdoors with bright/subtle color scheme based on your preference
The next one in our list of landscaping ideas for front of house with porch is using color to add style.
 
In order to create an open, airy atmosphere on the front porch, consider using a bright or subtle color scheme, but don't worry if the specific colors don't draw attention to themselves.
 
To get this effect, paint the front porch or stairs the same shade as the panels or exterior if it's light and neutral.
5. Create a pathway
Visitors should be greeted by a red carpet-like pathway to your porch, regardless of the style. Use 3 ½ – 4 feet as a guide; this lets two people walk beside each other.
 
If you need to know a little secret for small front porch landscape ideas, here's a tip: Direct access to the porch via a straight walkway keeps your gaze fixed on the entrance.
 
A low-cost material, stamped concrete, can mimic the appearance of actual stones. For this effect, concrete is placed then pounded in the form of irregular stones with an instrument while it is still wet.
 
Concrete sidewalks and front entrances are a popular choice for people. During the construction of a house, it is a simple and cost-effective material to use for the sidewalks and front porch.
6. A welcoming Arbor or arch at the entrance
A lovely garden arbor can both enhance the aesthetics of your front yard and serve a practical purpose. With an arbor, you get seclusion, shelter, and décor all in one!
 
Other uses include supporting vegetables and fruits as well as climbing plant varieties. It's also a simple front porch landscaping idea to make a good impression on your guests.
 
Add a touch of elegance by placing an arbor across the pathway leading to your patio. For further seclusion, train vines all along the sides and above the structure to obstruct the view. A well-chosen arbor can do wonders for your deck.
7. Put up some new hanging plants
Outdoor lighting, a patio swing, and other front porch decorations are all viable options. Plants, on the other hand, can greatly enhance the appearance of your front patio space. The subtle sophistication of front porch plants cannot be overstated.
 
Hanging flowers and foliage can transform these outdoor constructions into a stunning centerpiece. The simple addition of a bright flower pot or a tall planter, on the other hand, can complete the look of your porch beautifully.
 
These landscaping ideas for front of house with porch will inspire you whether you want to flaunt your adorable potted plants or to create an exquisite setting with beautiful flower pot arrangements.
8. Use succulents
Despite the fact that most succulents prefer the sun, there are those that thrive in the shade, especially during the hottest months of the year.
 
In order to add a dash of color and interest to your front porch, consider planting a few succulents! Shade-loving plants like Jade, Sedum, Aloe Vera do very well in porch planters and are great for simple front porch landscaping.
 
Make sure your front porch succulents get enough sun all day long if you want them to thrive. A few hours of sunlight a day may help rejuvenate your succulents if they begin to lose their vigor or stop blooming.
9. Outline the front area with flower beds
Creating smaller garden beds with raised bottom ends is an effective method of leveling the soil. Doing something like this is both functional and visually appealing. This means that you can now cultivate your flower bed in the soil of your choice. Having a flowerbed is one of the wonderful landscaping ideas for front yard with porch.
10. Add a swing/hammock for a happy touch
If you're looking for a simple front porch landscaping idea, a porch swing is a great option. It's both functional and visually appealing. They come in a wide variety of forms from umbrella to modern to bed swings and even porch hammocks with stands.
 
The options for landscaping ideas for front of house with porch are nearly endless. It is possible to find porch swings made of different types of materials such as wood and metal as well as wicker and plastics.
11. Illumination adds to the appeal
Incorporating illumination into your front porch with floor lamps is a terrific way to avoid cluttering up your tables and walls. Floor lamps can be beautiful and rustic at the same time, making them an excellent choice for an outdoor space.
 
The stairs leading up to your porch are an excellent area to add some rustic flair to your low front porch landscaping. You can buy LED lights that appear beautiful and last far longer.
12. Create a structure – fountain/stone arrangements/artificial pond
One of the excellent landscaping ideas around front porch can be adding a water structure.
 
Front porch decoration can be jazzed up with a fountain or an arrangement of stones and an artificial pond. A combination of these will enhance the aesthetics of your porch even further. Even a simple artificial pond can make a place look beautiful, and the sound of water gushing is amazing.
13. Fill in the gaps with large stones giving a natural appeal
Filling up voids with rocks is the easiest and least expensive landscaping ideas for front yard with porch. Sand or soil can be used to fill in the gaps in-between plants, and then the rocks can be laid on top.
 
Small and flat river stones or pebbles might be used for this purpose. They also make a fantastic filling for larger pieces of travertine.
14. Install a quirky letterbox, bird house, bench etc.
In order to create an atmosphere of peace and coziness while still retaining contact with the street, a front porch intended for sitting is partially enclosed.
 
There are several ways to accomplish this, including hard barriers like walls and railings, as well as softer features like plants, shades, and hanging art.
 
Finishing touches to the front entrance, such as letterboxes, bird house, and sitting benches also help to enhance the overall look of your front porch.
 
Decorate the birdhouse with fresh flowers or foliage. When you're not home, a colorful letter is an excellent place for delivery personnel to leave mail or deliveries.
 
If you're looking for landscaping ideas for front of house with porch, It's a terrific way to welcome guests to your home to place a nice, simple, and attractive little wooden seat on your front porch. It's cozy yet looks sharp.
Frequently Asked Questions
What can I plant in the corner of my porch?
Adding splashes of greenery to your front porch is one of the simplest factors that enhances the front porch of your home. Here are some suitable options:
Wandering Jew: This plant is ideal for individuals who wish to give their porch a little flair. The vibrant hues and creeping vines of this plant are sure to attract the eye of anybody who sees it.
Petunias: Regular petunias can give a burst of color to your garden during the warm months. Wave petunias, on the other hand, are ideal if you want your porch to remain colorful far into the early autumn.
Sun-loving plants: The open portions of your porch are more likely to get direct sunlight because they are on the porch's perimeter. And thus, you can squeeze in a few of your favorite sun-loving plants.
Some other plant options for small front porch landscaping ideas include: Window boxes, bushes, hedges, and climbers
What should I plant next to the front steps?
The garden in front of your front door is often the first thing guests see when they arrive at your house, so it gets extra attention.
 
Because of this, you should tread cautiously while selecting plants for your front door garden's entryways. Some plant suggestions for landscaping ideas around front porch are Ferns, ornamental grass, coneflower, zinnia, daffodil, and soft needle conifers are great choices.
How can I landscape without plants?
Landscaping without plants gives you places to hang out that aren't crowded with hanging potted plants, vessel gardens, or overfilled flowerbeds.
 
While trying different landscaping ideas for front of house with porch, don't try to compensate for not owning plants in your yard by filling the space with various objects.
 
Instead you must try:
Side Edging: With landscape edging, you can give your front porch a more interesting look. You can add a nice frontier with patio pavers, stones, or bricks. You can also try using different sizes of stones to make a rock garden.
 
Creating an open space: Creating an outside living space where you can relax and unwind is a great option if that's more your style. You can choose to have an open kitchen, a dining room, or even a bar where people can hang out.
 
Easy-care groundcovers: Low-maintenance substitutes for grass include sand, dirt, compost, and bark. In addition, they can provide a burst of color to ease the stress of the environment.
How can I make my front yard look more expensive on a budget?
Rocks are a cheap way to decorate your front yard that can make it look beautiful. More landscaping ideas around front porch include flowers.
 
Flowers are also a cheap addition that can make the porch look better. They are easy to take care of and adds color and elegance to your outdoor space.
 
Like boxwood, which is great as a base plant and comes in different sizes. They look great with flowers of different sizes and colors and shapes.
What flowers look good in front yard?
Creating a beautiful front-yard filled with flowers, bushes, and greenery is a wonderful way to show your neighbors how much you care about your property.
 
By creating an engaging, stylish, and enchanting garden, you may make your home's facade more beautiful and welcoming.
 
Petunia, delosperma, alyssum, mondo grass, amsonia, begonia, peonies, and lavender are some of the suitable choices for landscaping ideas for front of house with porch.
What is best shrub for front of house?
Rosemary, Boxwood, Rhododendron, Dwarf Gardenia are among the most popular low-maintenance shrubs.
 
Flowering shrubs, evergreens, and deciduous trees can all be used to enhance the curb appeal of your home's front yard.
 
Adding curb appeal to your home is easy with low-maintenance shrubs and amazing front porch landscaping ideas. You only get one chance to make a first impression, so make it count!
 
If you choose plants that require regular trimming or care, you run the risk of making it a duty you'll put off. The trick is to avoid plants that grow uncontrollably or require continuous pruning.
 
Related: Fast Growing Shrubs for Privacy, Building a Shadow Fence
 
Conclusion
There you go! With spring and summer just around the corner, there are many ways to make your front porch feel more welcoming and inviting, no matter how big or small it is.
 
When decorating your home for the summer, don't forget to include some of these interesting, budget-friendly, and easy landscaping ideas for front of house with porch.