Which Peony Is The Most Fragrant & Best Smelling?
The best smelling peonies are either from the white and pink color category. Some double peonies also come with great fragrance.
Peonies are nature's prettiest perennials and the most fragrant ones too. Peonies can add color and vibrancy to your landscape with their exquisite flowers and seasonal shade-changing foliage.
These flowers are one of the most popular in the world for their showy blooms, which come in a range of colors including white, pink, red, yellow, and lavender. They are also known for their sweet fragrance, which ranges from light and citrusy to heavy and musky, depending on the cultivar.
If you have been wondering which peony is the most fragrant, then know that some peonies are so strongly fragrant that the scent can be smelled from a viewing distance, while moderately fragrant peonies can be smelled only from a close distance. These moderately fragrant peonies are ideal for indoors.
The double, pink, and white peonies are the most fragrant, while the red and single peonies are not at all fragrant.
The fragrance of Peonies changes during the day under the influence of humidity and temperature. Those flowers that receive the warmth of the early morning sun are most fragrant when they first open. The scent reduces and the flowers become non-fragrant later in the day when they are heated up by the sun as all the essential oils get evaporated by the heat.
Peony Flower Information
Peonies once established can go on to live for generations. They belong to the Paeonia genus and are native to Asia, Europe, and western North America. The flowers are usually round or cupped-shaped and can be single, semi-double, or double in form.
The plants grow as shrubs or herbaceous perennials and are highly valued for their ornamental value. Peonies bloom in late spring to early summer and are commonly used as cut flowers for arrangements.
In addition to their beauty and fragrance, peonies are also prized for their cultural significance and historical associations, with some species having been cultivated for thousands of years in many cultures.
Whether planted in a garden or enjoyed as a cut flower, peonies are truly a delight for the senses.
Let's look at the popular most fragrant peony varieties.
Best Smelling Most Fragrant Peonies Collection
The highly fragrant varieties of peonies are capable of scenting up an entire room and turning heads. Their fragrance is strong, sweet, and floral which can remind you of French perfume.
When it comes to moderately fragrant peonies, they are not overpowering. They are earthy, lightly sweet and a little spicy. These flowers are perfect for a small area or when you are looking for a touch of floral scent that is not overwhelming.
Which Are The Top 10 Most Fragrant Peonies?
Duchesse de Nemours
Dr. Alexander Fleming
Mother's Choice
Festiva Maxima
Sarah Bernhardt
Bowl of Beauty
Pecher
Felix Crousse
Roald Dahl
White Innocence
Let's read more about some of them in detail.
A. Most Fragrant Peony Varieties
1. Duchesse de Nemours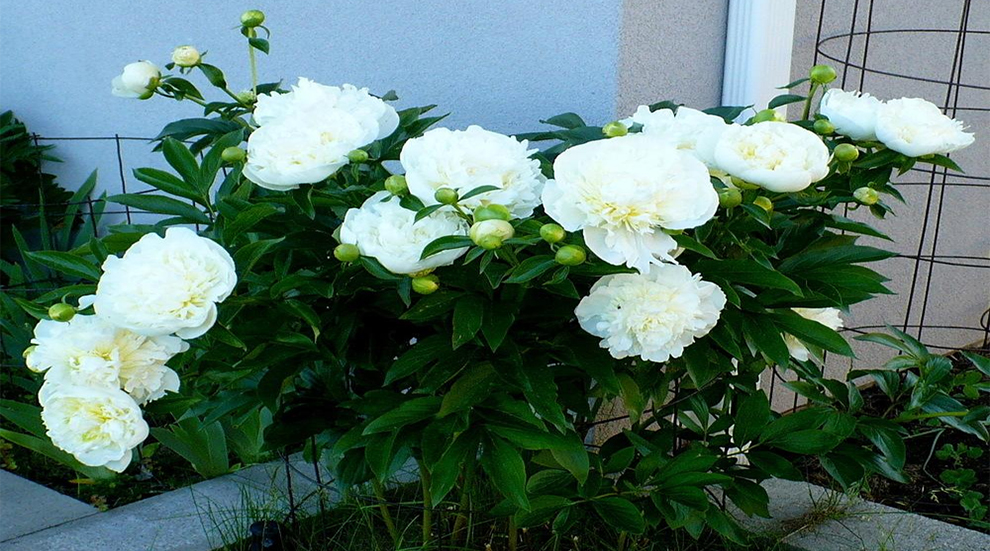 The Duchesse de Nemours is an extremely stunning peony that should be a must in your garden. Mesmerizingly scented, the plant produces crown-shaped blossoms with rich white-cream petals with a touch of yellow.
Typically, double or semi-double, the flowers bloom in shades of white or pale pink. The large and round outer petals surround the smaller petals topped by a crown of large and white incurved petals.
The plant has bright green, deeply-lobed leaves and sturdy stems, reaching a height of up to 3 feet. These varieties have adorned the gardens for over 150 years.
The Duchesse de Nemours peony is relatively low maintenance, making it a popular choice for gardeners.
2. Dr Alexander Fleming

 
This is the most fragrant tree peony in the world known for its divine fragrance, strong stems and side buds that encourage a long blooming season. Considered to be the prime variety of the cut flower industry, Dr Alexander Fleming produces large 6-inch blooms.
Named after the famous Scottish scientist and Nobel Prize winner, Dr Alexander Fleming, this full-petaled medium to large size flowers in deep rose to salmon pink color appear like a rose.
3. Mother's Choice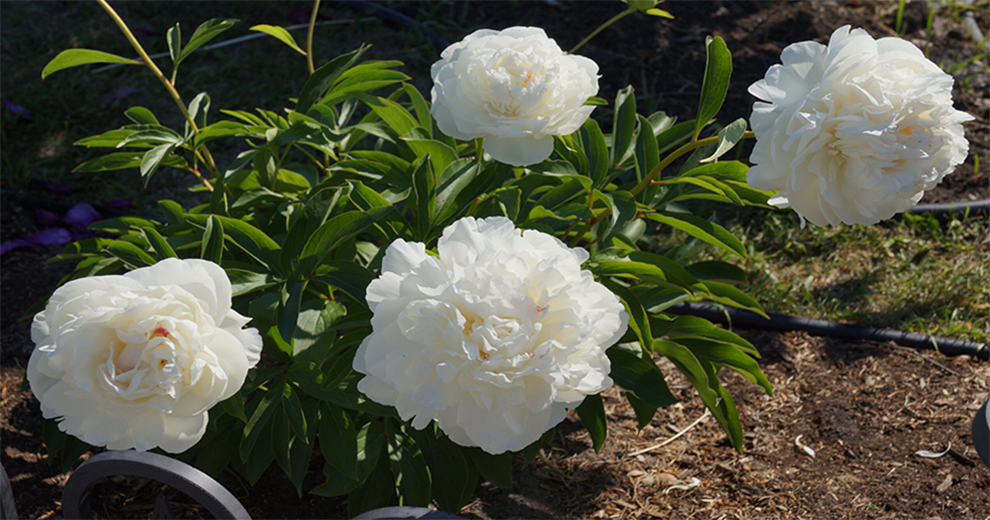 The variety is named "Mother's Choice" as a tribute to mothers and the important role they play in nurturing and caring for their families. They made it to our list of most fragrant peony varieties due to their hard-to-ignore fragrance.
 
These are double blossoms with creamy to white petals displaying a faint blush. These large flowers sometimes exhibit magenta streaks on the edges of their petals. Either in a vase or a garden, Mother's Choice is a beauty to the eyes. Borne on strong stems, this variety hardly needs staking.
 
4. Festiva Maxima

 
Delightfully fragrant, Festiva Maxima is a remarkably beautiful double white-colored flower with frilly petals, occasionally streaked with crimson. These large 12-17 cm wide blossoms bloom profusely in late spring to early summer.
 
The blooms that flower for around 7 to 10 days is supported by sturdy, leafy stems that add texture to the garden.
 
Festiva Maxima peony is a popular choice for cut flowers with a long vase life. These are ideal for garden borders and beds or cottage gardens. Plant these low-maintenance flowers in a driveway for bordering a walk or as an informal hedge.
 
5. Sarah Bernhardt

 
These large best smelling peony and outrageously beautiful double blooms in rose and pink with tangled inner petals, occasionally marked with raspberry are sure to take your breath away.
 
These types of flowers are named after the famous French actress Sarah Bernhardt. They are held on strong, upright stems, making them ideal for cut flower arrangements. The plant typically grows to a height of 1 to 2 feet and has deeply cut dark green foliage that provides an attractive backdrop to the flowers.
 
6. Bowl of Beauty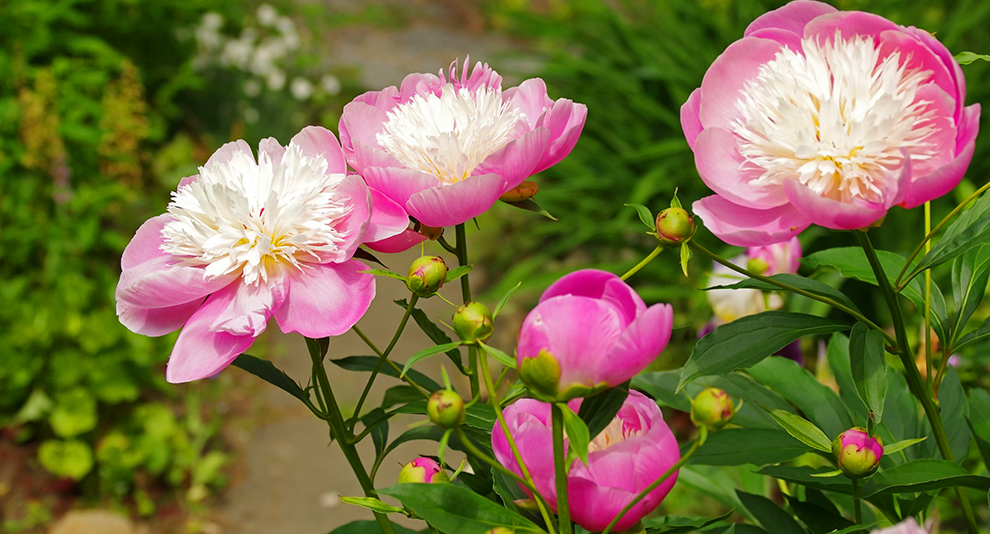 Bowl of Beauty is a popular variety due to its large, fragrant blooms and long vase life. It is named for its large, bowl-shaped blooms that are in rich pink and packed with a central boss of yellow strappy stamens.
They are considered to be one of the most striking peonies in the world.  In a large herbaceous border garden, these flowers would make for a great focal point or they make for excellent cut flowers due to their long vase life.
7. Pecher

 
So, which peony is the most fragrant? Well, Pecher is one of the most deliciously fragrant peonies with semi-double creamy-white and pale pink petals. The outer petals sometimes display a beautiful edge of red streaks.
These dreamy-looking blooms that are fantastically scented look perfect in your garden borders and beds. Whether you include these perfumed beauties in your outdoor spaces or bring them indoors to make for glorious bouquets, these big fluffy blooms will add grace and elegance anywhere and everywhere.
B. Light and moderately fragrant peonies
1. Amalia Olson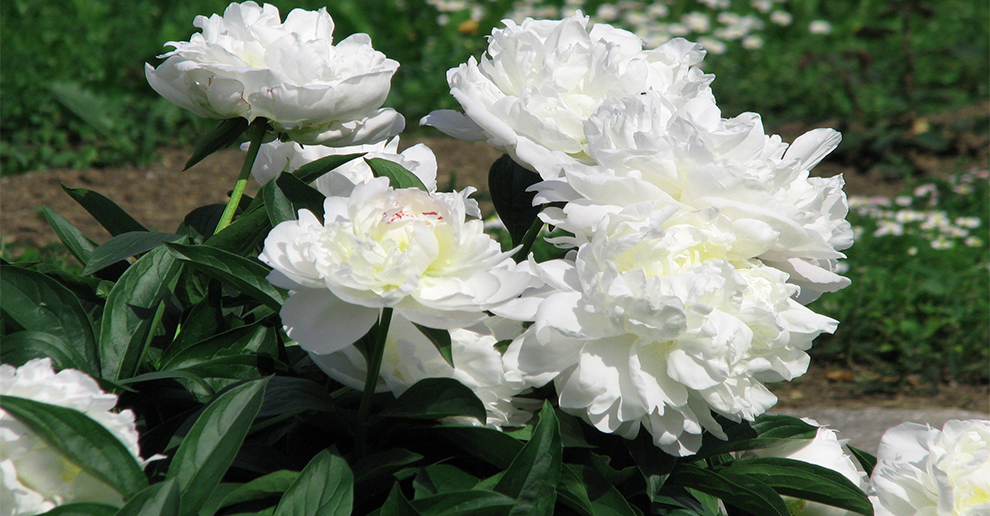 Amalia Olson is known for its beautiful buds and floral scent. Its radiant and attractive color makes it ideal for festive occasions. In the initial days, these flowers are pink in color and later when they bloom they turn white.
 
It is a double flower with green foliage. The blooms are medium to large-sized. They look perfect in cut flower arrangements and thrive well in both cold and warm climates.
 
2. Moonstone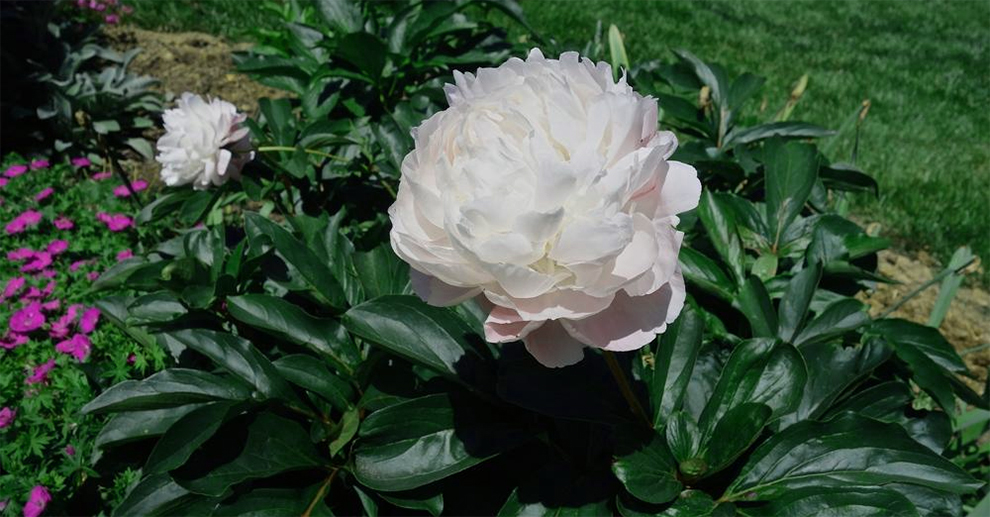 Moonstone Peony is a variety of peony flowers known for their large, double blooms in shades of white, cream, and pale yellow. Moonstone Peony plants are prized for their delicate fragrance, abundant flowers, and attractive foliage.
 
They are commonly grown in gardens and used as cut flowers in floral arrangements. These perennials are easy to care for and typically bloom in mid-to-late spring.
 
3. Red charm

 
We have included Red Charm Peony in the list of the best smelling peony as they are the most striking and beautiful smelling varieties of peonies. If you are bored of the usual pink and white peonies, Red charm will delight you with its unusual deep red color.
 
These blossoms have a single petal outside and dense double petals on the inside. They grow to about 3 feet tall and wide. Red Charm Peonies are prized for their bright color and sweet fragrance and are commonly grown in gardens and used in cut flower arrangements.
 
They are low-maintenance plants that prefer well-drained soil and full sun to partial shade.
 
4. Bowl of Cream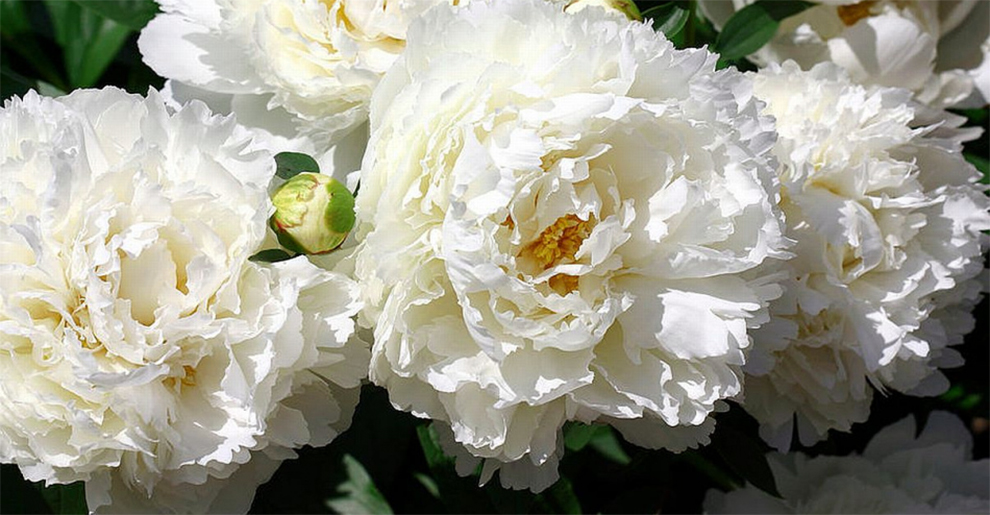 The thick and beautiful full-white petalled Bowl of Cream peony is sure to sweep you off your feet with its beauty. These little to no fragrant flowers resemble a cup full of whipped cream and so are aptly named the 'Bowl of Cream'.
 
Apart from the stunning huge flowers, these plants also boast massive sturdy stems that carry the weight of the huge flowers. These are mid-season blooming peonies.
 
5. Karl Rosenfield

 
Karl Rosenfield is a double ruby red flower with a hint of yellow in the center. Widely considered the best red double peonies, these flowers look stunningly beautiful amid their dark green foliage on sturdy and solid stems.
 
Nearly 8 inches wide, these scarlet beauties are the most fragrant tree peony that doesn't fail to draw you closer to them. They look perfect as specimen plants or in perennial beds and cutting gardens.
 
6. Garden Treasure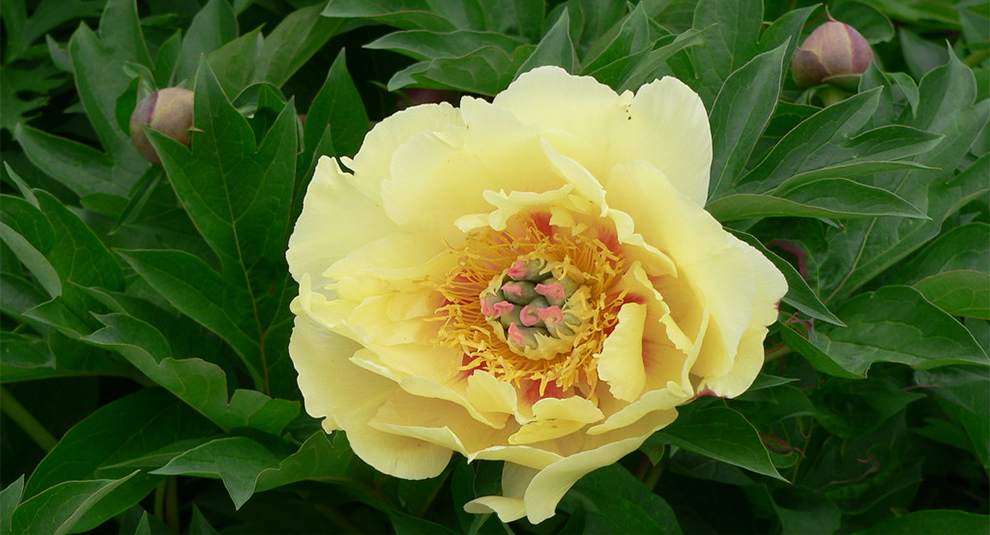 Garden Treasure produces semi-double, extra-large citron yellow flowers with a hint of scarlet red at each petal's base. These lemon-scented, truly stunning blooms arrive in spades on this productive plant that requires no staking.
 
Even long after the flowers fade, the lush foliage stands strong and healthy. The plant is a hardy perennial that produces flowers uniformly every year from underground overwintering buds.
 
7. My Love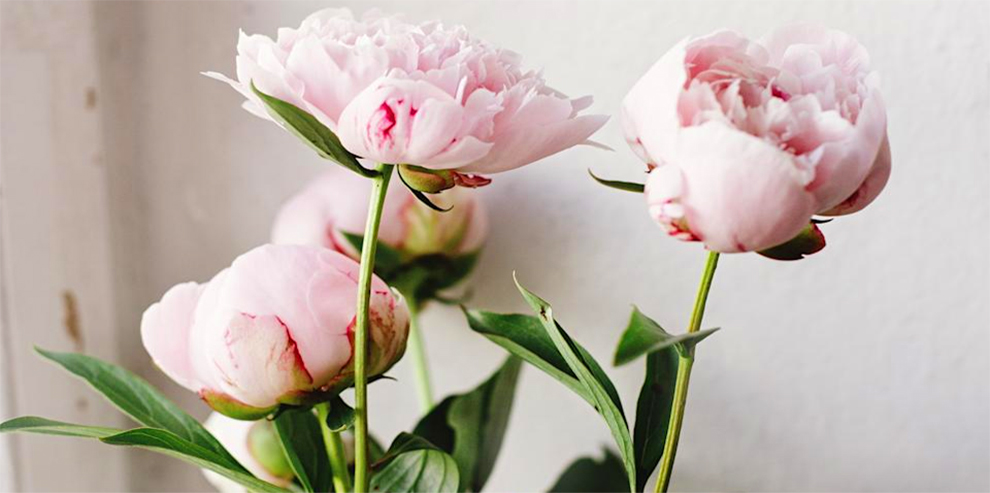 These mildly fragrant peonies initially open in mother of pearl color. With every opening, they turn more gorgeous and become a brighter shade of white. The blooms proudly perch on solid and sturdy stems.
 
Among all the peonies, these are the most tolerant of adverse growing conditions. They are fast growers and grow up to 30 inches tall.
 
Related: Popular Types of Peonies | How Long Does It Take for Peonies to Bloom | How To Care for Peonies In The Fall | How Long Do Peonies Live | What Is The Best Fertilizer For Peonies
 
Peony Scent Description and Information
Peonies are known for their beautiful and fragrant blooms. The scent of peonies can vary depending on the variety, but they are generally described as having a sweet, floral aroma with hints of rose, honey, and a slightly spicy scent.
 
The fragrance is strongest on sunny days and can be enjoyed both up close and from a distance. The blooms of peonies are often used in cut flower arrangements, where they add not only beauty but also a delightful fragrance to a room.
 
A. Why don't my peonies have a fragrance?
There are several reasons why your peonies may not have fragrance:
 
Variety: Not all peony varieties have a fragrance. Some have little or no fragrance, while others have a strong aroma, making them the best smelling peony.
Growing conditions: Peonies may not produce fragrance if they are not getting the right growing conditions. Adequate sunlight, soil nutrients, and watering are important factors that affect peony fragrance.
Time of day: Peonies typically release their fragrance in the early morning or late afternoon when the temperature is cooler. If you smell them during the middle of the day, they may not have as strong of a fragrance.
Age of blooms: Peony blooms that are past their prime may not have as strong of a fragrance.
Climate: Weather conditions such as temperature, humidity, and wind can affect peony fragrance.
 
If your peonies have no fragrance, it could be due to one or a combination of these factors. Consider trying a different variety or adjusting the growing conditions to see if that helps.
 
B. What peony smells like roses?
There are several best smelling peony varieties known to have a fragrance that is similar to roses. Some popular choices include Duchesse de Nemours, Bowl of Beauty, Mrs Franklin D. Roosevelt and Festiva Maxima.
 
C. What color of peonies smell best?
The color of a peony does not determine its fragrance. The strength and type of fragrance can vary based on the variety of the peony, its growing conditions, and even the time of day.
Some of the most fragrant peonies come in a range of colors, including white, pink, red, and yellow.
D. Which is the most expensive peony?
The price of peonies can vary greatly based on several factors, including the variety, the time of year, and the location. Some rare or unusual varieties of peonies can be more expensive, but it's difficult to determine the most expensive peony.
Additionally, the cost of peonies can also depend on the demand, the grower, and other local factors.
E. Which is the most fragrant white peony?
The most fragrant peony varieties can vary based on personal preference. Some popular choices for fragrant white peonies include 'Duchesse de Nemours', 'Bowl of Beauty', and 'Festiva Maxima'. It's always a good idea to check with your local nursery to see which varieties they have and which they recommend for fragrance.