Different Kinds of Sansevieria (Snake Plant Varieties)
With more than seventy different types, there is a snake plant for everyone – medium sized, short, and dwarf
Snake plants are forgiving and very easy to grow. Because of their thick texture and upright leaves that look like a tongue, they are called Mother-in-law's Tongue. Botanically called the Sansevieria, Snake plants can thrive in less water and low light. They have many pros and absorb toxic compounds like benzene and formaldehyde from the environment.
It almost seemed forgotten in the last few decades before it was finally rediscovered as an ornamental plant some years ago. There are more than seventy different snake plant varieties, and most, if not all, belong to the Dracaena genus.
Native to southern Asia, Madagascar, and Africa, Snake Plants belong to the Asparagus plant family and are flowering.
Below, we will discuss some of the most prevalent snake plant types. Let us address them one by one.
Types of Sansevieria Varieties
How Many Different Types of Snake Plants Are There?
Snake plant cultivators and species can be grown indoors in any corner of the world. It is good news for people who reside in a region that does not have favorable conditions like warm weather around the year.
Please remember not every sansevieria species seek the climate found in USDA hardiness zones nine through eleven for outdoor, year-round growing. If you think the geography may fail to provide the necessary conditions, it is best to grow your snake plants indoors. Here's how to make your snake plants grow faster.
You can take them outdoors when the temperature is over 60 degrees Fahrenheit and move them back indoors when the cold weather returns.
Before we discuss the various snake plants, a small word of caution – almost all species are mildly toxic to pets and humans.
Hence, keep them out of reach from any creature susceptible to harm. Now, let us address our carefully curated list of some of the most unique, best, and visually appealing sansevieria varieties.
1. Sansevieria trifasciata
Common name
Mother-in-law's tongue
Size
Six inches to 8 feet tall
Growing Conditions

Sandy, well-drained soil with slightly acidic to slightly alkaline pH
Shade to partial sun
Between 70 and 90 degrees Fahrenheit
Water only when the soil feels dry
Mild cactus fertilizer or balanced liquid slow-release 10-10-10 fertilizer or a 20-20-20 fertilizer diluted to half-strength fertilizer.
It is an aggressive, invasive plant that grows best in sunlight exposures from partially shaded regions to open sunny areas. These sansevieria species are drought tolerant and can reproduce by seeds, rhizomes, and leaf segments. Segments of rhizomes and leaves resprout well and develop rapidly, forming virtually impenetrable and dense thickets. These succulent perennial herbs are noxious weeds.
2. Sansevieria laurentii
Common name
Variegated Snake Plant, Goldband Sansevieria
Size
Four feet
Growing Conditions

Moderately bright light – Brighter light results in more vibrant colors.
It despises full sun as that can burn the leaves.
BThe plant appreciates an infrequent watering schedule, particularly during winters.
It does best in well-draining soil
These sansevieria varieties have deep green leaves and golden edges that look appealing with horizontal, zig-zag stripes. The leaves grow up to thirty inches long. Once mature, the plant grows to four feet. Like the other types, even this one has sword-shaped leaves that grow vertically in a tight clump.
Sadly, this cultivator does not bloom quickly, but when it does, it yields greenish-white leaves on the top of the slender inflorescence. You can easily divide it via propagation.
3. Sansevieria 'Moonshine'
| | |
| --- | --- |
| Common name | Silver queen, sansevieria moonglow, and moonlight snake plant |
| Size | Four feet |
| Growing Conditions | Low-light conditions with little water and well-draining soil. |
These are beautiful snake plant varieties with spear-shaped, silvery-green leaves that make them one of the best picks for indoor plants. It grows up to four feet and works as an air purifier.
The plant does not need much attention and thrives best in neglect. This eye-catching sansevieria has broad pointed succulent leaves with a beautiful dark green margin.
Like the other different kinds of snake plants, even this one is pretty easy to care for, making it one of the picks for beginners. Snake plants are not hard to care. The plant can thrive in most conditions, and its sword-like, short upright leaves do not take up much room.
4. Sansevieria 'Bantel's sensation'
Common name
Viper's Bowstring Hemp, white striped sansevieria, Bantel's sensation, and white snake plant
Size
Three feet
Growing Conditions

Grows best in an area where it receives bright to dim, indirect light
Water whenever the top soil feels dry
Mist the leaves several times a week using a spray bottle
Maintain an average room temperature between 60 to 75 degrees Fahrenheit
Feed a mild cactus fertilizer in the growing season, and avoid fertilization in winters
These sansevieria varieties reach between 30 and 32 inches. Hence, they are the perfect picks for indoor plants. Its narrow leaves have a beautiful white border running across them. Native to West Africa, the plant has a distinctive appearance making a statement wherever you place it.
The plant has vertical stripes in its foliage, and its beautiful, variegated cultivator has narrower leaves than other different types of snake plants. Prolonged drought conditions can result in brown spots on the leaves.
It is relatively less tolerant to low conditions than other typical Snake plants. Hence, avoid heavy light conditions.
5. Sansevieria Ballyi (Dwarf Sansevieria)
Common name
Dwarf snake plant
Size
90 -170 cm
Growing Conditions

Thrives in every kind of light but prefers full sun and bright light.
Let the soil dry between two watering schedules during the growing season. In winter, water lightly, enough to prevent the soil from drying out.
Mist several times during the week to maintain humidity.
Ensure that the temperature is between 60 and 75 degrees Fahrenheit.
It can tolerate fluctuating temperatures but hates the extreme colIt grows best in well-drained soil with a loose potting mix.
Using a mild cactus fertilizer in the growing season helps.
Among the different varieties of snake plants, the Sansevieria Ballyi is a dwarf specie. It is a stemless, perennial succulent plant that stands out from the typical plants courtesy of its long cylindrical leaves, which are usually yellowish-green.
It has small rosettes of pointed banded leaves, which yield new growths on runners to form a beautiful cluster. Belonging to Asparagaceae, these snake plant varieties are native to Southern Kenya and Tanzania.
6. Dracaena Pethera
Common name
Star Sansevieria
Size
Between two and four feet
Growing Conditions

If you have a larger specimen (when the plant is over six feet), move it outdoors when the temperature is more than sixty degrees Fahrenheit. It can help with the blooming.
The plant demands filtered, bright light and can tolerate direct sunlight.
It thrives in well-drained, sandy soil full of peaty compost.
During the growing season, you must water regularly to keep the soil moist but not soggy.
In the winter months, reduce the watering schedule.
The plant prefers an average to warm room temperature between 65 and 75 degrees Fahrenheit.
It can tolerate fluctuating climates, but anything below 55 degrees may stunt the growth.
During the growing season, you can fertilize with a water-soluble or liquid fertilizer.
From the different types of sansevieria, these varieties are a little tricky to track down, but they are 100 percent worthy of the search and effort. These species grow as tiny, lackluster, low-lying, almost flat plants with only a few leaves in the beginning.
However, over time, they will show new foliage growing upright with gray-green color, mottled pattern, and undulating leaf margins, which inspire the development of new cultivators like Coppertone. There could be some reasons why snake plants don't grow or curl their leaves.
Amongst the different kinds of snake plants, these have unique blooms instead of long raceme full of flowers. It yields a long stem with buds. Its blooms have a lavender to faint pink tone.
7. Dracaena Angolensis or Sansevieria Cylindrica
Common name
African Spear Plant, Saint Barbara sword, and Elephant's Toothpick
Size
Four feet with a one foot spread
Growing Conditions

It prefers semi-shade or full sun and light watering.
The plant thrives in well-drained succulent soil placed near a brightly lit window.
If growing outdoors, expose it solely to the morning sun, and bring it indoors when the temperature drops below 55 degrees F.
These snake plant varieties grow four feet tall and spread one foot wide. The leaves have alternated with dark green and light green stripes. Formerly called the Sansevieria Cylindrica, the Dracaena Angolensis is a sturdy plant with cross-banded foliage with light green and dark green markings.
Each of its cylindrical leaves measures one inch across that slowly tapers to a pointed tip. The leaves feature shallow channels, which run from the base to the tips. Upon maturity, the leaves develop a fan-shaped, beautifully arched spray. Upon pollination, the flowers yield orange-red berries.
8. Dracaena Hyacinthoides or Sansevieria hyacinthoides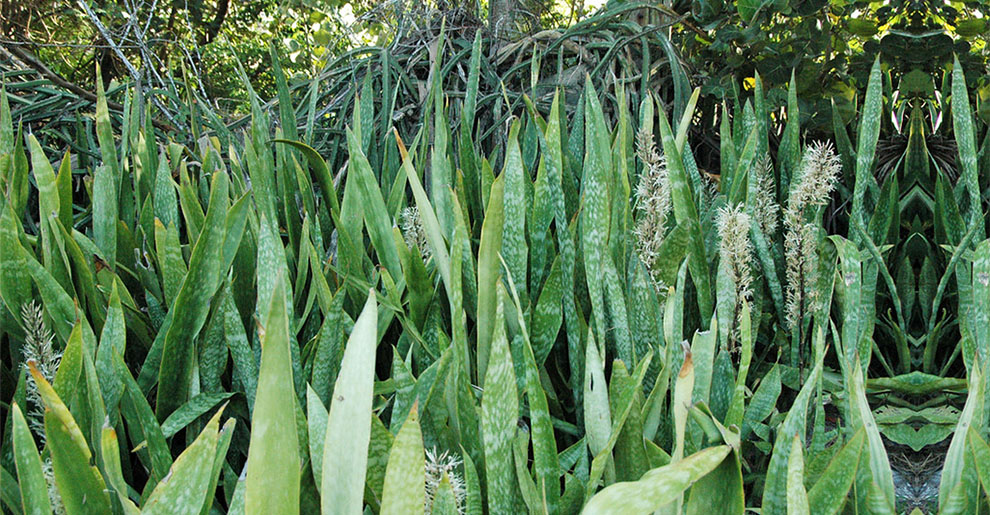 Common name
African Bowstring Hemp
Size
10 to 12 inches
Growing Conditions

Demands sun for at least four hours every day.
Prefers temperatures between twenty and thirty degrees Celsius
Moderate water requirements with the permeable substrate
These snake plant species grow in dense, smaller groups, provided you plant them under the shade of the trees in their natural habitat. The plant is considered invasive in the wild, but it can be a beautiful houseplant. Its leaves have dark green diagonals and are medium green.
As is apparent, the African Bowstring Hemp is native to Africa. Its leaves may reach 120 centimeters, and the plant is medium green with dark green transverse bands that look broad on its short stems. Among the different kinds of sansevieria these form long rhizomes.
9. Sansevieria hahnii Black Star
Common name
Black Star Hahnii, Black Gold Hahnii, Bird's Nest Snake Plant, Rosette Snake Plant, Sansevieria Golden Hahnii Black, Sansevieria trifasciata 'Lotus Hahnii', Sansevieria hahnii Black Gold, and Yellow Bird's Nest
Size
12 inches
Growing Conditions

Requires occasional water – drought tolerant and needs watering once or twice a month
Seeks bright shade
It prefers low humidity in the air.
Thrives is 59-74°F but will survive short periods of temperature at 50°F
Desires a well-drained soil
Fertilize once in two months at half strength during the growing season
These sansevieria species can do the trick if you wish to make a significant impact with only a compact-sized plant. This little beauty can fit on a shelf, into your apartment, or in a smaller space.
It is one of the dwarf varieties that stands out for its yellow or cream margins on the deep green-hued foliage and the tight rosette of broad, short leaves, one onto the other. Its leaves gleam from the center. A distinguishing characteristic of these snake plant species is the absence of banding.
10. Dracaena hanningtonii
Common name
Banana, Samurai, Samurai Dwarf, or Blue
Size
Four to six inches, but some specimens may grow larger
Growing Conditions

Can grow in partial sun or full sun but grows best in direct sunlight
Maintain room temperature to 55 degrees, but they can also tolerate freezing climates
Humidity should be fifty percent or higher.
Water thoroughly till it finally trickles from the pot's bottom, and let it dry before rewatering.
It has a low fertilizer requirement, but you can use a balanced, low-level fertilizer twice a year.
The banana has small white blooms. Native to Africa, it is a rare succulent. It is one of the cute sansevieria varieties that can easily fit on the windowsill or bedside table, or you can nestle it with other potted members of the succulent collection. Its leaves are waxy, thick, stout, and glossy, with a deep emerald green color and red or blue-tinged margins.
Related: Snake Plant Benefits | How long do snake plants live?| Disadvantages of A Snake Plant
Other Varieties of Snake Plants
Sansevieria Eillensis Chahin
Sansevieria Parva 'Kenya Hyacinth'
Sansevieria Cleopatra
Sansevieria Ehrenbergii 'Blue Sansevieria'
Sansevieria canaliculate
Sansevieria patens
Sansevieria fischeri
Sansevieria gracilis
Sansevieria kirkii 'Star sansevieria'
Sansevieria masoniana 'Mason congo'
Frequently Asked Questions
Ques 1. Are all Sansevieria now Dracaena?
Ans. Yes, Sansevieria has been reclassified as a Dracaena.
 
Ques 2. Which is the most common snake plant?
Ans. Sansevieria Trifasciata is the most common type of snake plant.
 
Ques 3. What is the rarest snake plant?
Ans. Sansevieria Masoniana, Or Whale Fin Snake Plant, is the rarest snake plant varieties.
 
Ques 4. Which is the best type of Sansevieria for a houseplant?
Ans. Sansevieria Laurentii is the best type of Sansevieria for a houseplant.
 
Ques 5. Which type of Sansevieria is best for the outdoors?
Ans. Outdoor snake plants (Sansevieria spp) are most suitable for outdoors.