How Many Types of Snowdrops Varieties Are There?
Learn about the main true varieties and its hybrid cultivars
Firdausiah Mamat/Jackie Bale/Margaret Whittaker/mikroman6/gettyimages
There are several varieties of snowdrops, and courtesy of their distinct ornamental value and ethereal beauty, snowdrops are one of the most recognizable flowers to many. Hence, they are every gardener's delight, and their aesthetic appearance and breathtaking appeal make them likable.
There are about twenty known snowdrops species belonging to the flowering plant genus from the Amaryllis family. Mostly, the plants from the genus are herbaceous and bulbous perennials and are closely related to the other popular variety like amaryllis and daffodils.
Typically, most Galanthus plants need minimal care and are low-maintenance. Depending on your chosen snowdrops varieties, they thrive in USDA hardiness zones three through nine. Snowdrops are one of the very few flowers that bloom in the early spring season.
They thrive in the river banks, hedgerows, woodlands, and parklands. After the flowering season ceases, the snowdrops' stems flop down, and the seed pods grow on the soil surface.
Different Types of Snowdrops
Snowdrop Variety Identification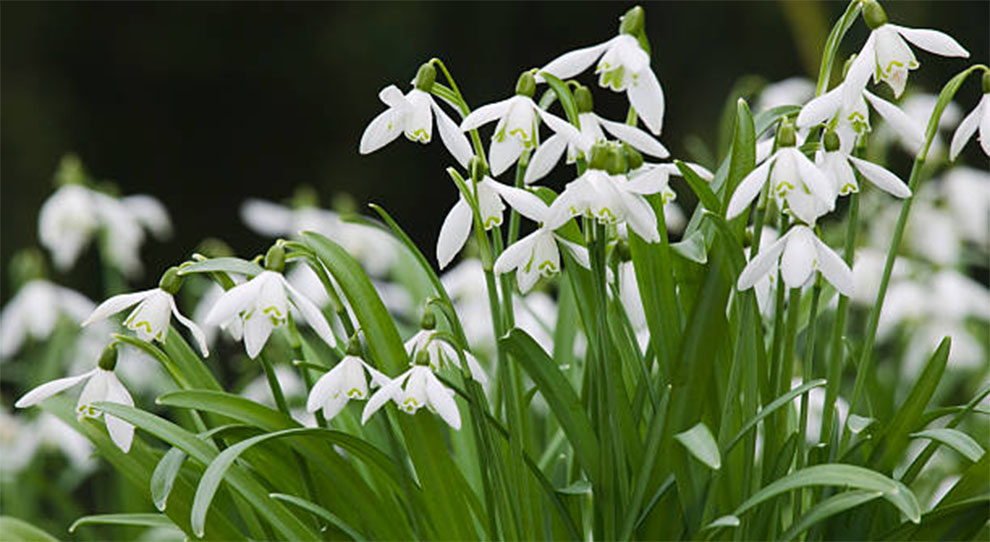 Nigel Hicks/gettyimages
| | |
| --- | --- |
| Scientific name | Galanthus nivalis |
| Plant height | 3 to 6 inches tall |
| Flower color | White |
| USDA hardiness zones | Three through Seven |
| Native Areas | Western Asia and Eastern Europe |
| Soil Type | Loamy, sandy, humusy, and well-drained with Acidic, neutral, to alkaline pH |
| Sun | Full sun to partial shade |
| Bloom time | Early spring |
Snowdrops are regarded as flowering superstars and are true to their unique name, given their appearance that resembles the milk or snowdrops gently hanging from the stem with the trademark drooping white flowers. When snowdrops species' flowers fall to the ground, they look like snowflakes blanketing the ground.
Famous for their bell-shaped, white flowers, the snowdrops are deciduous plants with an erect, clumping, and spreading growth habit. Typically, they vary in size, but one of the most popular Galanthus species, the Common Snowdrop (Galanthus nivalis), grows between three and six feet tall.
On the other hand, another of the snowdrops varieties, the Giant Snowdrop (Galanthus elwesii), is tall and grows between fourteen and sixteen feet. All the Snowdrop plants are renowned for their green or gray/silver, grass-like foliage. Every leaf is between three and six inches long and one inch wide in all species.
Upon blooming, the plants showcase a charming display of white, small dropping flowers. Every bell-shaped flower in the snowdrop cultivars has six sepals, with hints of green markings on the inner sepals, but there will be notable differences amongst the species.
Different Types of Snowdrops
Native to the Middle East and Europe, there are twenty known snowdrop species. The most prevalent species include Galanthus plicatus, Galanthus elwesii, and Galanthus nivalis.Several hybrid snowdrops arise from these three main types. It is easier to tell these snowdrop varieties apart. The best way to do so is by examining the leaf.
 
Galanthus plicatus has folded lips along the edge.
Galanthus elwesii has pressed flat leaves at the base.
Galanthus nivalis has pressed flat leaves at the base.
Below, we will address some popular Snowdrops you must know of:
1. Galanthus nivalis 'Walrus'
Justus de Cuveland/gettyimages
 
It is one of the rare snowdrop varieties but undoubtedly one of the most beautiful. Botanists describe it as one of the greatest bizarre in the snowdrop category, making it a distinctive flower with a unique appearance. The flower's outer petals look like walrus tusks. Hence, the name.
It is one of the Galanthus Nivalis snowdrop cultivars. Walrus has three stretched-out tusk-like outer petals that grow linearly and are typically long. Its green outer segments surround the beautiful roseate growing in the flower's center.
Even though it has been around for over four decades, it is still one of the rare types of snowdrops. One prime reason for its rarity is that it grows slowly, unlike the other varieties.
2. Galanthus plicatus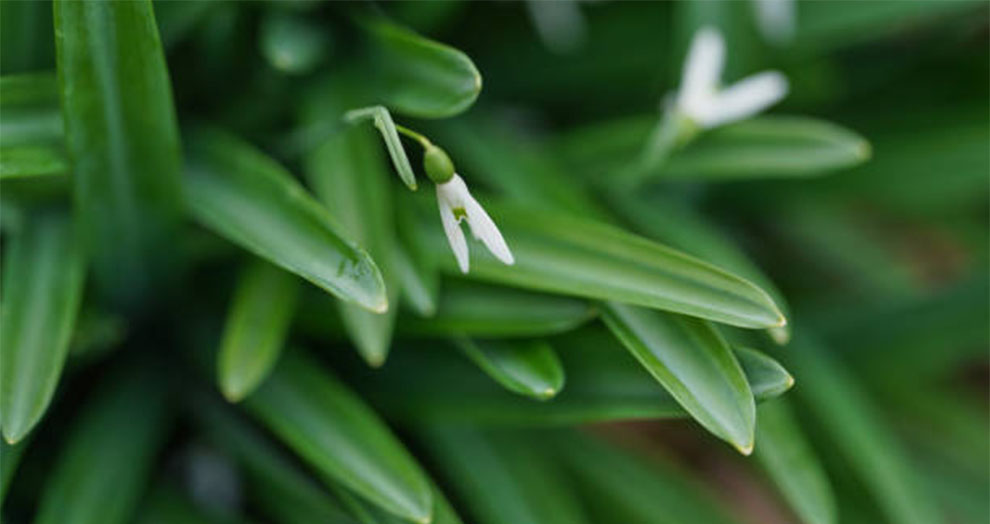 annick vanderschelden photography/gettyimages
 
Typically famous as the pleated snowdrop because of the fold in its leaves. This variety has distinct foliage with green, broad-shaped leaves. The plant effortlessly hybridizes with Galanthus elwesii and Galanthus nivalis, resulting in a few of the best snowdrop varieties.
One such variant is the Galanthus plicatus Trym, common in Westbury on Trym near Bristol. Native to the Crimean Peninsula, Galanthus Plicatus can handle heavy sunlight, but it enjoys indirect light more.
3. Galanthus 'Primrose Warburg'
annick vanderschelden photography/gettyimages
 
Regarded as bulbous perennial and vigorous, the Galanthus 'Primrose Warburg' is a spectacular cultivator of the snowdrop flower types. It grows approximately twenty cm tall and yields strap-like leaves that usually have a greenish-gray color. Its leaves fold outwards once they mature fully.
Known for its attractive white flowers, the Primrose Warburg has a prominent, large, yellow-colored ovary top and wing-like petals, which stand out from its beautiful flowers. Its foliage creates an appealing contrast against the flowers.
 
4. Galanthus 'Melanie Broughton'
annick vanderschelden photography/gettyimages
 
Noted for the first time in the Anglesey Abbey Gardens in 1998, it is one of the tall snowdrops varieties christened after Lord Fairhaven's daughter. It is one of the mid to late-season bloomers, and its attractive appeal makes it stand out from the crowd. Melanie Broughton is a rounded, large, solid plant that yields chubby and large flowers.
These types of snowdrops usually grow up to twenty-nine cm, and their blooming period commences in February. Fortunately, it is a low-maintenance variety with basic growing needs. You can see the plant thriving in partial shade. It prefers damp and heavy clay-type soil.
5. Galanthus 'Lady Beatrix Stanley'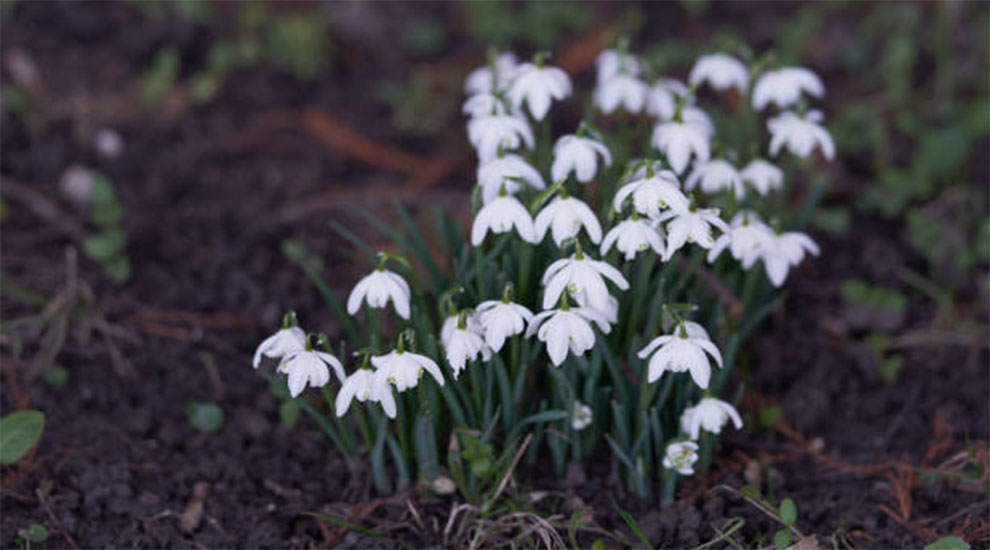 annick vanderschelden photography/gettyimages
 
It is one of the double snowdrop varieties and is a Galanthus plicatus cultivator. Its nodding white flowers have an inch wide and tight inner petals with tiny markings at the ends. Its outer petals are narrow and long. Noted for its strong garden performance, the Lady Beatrix Stanley has tiny green teardrops at the inner petal tips and forms a tightly packed rosette.
The flowers bloom from late winter to early spring. It is one of the low-maintenance snowdrop flower types and does not require deadheading or weeding.
6. Galanthus plicatus 'Augustus'
Fadel Alowa/gettyimages
 
The Augustus Snowdrop is a robust and vigorous Galanthus plicatus species. It is a bulging, rounded perennial, distributed and christened by Amy Doncaster, one of the most popular plantswomen, and named to honor the British plantsman, garden writer, and horticulturist Edward Augustus Bowles.
Galanthus, plicatus Augustus is one of the best snowdrop varieties with bulbous flowers and rich green leaves. The plant yields chubby, large flowers with prominent textured marks on the inside. Its flowers are beautiful and white that look striking amidst its grayish-green foliage. The plant blooms in the spring, but the rich and broad green foliage appears in the late winter.
7. Galanthus elwesii
Andrey Nekrasov/gettyimages
 
On his journey to Turkey, a plant hunter and Victorian traveler, Henry John Elwes, found Galanthus elwesii, a giant snowdrop, and christened it after him. Further, in 1891, Elwes shifted to Colesbourne Park in Gloucestershire and established one of the biggest bulbs collections in the world.
Among the different kinds of snowdrops, Galanthus elwesii is one of the most popular species after the Galanthus nivalis. It has grey, broad leaves and giant flowers. Its inner petals depict two blotches, placed one above the other.
8. Galanthus caucasicus/alpinus
Andrey Nekrasov/gettyimages
Next, we have another snowdrop variety that grows in hardiness zones five through seven. These are one of the best snowdrop varieties and blossom from February to March. One of the standout features of this flower is that it is self-cleaning. So, even if you leave it to its own, it will age well.
9. Galanthus 'S. Arnott'
Fadel Alowa/gettyimages
 
It is one of the classic snowdrops that blossoms between February and March. Famous for its robustness and elegance, the Galanthus 'S. Arnott stands out from the other different kinds of snowdrops as it doubles as a cut flower in the garden.
The plant has 3 cm long, outer elliptical petals with large flowers that are heavily textured, rounded, and have a delightful honey scent. Its inner petals depict a bold arch-like mark at its ends.
10. Galanthus 'Wendy's Gold'
Schad1953/istockphoto
More fondly called the Pleated Snowdrop, it is one of the prevalent types of snowdrops. The plants yield white flowers and have distinguished hints of yellow in the center, especially between late winter and early spring. In the blooming season, the flowers hang beautifully from their small, arching pale green small stalk.
The plant grows between four and eight inches with a spread between three and six inches. It thrives in USDA hardiness zones three through eight and is a low-maintenance plant.
Flowers Similar To Snowdrops You May Get Confused With
Most people confuse the snowdrops varieties with Leucojum flowers because of their white flowers with green markings. They look similar to snowdrops, but their petals are all of the same lengths. But, to avoid confusion, you must know that Leucojum plants are taller and have two to three flowers per stem.
Beyond this, there are a few other bell-shaped flowers that people often confuse as snowdrop cultivars. These include:
White Mountain Heather
Angel's Trumpet
Lily of the Valley
Canterbury Bells
Foxglove
Twin Flower
Swamp Doghobble
Bluebells
Snowflakes
Frequently Asked Questions
Ques 1. What is the rarest snowdrop?
Ans. Some of the best snowdrop varieties are rare and are worth hundreds of pounds. Amongst them, one of the most valuable is the Galanthus woronowii, or giant snowdrop or Elizabeth Harrison. In 2012, a single bulb of this specie was sold at £725 on eBay. The gold markings on the petals of these snowdrops set them apart.
Ques 2. When do snowdrops bloom?
Ans. Typically, snowdrops bloom in the early spring under the right conditions.
Ques 3. Which snowdrops are scented?
Ans. There are several scented snowdrops species. Below, we will list a few of them:
Galanthus S. Arnott is known for its honeyed scent.
Galanthus Magnet Galanthus 'James Backhouse has a solid medium-strength perfume.
Galanthus elwesii Mrs. MacNamara has one of the most aromatic perfumes, and only a single flower can fill the whole space.
 
Summing up…
With this, we come to an end of the snowdrop variety and identification guide. Next time while you are in the nursery or the garden, checking the plant labels, spotting the differences between the different types of snowdrops would be easier for you.
Fortunately or unfortunately, there is a rapid surge in snowdrop cultivators. But, the good part is that snowdrops are easy to care for, especially once they mature they don't need much attention.