How Fast Is The Taylor Juniper Growth Rate?
These are fast-growing compact narrow trees for every landscape!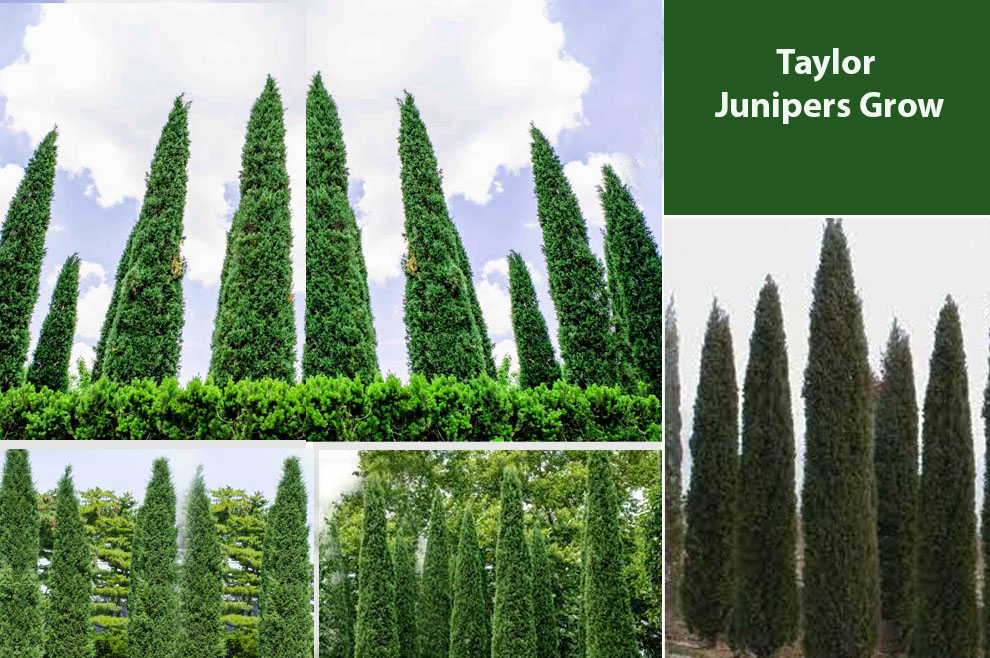 Taylor Junipers have exceptional cold hardiness, and their slender appeal can upscale the feel and look of any surroundings. They reach a statuesque vertical height of about thirty feet, but their base spread is only between three and five feet. Hence, you can grow them in gardens that do not have ample planting space but require a plant that grows fast. We say so because Taylor Juniper's growth rate is as quick as 2-3 feet per year.
Columnar, slender, and tall, the Taylor Junipers are a form of the eastern red-cedar. It is a pillar of dense foliage and looks incredible all year round. These are the perfect pick for people seeking a tree to hedge a design element like a front door, pool, or driveway, create a lush privacy screen, or add a landscape specimen. Many even use them as sound barriers and windscreens.
In This Article:
Taylor Juniper Overview
Juniperus virginiana ' Taylor'
Height
Between Fifteen and Twenty feet
Growing Conditions
Soil: Average, dry to moist, well-drained acidic soils

Sun: Full Sun

Temperature: Suitable for cooler temperatures

USDA hardiness zones: Four through nine.

Water: For the initial two years, the plant needs ten gallons of water for every caliper inch of the tree's trunk diameter every week. Once the roots establish, you can reduce it. It can grow fine in some drought periods.

Lifespan
The moderate Taylor Juniper tree growth rate ensures that the plant lives for at least seven decades.
Fertilizer
The Taylor Juniper does not need heavy fertilizing, but adding the fertilizer can give a boost, especially if it is an evergreen confider. You can use a slow-release fertilizer during the spring for the best results.
Plant Type
Coniferous evergreen
Native Area
Eastern United States
Family Name
Cupressaceae
Width
Between Three and Four feet
Are Junipers Fast-Growing Species?
Junipers are a vast group of plants famous for their needle-like foliage and evergreen habit. These are hardy plants with a moderate to fast growth rate. You also can bonsai the juniper variety.
Reports from Empire National Nursery suggest that if you expose the Junipers to good care and nourishment, you can expect them to grow at least a foot yearly. However, the growth rate can be variable depending on the cultivator and the species.
How Fast Does A Taylor Juniper Grow?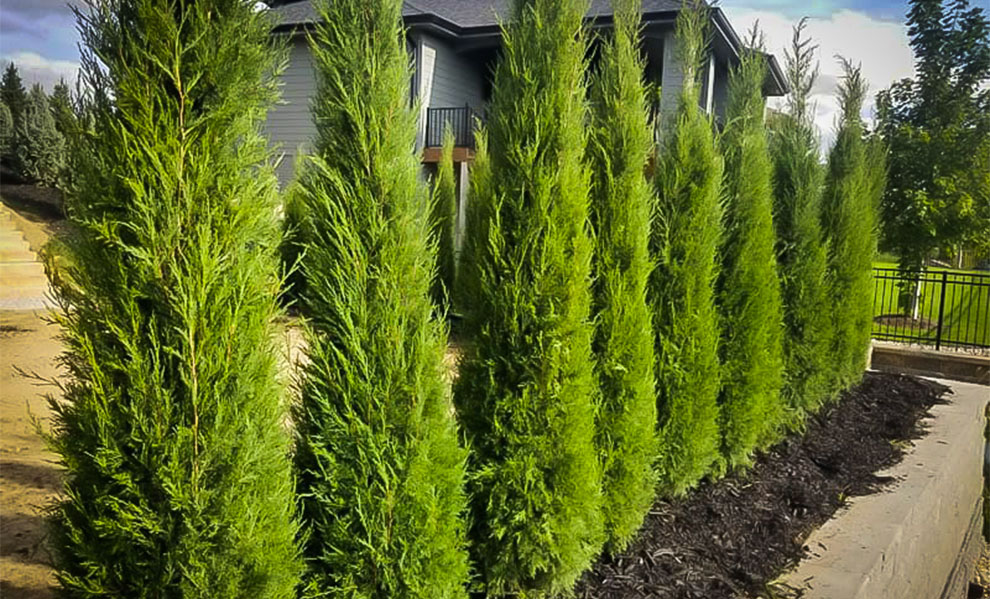 If you provide the Taylor Junipers with the required care and maintain it well, they will acquire about two to three feet height per year until reaching their maximum height between fifteen and twenty feet. However, at the same time, it will develop little width. Its total width is no more than three to four feet in diameter.
So, in terms of height, even though the Taylor Juniper tree growth rate is excellent, it does not maintain the same pace in width.
Related Growth Guides: Spartan Juniper | Blue Point Juniper
How Wide Do Taylor Junipers Get?
Taylor Juniper is a narrow, upright, columnar eastern red cedar. Even though it grows between 15 to 20 feet high, it is only four to five feet wide.
How Long Does the Taylor Juniper Tree Live?
Taylor Juniper growth rate is fast, and trees with a fast-growing pace do not live very long. However, such is not the case with Taylor Juniper. It has a decent lifespan, and you will see the plant growing for seventy years or more.
How Tall Do Juniper Taylor Grow?
Juniperus virginiana Taylor or Taylor Juniper is a narrow, tall variety. Ideally, if you expose the Taylor Juniper to the proper growing conditions, the plant can get between fifteen and twenty feet tall and a width of four to five feet. Hence, it is the perfect pick when you need a fast-growing tall tree in your landscape without filling excessive space.
How Far Apart Should Taylor Junipers Be Planted?
You know the Taylor Juniper growth rate for its height and spread, and its base diameter determines how far you need to plant them. However, as we have established, the plant's roots are not very far-stretching. Hence, leaving a gap between three and five feet between two plants can help you form a hedge row.
Where Can I Find Taylor Juniper Tree For Sale?
 
So, where can you find these trees at an excellent discount deal price? There are many local nurseries and online platforms where you can find these beautiful trees at an offer price. Some platforms you can check are:
 
Time and again, these nurseries have holiday sales, where you can save big on Taylor Junipers. You can subscribe to their notifications, so you get an update whenever there is a sale on the website.
Final Word
So, this is all about the fast-growing Taylor Juniper's growth rate. We hope we cleared all your doubts regarding its size and growth. These juniper trees are a good choice to start with. Most importantly because they are totally drought resistant, and thrive in any decent soil mix with bright light.