20 Different Types of Red Maples For Every Garden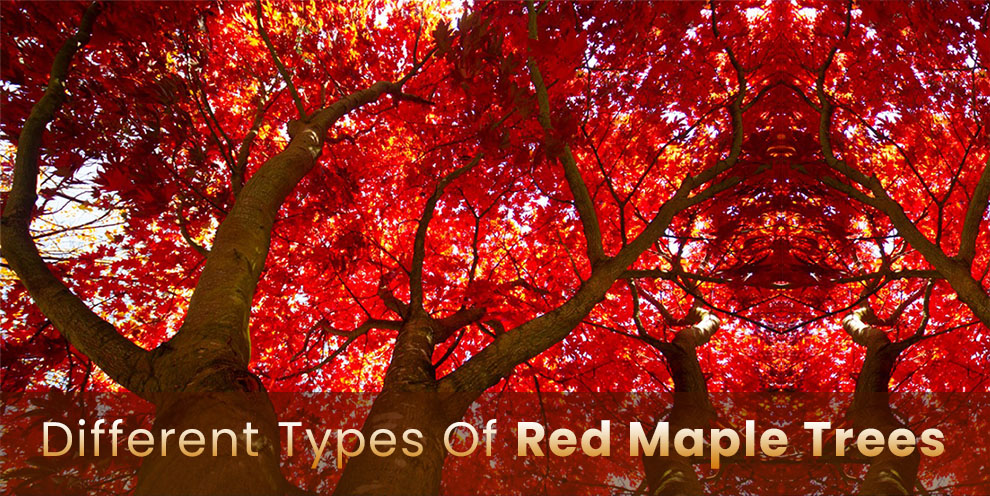 Maple trees are known for their bountiful nature and are prominently found in most of the Asian regions. Found in the plant family known as Sapindaceae, maple trees are a part of the genus Acer.
 
Some of their species also hail from Europe, North America, North Africa and Canada. Some of these maples are evergreen and located in Mediterranean areas. However, mostly maple trees are deciduous and possess several unique features. This is why they shed their leaves during the autumn season, however, maples that belong to the warm southern areas of Asia do not lose their leaves.
 
That said there are wide varieties of maple trees, typically more than 100. But there is nothing more magnificent than the different types of red maple trees.
 
Jump To
The Beautiful Red Maple…
Most people are fond of different kinds of red maple trees to make their backyard and homes appear more appealing with their beautifully colored leaves. Typically, known as the scarlet maple or swamp maple, the red maple owns beautiful and bright crimson leaves.
 
During the autumn season, the fiery maple leaves shift from green to red. They are luckily characterized to survive in all kinds of weather conditions. This means that you can find them in very chilly regions to drought regions.
Also popular as Acer rubrum, red maples are loved by most people for their shade offering leaves. The different types of red maple trees are tolerant to bright light. This is why most people like to have one of them on their property to escape the scorching sunshine in summer.
And, during the entire fall season, people are awestruck by the impressive view of the red maple foliage.
When Should You Plant A Red Maple?
If you are also thinking to include red maples in your backyard, plan it during the early spring or late winter season.
This gives enough time for the young plants to nicely establish their roots in the soil before it starts to freeze in cold winter. A fully grown red maple can spread up to 35 ft wide and 90 ft high. The most amazing thing is that there are different kinds of red maple trees with varied characteristics.
Here, take a look at the several types of red maple trees that can commonly be spotted in your neighborhood.
Red Maple Tree Varieties
1. Acer red maple tree
 
Acer red maple truly stands by its name "Red Maple', due to its bright red leaves. Most people are also captivated by its magnificent red flowers that bloom in the early spring season. These magnificent red maples spread up to 16 meters high and 15 meters wide. At the beginning of the month of May, the flowers turn into reddish-green wing-like fruits known as samaras.
2. Armstrong Red Maple Tree
These types of red maples are primarily known for their brilliant landscaping features like rigid column-like structures. At the beginning of spring, these red maples bear beautiful red flowers in clusters alongside the branches.
They can grow up to a height of 45 ft and 15 ft wide. Most people admire it for its dense green foliage and outstanding leaves that turn red in the autumn.
3. Autumn Red Maple Tree
 
These red maples are the quickest growing trees with beautiful leaves that turn from green to blazing red orange during autumn. These trees can beautify the appearance of a place where they are planted.
 
On reaching the stage of maturity these maples reach up to 50 ft high and grow a crown up to 40 ft wide. Autumn red maples are best suited for urban houses as they can tolerate pests, insects and pollution.
 
4. Blood Red Maple Tree
As the name says, these maples grow beautiful red flowers during the fall season. These red flowers can even turn bloodred with the change in color in autumn. These maples sport lovely green leaves with 3-5 lobes. This slender tree can spread between 30 – 100 feet tall.
 
5. Bloodgood Red Maple Tree
 
These types of red maple trees are famous for their low-maintenance feature. With 15 to 25 ft height and 15 to 20 ft width, Bloodgood red maples have a short structure. Their delicate branches and vibrant dense foliage make them perfect for landscaping.
Besides this, they have silver bark and lovely leaves that turn from purple, and burgundy to crimson during the spring, summer, and autumn seasons.
6. Bowhall Red Maple Tree
Blowhall maples are narrow and upright deciduous trees with a wider structure of 40 × 15 feet. It grows nicely in well-drained, acidic, and moist soils with full sun exposure. This is a lovely female maple with pale-orange colored flowers that bear fruits. Apart from this, it has delicate leaves that shift from yellow-orange to reddish-orange in autumn.
7. Brandywine Red Maple Tree
 
Brandywine is another type of red maple with stunning small red flowers. The flowers blossom in the early spring followed by the red-shaded leaves. These leaves turn into solid crimson colors during fall. It has good tolerance toward drought and air pollution. Hence, they grow well in urban areas with a good height of 40 to 60 ft and a width of 20 to 30 ft.
8. Burgundy Belle Red Maple Tree
 
If you are looking for a unique tree that beautifies your yard, then burgundy belle red maple is the best choice for you. True to its name this maple has a quirky color that shifts from burgundy-magenta to purple-red.
What makes it most mesmerizing is the small, dense, and rounded crown-shaped leaves. In 10 years this stunning tree can gain a height of about 20 feet and reach up to 40 ft on maturity. Whereas it can spread up to 35 feet, so you will need to keep a lot of space when cultivating it in your garden.
9. Cardinal Red Maple Tree
Are you looking to cover the poor appearance of your home or yard? If so, then we are sure that planting a cardinal red maple tree won't disappoint you. You will be amazed by the lovely appeal that these types of red maples offer.
In fall their dazzling leaves turn from bright red-orange to maroon color. The best part is that these trees enjoy a carefree growth with high resistance to pests. This will save you from the hassle of routine maintenance.
10. Carolina Red Maple Tree
 
This is another appealing species among the different kinds of red maple trees. It usually has five-lobed and rounded leaves that are smaller in size. The leaves are almost hairless and whitened from the underside. Its flowers are sweet-smelling with a good fragrance. With a good growing tendency, these trees require a spacing of 30 feet to 40 feet.
11. Chinese Red Maple Tree
These good-looking maple trees easily capture people's attention during the autumn season. Unlike other different types of red maple trees, Chinese maple turns bright red in fall. This unique tree requires sufficient space to grow with a height of 30-40 ft. Also, it needs an ample amount of watering on regular basis.
12. Crimson King Red Maple Tree
 
Scientifically popular as Acer platanoides, these are highly demanded for ornamental purposes. This is a good reason why most people pick it for urban landscaping. Further, it can grow healthy in different types of soil and environmental conditions.
This showy tree gives brilliant shade with dense and dark-colored leaves that give soothing sight while along a road. With upright structure, these trees can grow about 35-45 ft tall and spread 25-30 ft wide.
13. Dwarf Red Maple Tree
 
Due to their compact size, these kinds of maple trees form a perfect option for residential landscaping. Based on their cultivation, these trees have tiny leaves and abundant branches with tiny internodes.
These types of red maple trees can grow up to a height of 3-8 ft and maintain an attractive appearance even in cold winter. Its dense and dark foliage grows back beautifully during the spring, summer to fall seasons.
14. October Glory Red Maple Tree
 
Are you looking to add a fast growing red maple tree to your garden? If yes, then you can easily count on the October glory red maple. Choosing it is a great way to add some color to your yard.
This will also serve as a sweet home to squirrels and birds during the summer season. In autumn, it shows changes in shades from yellow, and orange to red. With daily watering, this tree can gain a height of 40-50 ft.
15. Weeping Red Maple Tree
These delicate and flexible weeping maples produce branches with lacy leaves that are bent downwards. So, there is no doubt why this deciduous tree possesses an ornamental appearance.
Typically known for their decorative and red spring-blossoming leaves, these maples are perfect for showcasing plants. This low-maintenance tree can gain a height of 6-12 ft and spread 9-15ft in breadth.
16. Northwood Red Maple Tree
At the beginning of spring, this red maple produces decorative clusters of red flowers that grow alongside the branches. Its deciduous and green foliage with lobed leaves appears highly ornamental during the spring season.
It is all due to the red leaves, silver barks, and brick red branches in the spring. Also known as scarlet maple or swamp maple, it can reach a height of 50 ft and a breadth of 40 ft.
17. Red Sunset Maple Tree
 
Do you want to improve your yard's appeal with different types of red maples? Remember not to ignore the red sunset maples. This is a tree with a breathtaking appearance, with vibrant leaves, winter buds, small clusters of spring flowers, and wing-like summer fruits.
It flaunts beautiful crimson-orange foliage in autumn. On reaching the maturity stage, this tree can gain 40-50 feet in height and 35-40 feet in width.
18. Summer Red Maple Tree
This quick-growing maple will make your yard appealing with its lovely shades that transition. In spring its leaves emerge as burgundy-red and dark purplish green in the summer season. During fall the leaves change color from yellow, and orange to purple. Its thick and crown foliage spread up to 20 to 25 ft and reaches a height of 35 to 40 ft.
19. Rhode Island Red Maple Tree
The stunning Rhode island red maples grow thick foliage that turns from red to blood red on maturity.
With an eye-catching appearance, this short Japanese maple has upright and compact branches with an oval-shaped crown. This deciduous tree is slow growing with a height of only 6 feet. As it radiates beautiful red to orange shade in fall it is a perfect option for fall.
20. Sun Valley Red Maple Tree
With amazing characteristics like stunning red fall foliage, attractive spring-red flowers, and upright growth habit, it is a perfect maple tree for home landscape. Besides such ornamental features, this tree produces red flowers with male characteristics that don't bear any fruits. It has a slow-growth tendency and attains 20 to 35 ft height with 15 to 25 ft width on reaching maturity.
 
Related: How long does a maple live? How fast do maples grow? Maple tree care guide
 
Which Are Some Of The Small Red Maple Tree Varieties?
If you wish to add beauty to your garden along with some vibrant colors, then dwarf red maple is the best choice in terms of small size.
It is clearly due to their easy availability in varied sizes, shapes, and colors. With a short height of 6 feet and less, these types of red maple trees can be even grown in containers.
Here are some common varieties of red maples that you can easily grow in your garden: Acer japonicum 'Fairy Lights', Acer palmatum 'Kurenai jishi', Acer palmatum 'Anne Irene', Acer palmatum 'Rainbow', Acer circinatum 'Baby Buttons', Acer palmatum 'Mikawa yatsubusa' and many more.
 
FAQs
Q. What red maple trees stay red all year?
A. There are so many red maple varieties that do not really stay red throughout the year. It is only the Japanese maple treeswith perennial red leaves that are popular for their decorative red appearance round the year. The ornamental Japanese maple family has 6 species namely: Golden pond, Bloodgood, Hupp's Swarf, Butterfly, Little Princess and Dissectum.
Q. Are all red maples the same?
A. No, mostly differenttypes of red maple treesare unique in terms of various characteristics like growth-rate, leaves size, change in colors over the seasons, shape, appearance, fruit-bearing ability, texture, branch structure and more.
 
The common factor among them is their red appearance due to the red leaves.
Q. What is the prettiest red maple tree?
A. Usually, all different types of red mapleshave a highly attractive appearance. However, the prettiest red maple is the Sugar Maplewith dark-green leaves that shifts color from gold, orange to red in autumn. This makes it noticeable no matter where it stands.
Q. Why is my red maple not red?
A. Sometimes different kinds of red maple treesmay not glow with their expected red color. This is usually in conditions where they don't get exposed to sunlight for at least six hours every day or are kept in partial sun for too long. Even using excess fertilizers and poor quality soil can stop your maple tree from turning red in the autumn.