Best Varieties of Oak Leaf Hydrangea for Your Garden

 
Highly popular in America, Oak leaf hydrangea is an extremely beautiful deciduous shrub. It is commonly found in the United States and is known as an outstanding flowering shrub. So, if you need privacy in your lawn or yard without setting up a fence, consider decorating it with beautiful Oak leaf hydrangea.
 
It is also a great way to conceal your old garden boundaries and make it appear more attractive. There are many different varieties of Oak leaf hydrangea you can lay your hands on.
 
Find out more about the stunning varieties of this shrub you can plant or you can jump to your topic of interest:-
 
About Oak Leaf Hydrangea
| | |
| --- | --- |
| Botanical Name | Hydrangea Quercifolia |
| Family | Hyderangeaceae |
| Native Area | North America |
| Soil Type | Well-drained, moist |
| Soil pH levels | Acidic |
| Sun Exposure | Full to partial |
| Hardiness Zone | 5 to 9 (USDA) |
| Measurements | 4 to 8 feet in height and 4 to 8 feet wide |
Oak leaf hydrangea features a large group of flowers that grows beautifully with unique leaves on strong stems. The distinctive leaves of this shrub grow with lobes just like that of an oak tree. This is commonly reflected in the botanical name of the tree, i.e. Hydrangea Quercifolia. Here the meaning of the Latin term "Quercifolia" is an oak leaf.
 
The lovely oakleaf hydrangea species is treasured for its durable flower catkins. The panicles grow as white, but with time it changes color to purple and pink tone. It has multiple stems that can grow about 4-8 feet in height. The sturdy stems of this shrub follow suckering to spread and rounded upright growing habit.
 
Since this shrub is considered a beautiful specimen, it is often collected in shrub borders, open woodland gardens, or as a basic plant. There is a rough texture on the large-sized leaves of these shrub plants. This unique feature goes in contrast with its other elegant characteristics.
 
Multiple varieties of oak leaf hydrangea can be seen transitioning to purple, orange, and bronze or red tone in the fall. In winter the branches of this shrub have a peeling and exfoliating texture.
 
Most of the hydrangea species prefer to flourish in well-drained and moist soil. However, once planted, these shrub species can easily thrive even in regions with drier soils and a good amount of sunlight.
 
The downside here is that it is poisonous to cats, dogs, horses as well as human beings when ingested.
Different Types Of Oakleaf Hydrangea
In this blog, we have shed light on different kinds of oak leaf hydrangeas. So, you'll learn about their different sizes, maturity sizes, and best selections for display. Most oakleaf hydrangea cultivars are medium in size that grow to an average height of 5-8 feet.
 
Some of its varieties can however climb to a height of 12 feet and above. If you have a small yard or garden, then you choose from its small varieties that grow only about 4 feet or below.
 
Let's take a look at the variety we have.
 
Small Oakleaf Hydrangea Varieties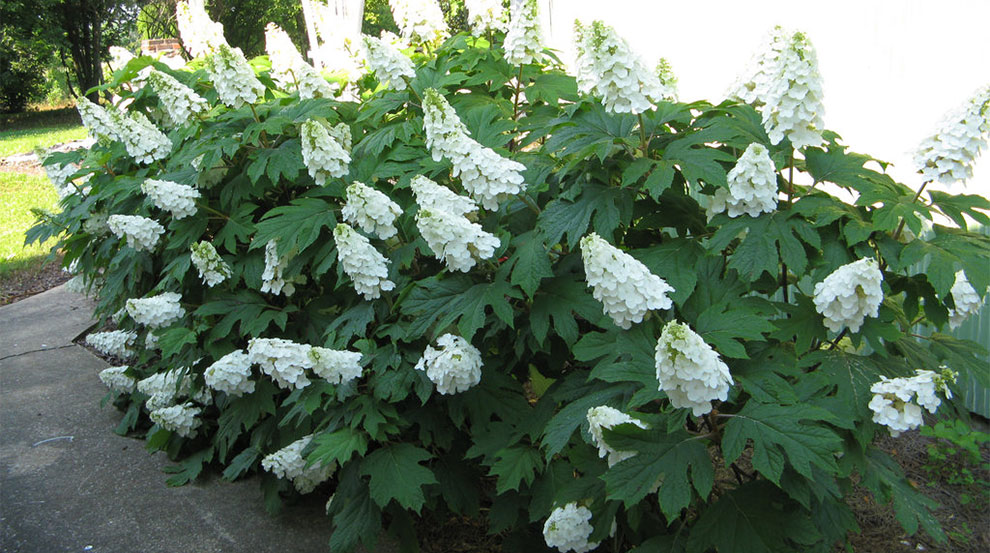 A. Pee Wee – This is a variety that looks extremely stunning with purple and burgundy leaves. At the end of the summer season, the tree blossoms turn into a tan hue. On average, the length of leaves grows to 5" having three to seven lobes each. These compact shrubs can typically attain a height of 5 feet and spread about 4 feet.
 
B. Little Honey – It is another lovely oakleaf hydrangea with golden yellow foliage that grows in the spring season. In summer the beautiful foliage turns green while it changes to red in the fall. This plant loves sunlight in the mornings and shade in the afternoon to grow beautifully. The lovely white inflorescences of its white blossoms are small, cone-shaped, and five to six inches in length.
C. Ruby Slippers – Known as a hybrid of Snow Queen and Pee Wee, this is a semi-dwarf oakleaf hydrangea species. Its maturity size includes 5′ in height and 5′ in width. It has a mounding growth habit and pretty flowers that open white. They quickly bloom to a light pink color which becomes dark to rosy red at summer's end.
D. Sikes Dwarf – It is one of the particular small oakleaf hydrangea varieties that has an uneven round shape and open growing habit. The small shrub can reach a height of 2'-4' and grow wide up from 3' to 4'. Being compact in size, it is perfect for anyone looking to decorate their small yard or garden. You can also plant it in a container garden. It grows flowers in a cluster that starts appearing light pink on aging.
Medium-sized oakleaf hydrangea

 
A. Snowflake – Among the different types of oakleaf hydrangea, this is a well-known cultivar. The matures to a size of 7′ in height and 7′ in width. In 2012, this tree was listed as a recipient of the Royal Horticultural Society's Award of Garden Merit. It blooms double flowers which are 15 inches in length.
B. Gatsby Moon – It is one of the best varieties featuring tightly packed clusters of flowers. These pretty-looking flowers turn shades from white to green. Whereas, the tree can climb about 6′-8′ in height and spread about 6′-8′ wide.
C. Amethyst – This is a variety that can grow to a medium height, of 6′, and spread about 6′. It is developed by Dr.Dirr and features pretty flowers that change from white rose color. As they age their inflorescences turn to a dark pink hue.
6' tall by 6' wide. A compact cultivar developed by Dr. Dirr, the flowers turn from white to rose.
 
 
A. Queen of Hearts – Its inflorescences feature a single flower that grows upright in comparison to other cultivars of this species. This makes it one of the best Oakleaf hydrangea varieties. This plant can reach up to 6.5′ in height and spread about 9′ in width. It has lovely flowers that age slowly and turns from white to dark pink tone.
B. Gatsby Gal – This is an incredibly lovely cultivar of the Gatsby series. It can reach a height of 5′-6′ and width of 5′-6′. It has flowers that follow upright habits and appear larger in size in contrast to compact hydrangea species.
C. Gatsby Pink – It is a variety of oakleaf hydrangea with durable flower heads. The stunning white flowers of this tree quickly turn their color to slightly darker pink. It can reach a height of 6'to 8′ and width of 6'to 8′.
Tall Oakleaf Hydrangea

 
A. Alice – If you are considering getting the best Oakleaf hydrangea varieties to decorate your yard or garden, then this is the perfect selection for you. It can grow to a height of 12′ and width of 12′. At the end of summer, you can see the large flowers turning rosy pink from white. This stunning hydrangea has also won the State Botanical Garden of Georgia gold medal award, 2000.
B. Harmony – The most prominent characteristics of these types of oakleaf hydrangea, plants are their large clusters of sterile and dense, double flowers. Sometimes you can see its branches bending downwards due to the weight of its leaves. The plant matures to a height and width of 10′.
C. Alison – This is one of the broader varieties of oak leaf hydrangea with upright inflorescences. It can grow to a height of 8′ to 10′. Just like most of the tall hydrangea species, this shrub blossom cluster of flowers that turns pink as it ages and tans in late summer. From these different varieties, you can select any variety suitable for your house landscape.
FAQs
Q. What is the smallest oak leaf hydrangea?
Ans. The "Munchkin" is one of the small oakleaf hydrangea varieties that are perfect for small backyards or gardens. The U.S. National Arboretum's shrub breeding program in Tennessee is known to have developed this hydrangea variety. It features stunning white flowers that slowly change color to light pink.
 
Q. What is the largest oak leaf hydrangea?
Ans. Alice is one of the largest varieties of oak leaf hydrangea. It is an ideal choice whether you want to use it for privacy or ornamental purpose on your residential landscape. It blooms with large white flowers and oak-like leaves with deep lobes. It is known to quickly grow to a height and width of 15″.
 
The creamy white flowers look very attractive as they change to pink in summer and red bronze as they age. In the fall the beautiful foliage turns to purple and red.
 
Q. How many oakleaf hydrangeas are there?
Ans. There are above 30-35 oakleaf hydrangea species that are present out there. This means that it doesn't matter what size or shape of hydrangea you need for residential landscaping. You can find an ideal specimen that will go with any size of the landscape.
 
Related: Best Fertilizer for Hydrangea|Hydrangea Lifespan|Hydrangea Growth Rate
 
To Sum Up…
Overall, the different varieties of oak leaf hydrangea offer a captivating look to any valuable landscape. You can easily care for hydrangeas throughout the year. The best part is that you can select any shape and size based on how small or big is your garden or yard.
 
Not just this, you can witness their handsome and bold foliage for a very long time. And, in summer you can enjoy the clusters of white flowers. No matter which of the different types of oakleaf hydrangea varieties you pick, they will certainly give a beautiful appearance to your garden as well as to your house.
 
Make sure to plant them in favorable conditions to grow them healthy. For example, growing the plant in moist, fertile, and organic soil. Just make sure to practice a perfect care routine like offering good sunlight and regular pruning.