Thuja Plicata Cultivars (Varieties) – Western Arborvitaes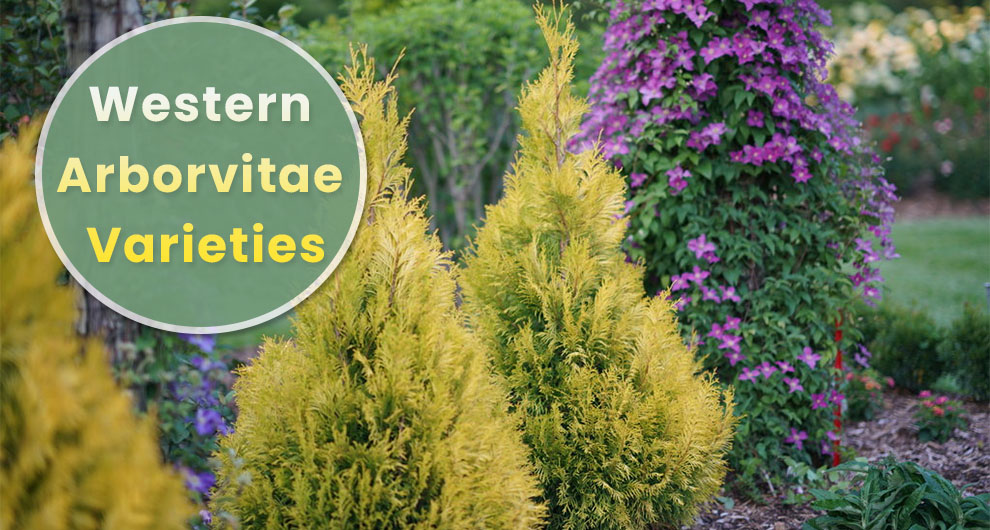 Botanically known as the Thuja Plicata, it is a giant evergreen from the Cupressaceae family. Native to the United States' Pacific Northwest, the Western Arborvitae growing in the wild is a huge tree from the Cypress family with 23 feet spread and a 100-200 feet height.
However, in typical landscapes, they reach 50-70 feet in height with a decent spread between 15-20 feet. They have a long life and live for 100s of years. Several western arborvitae varieties even survive for 1000 years. They have a fast growth rate and usually reach two to three feet in a year.
This guide will discuss some of the prevalent types of Thuja Plicata. Let us get started and address them one by one.
Jump To
Western Arborvitae Snapshot
| | |
| --- | --- |
| Scientific name | Thuja Plicata |
| Hardiness | 5 through 8 |
| Plant Type | Conifers |
| Light | Full Sun |
| Height | 5-10' with an equal spread |
| Water | Average requirements |
| Maintenance | Low |
| Soil | It can grow in different soil types like sand, loam, clay, and chalk. But, they enjoy a well-drained and moist soil with neutral, acidic, or alkaline pH. |
| Propagation | Semi-Hardwood cuttings |
| Native to | Pacific Northwest |
| Maintenance | Low, does not need pruning |
| Disease | No serious insect or disease concerns, but they may be affected by conifer aphids, scale insects, and corneum canker. |
Western Arborvitae Cultivars
Here is a rundown of the top 10 western arborvitae varieties (cultivars).
1. Atrovirens
Commonly known as the Atrovirens Giant Western Arborvitae and the Atrovirens Western Red Cedar, Atrovirens belong to the Thuja genus and the Cupressaceae family. Originated in Worcester, England, these conifers have a pyramidal shape and grow between 30 and 45 feet.
The evergreen thuja plicata cultivars are a typical arborvitae species with dark green, glossy foliage, and its foliage loses its dark green color in winters and turns pale. They thrive in USDA hardiness zone five.
 
Atrovirens find use in the landscapes for screening or hedge and vertical accent. These Arborvitae species are low-maintenance and do not have a high pruning requirement, but you can prune them once or twice a year to maintain their visual appeal.
2. Aurea
Commonly known as the Western Red Cedar, Aurea grows in USDA hardiness five through seven. These western arborvitae varieties grow 40-50 feet with a 10-15 feet spread. These non-flowering plants enjoy full sun to part shade and do not have a high water requirement but prefer well-drained soil.
You can employ the larger Arborvitaes as lawn and background specimens and pruned young ones as a screen or hedge. Aurea has aromatic evergreen leaves and can tolerate black walnut and clayey soil.
However, they grow best in fertile and moist soil and areas with cool summer climates. Unfortunately, the Aurea cannot withstand dry conditions and like light afternoon shade in hotter climates. Native to Pacific Northwest, these have soft, yellow foliage and remain relatively shorter.
3. Can-Can
These western arborvitae varieties are suitable as a small hedge plants. They typically grow about eight feet and never outgrow the small space where you plant them. So, if you need an Arborvitae for your small garden, this can be a top pick.
It is a low-maintenance plant that does not need trimming, but if you want a neat look, you can cut them once or twice per year. It is an evergreen plant that stays green around the year. Its foliage is dense and tight, and new tips are typically white.
Such Thuja Plicata cultivars are a suitable pick for containers and specimens. Can-Can is deer and pest resistant. You can grow them in any garden soil, but they thrive in humid regions where other trees do not survive.
4. Excelsa
These western arborvitae varieties are renowned for their beauty. Famous for their conical growth, these evergreen plants see a vast landscape application for windbreaks, hedges, screening, vertical accent, and shelter.
Upon maturity, they get 30 feet high with a 12 feet spread. These Arborvitaes thrive in full sun to partial shade and have a medium growth rate when exposed to the right growing conditions. These native North American species have a lifespan of five decades, and they seek moist soil for thriving.
But, you can plant them in any soil, and they will adapt accordingly. You can consider adding a thick mulch layer around the roots to shield them from the cold.
5. Grune Kugel
Grune Kugel is one of the gems in the western arborvitae varieties. It is an attractive evergreen shrub that develops an egg-shaped mound on the top. These are short-height conifers that grow to four feet and have four feet spread.
They see a vast landscape application for screening, mass planting, general garden use, alpine gardens, and hedges. These are low-maintenance Arborvitaes that are not heavy on pruning. But you can trim them when necessary.
While you prune, tackle only the new growth and not the dieback. Grune Kugel has a slow growth rate and lifespan of five decades. Such shrubs have green foliage, which becomes somewhat purple in the colder temperatures.
It enjoys full sun to partial shade and thrives in moist conditions. Native to North America, Grune Kugel is not particular to any pH or soil type.
6. Stoneham Gold
Thuja Plicata Stoneham Gold is a beautiful conifer. It is one of the low-maintenance thuja plicata cultivars with dark-green inner foliage and orange-yellow foliage on the exterior across the year. These western arborvitae varieties have a slow to medium growth rate, and in a decade, they grow to 1.8 meters.
They are not particular about the soil, and can grow in any soil type, provided it is well-drained. So, they thrive in thin chalky, light sandy, alkaline, acidic, or normal soil. Stoneham Gold requires full sun to grow and forms a vast pyramid as they attain maturity. They are cold hardy and need full sun.
7. Whipcord
Native to the Pacific-Northwest of the United States, Whipcord is multi-stemmed but a small shrub, growing as a flattened mound. They have green foliage with fine texture and beautifully arching branches.
These western arborvitae varieties are slow-growing and reach four to five feet in their natural habitat. The shrubs thrive in the USDA hardiness zones five through seven. They are the ideal specimen plants for group plantations, privacy screens, and hedges.
Whipcord grows excellently in fertile, moist, and well-drained soil. It demands full to partial sun for thriving but is intolerant to dry conditions. Also, regularly water them at least once weekly or more in hot conditions.
Related: How fast do arborvitae grow?
8. Sunshine
Sunshine is a beautiful bright, golden ornamental Western Red Cedar with golden foliage during the summers. Widely used as a specimen or a hedge, the Sunshine Thuja Plicata grow between thirty-five and forty-five feet at maturity but eventually grow 50 feet with a 25 feet spread.
These western arborvitae varieties grow well in partial sun to full shade and have a moderate growth rate between six to ten inches a year. These plants need well-drained and slightly sandy soil to grow. You will see them thriving in hardiness zones five through nine. The Evergreen Sunshine Arborvitaes have fine textures and fernlike foliage.
In summers, the older foliage shows golden highlights, and the yellow foliage acquires a rusty brown or orange color in winters. They are sensitive to heart rot and spider mites but rarely get ingested.
9. Virescens
Thuja Plicata Virescens is a conical, tight, and tall tree that grows in USDA hardiness zones five through seven. They are deer-resistant and proliferate in well-drained, moist soil. They need the full or partial sun to thrive.
If exposed to the right growing conditions, they attain a height between 20 and 30 feet with a 9 to 12 feet spread. Virescens are non-flowering, needled evergreen plants that stay green across the year.
They have glossy leaves that glisten in the sun. These Arborvitaes have a medium water requirement and can tolerate black walnut and clay soil. However, they thrive in moist and fertile soil in cool summer climates.
Native to Pacific Northwest, Virescens do not like the dry conditions and find use in the landscapes as windbreaks or screens. They can be grown as large hedges or as beautiful landscape specimens.
10. Zebrina
Zebrina is one of the tall and strong-growing western arborvitae varieties. Like the Western Red Cedar, Zebrina is grown for its spectacular creamy-yellow variegation. It is a narrow tree with a spread between 12 and 15 feet.
Zebrina has a growth rate of 30 cm per year and reaches 12 feet in a decade. At maturity, it is about 40 feet high. They thrive in USDA hardiness zone 7. Its foliage is yellow zebra-like stripes, which later become more white striped, which is how it gets its name. The plant needs partial shade to full sun to thrive. It is a specimen plant in the landscape used for hedging.
Related: How to save brown arborvitae | Arborvitae care guide | Eastern Red Cedar Types
Frequently Asked Questions
Ques 1. What is the Thuja Plicata cultivars' growth rate?
Ans. Thuja Plicata has a high growth rate and usually grows two to three feet a year.
Ques 2. Do these cultivars grow tall?
Ans. Typically, the Thuja Plicata varieties are narrow and conical. They have a fast growth rate and usually get elegant and tall. However, most reach a maximum height between 40 and 50 feet in their native environment. They show less growth rate in urban settings and usually grow only between 10 and 12 feet.