6 Best Compost Tea Maker For Home and Large Scale Use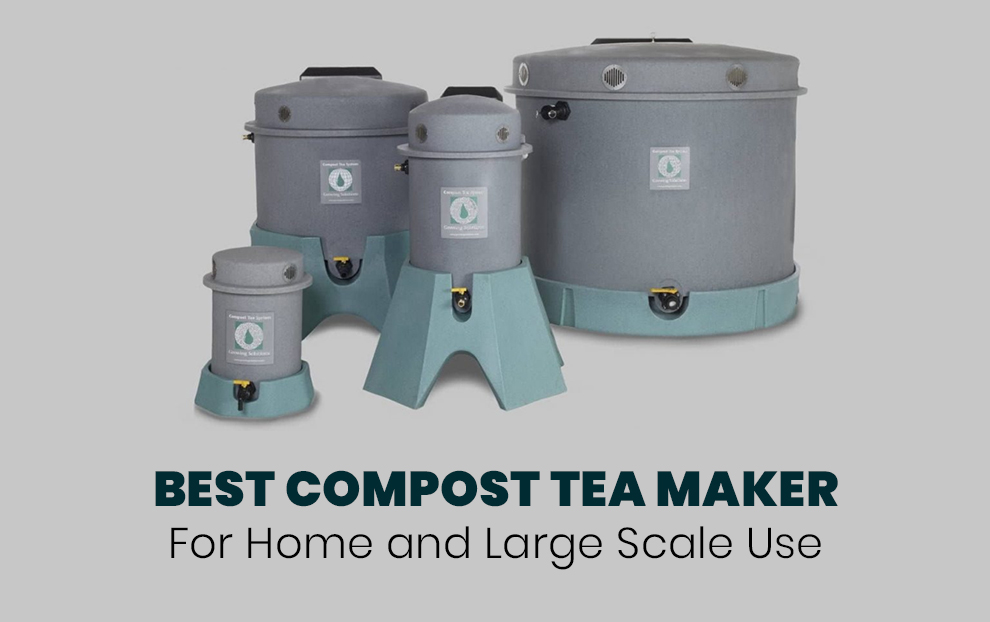 If you want your vegetation to be stronger, bear hearty fruits, ripen faster, and grow in all their glory, enriching them with the magical elixir called compost tea can give you the desired results. A compost tea brewing machine is what makes or brews this tea for you. While you can create your own DIY brewers, you may or may not be able to extract all the beneficial microorganisms from the compost that will invigorate your plants. To help you get the most out of your compost, investing in an ideal aerated compost tea brewing machine can be a wise idea. The market is flooded with hundreds of beginner compost tea kits as well as commercial compost brewers that can help you churn out different quantities of compost tea based on your requirement.
If you are new to this skill and are looking for the best compost tea makers for your garden, you need to search no further. In this compost brewer guide, we will take you through the features, pros, and cons of some of the bestselling compost tea kits available in the market. We will also address the common queries related to compost tea and guide you on how to select the best kit for home or commercial purposes. But before we respond to any of these, let us understand what compost tea is and why you must use it to supercharge your garden.
What Is Compost Tea?
Compost tea is a powerful concoction of microorganisms that, when added to the soil of growing plants, can replenish them with all the required minerals and nutrition and help them thrive. While compost tea has the same benefits as adding regular compost to the soil, it is able to percolate deeper to the roots and can even be used as a foliage spray to protect the plants from pests. Compost tea can be extremely beneficial if you are trying to grow your own fruits and vegetables.
However, making a perfect compost brew requires skills and experience, such as ensuring that the water stays completely aerated throughout the brewing process to allow the microorganisms to breathe and multiply. You also need the right equipment and the right kind of compost to create the perfect blend. An easier way to make compost tea is to invest in a compost tea machine.
If you don't have time to go through our detailed review, here are our top picks for the best compost tea makers under different categories.
At A Glance: Best Compost Tea Machines
Table of Contents
Best 6 Compost Tea Kits Compared
1. TeaLAB's Complete Compost Tea Brewer Kit
Best Overall Choice
If you will be trying your hands on producing compost tea for the first time, the Complete Compost Tea Brewer Kit from TeaLAB is the perfect beginner kit that has everything required for the process.  Developed by a group of gardeners in the Northern California Coastal mountains, this compost brewer includes a brew bag, a BubbleSnake aerator, compost cubes, FishBall activator, insect frass, 5:2 humic acid and kelp extract, the pump, bucket, hoses, and the rest of the fittings.
The reason why we consider this brewer one of the best compost tea brewers is because of its powerful commercial-grade air pump, and instead of the commonly found air stones in worm tea brewers, this model has a specially designed BubbleSnake aerator. This aerator, along with the pump, creates extra-large bubbles to keep the oxygen levels high in the compost, which allows the microorganisms to thrive in the compost tea.
The TeaLAB compost tea kit also comes with two LifeCube compost cubes that you can use to brew your first two batches of homemade compost tea. Each cube of this compost tea maker can give you five gallons of nutrient-rich compost tea that you can dilute with water to prepare 20-25 gallons of liquid fertilizer. Another feature that makes this compost brewer a popular kit in the market is its durable brew bag which is strong enough to run several brewing cycles.
What more? This compost brewer also comes with a chlorine tester which comes in handy to test the quality of water before you begin the brewing process. While this complete compost tea kit is one of the bestsellers in the market, the only downside is the lack of any instruction manual along with the kit. Installing the composter can therefore become a challenge for the newbies. However, the company has tried to fill this gap with its excellent customer service. Other than that, this all-inclusive brewer is perfect to begin brewing your own nutritious compost tea.
Specifications
Capacity: 5 gallons
Dimensions: 12 x 12 x 16 inches
Coverage area: 1/4 acre
Weight: 10 lbs
Air pump: 714 GPH 20 watts
BubbleSnake aerator
Chlorine tester kit included
What We Liked
It has everything you need to begin the brewing process
The BubbleSnake aerator doesn't clog and works better than air stones to produce larger bubbles, and provides maximum aeration.
It comes with a highly durable brew bag that lasts several brewing cycles
Built to last quality
Includes a chlorine test kit to check if the water is fit for brewing
What Could Be Improved
The commercial-grade pump is a bit noisy. Some users may prefer other compost brewers for silent operation.
This compost tea brewer kit does not come with an instruction manual.
2. Growing Solutions GSIS10 Compost Tea System Plant Nutrient
Most High-Tech Compost Brewer
If you are ready to spend more and want to get home a high-tech compost tea maker, the Growing Solutions Compost Tea Brewer has some excellent specs to offer. This model is slightly superior to the other DIY-like compost tea kits available in the market due to its technology, robust design and top-quality material used for its construction. Its concealed design also doesn't allow harmful bacteria or fungi to affect the quality of your compost tea. This model is considered one of the best compost tea brewers in the market primarily because of its innovative Bubble Fine technology. This composter contains an engineered disc with 4000 perforations (1 mm each) with one-way air valves. These holes ensure that the maximum oxygen is supplied and distributed uniformly to the microorganism present in the compost mix. This technology eliminates the need to stir the tea manually for proper aeration. All you need to do is set up the brewer, and it will take care of the rest.
The second noteworthy feature of this compost tea kit is its custom-made basket tray that holds the compost or worm castings right above the aeration disc to ensure that maximum oxygen reaches every part of the mix. This compost brewer comes with a spigot that helps to conveniently pour out the tea for use. The tank is also convenient to clean. While other worm tea brewers take around three days for the brewing process, this model can do the same in just 24 hours.
Talking about the drawbacks of this compost tea maker, firstly, it does not come with a tea starter kit, so you will have to purchase the compost and catalysts separately. Secondly, it is pricy. This worm tea brewer is way more expensive than the average compost tea machine. However, its built quality, high-end features, hassle-free performance, and the quality of tea produced rightly justify its expensive price tag. So if you want to invest in the best compost tea brewer, the Growing Solutions Compost Tea System should definitely be on your list.
Specifications
Capacity: 10 gallons
Dimensions: 20 x 20 x 28 inches
Coverage area: 1/2 acre
Weight: 27 lbs
Patented Fine Bubble Diffusion technology
What We Liked
Patented aeration process that increases the oxygen level manifolds without the holes getting clogged
Reliable construction with industrial-grade components
A convenient spigot to pour out the compost tea without creating a mess
Easy to clean as the brewer easily comes off
What Could Be Improved
Quite expensive product compared to other brewers
It doesn't include a starter tea mix despite being highly-priced.
3. Progress Earth Organics Vortex Brewer 85 Gallon
Best Commercial Compost Brewer
If you own a farm, nursery, or need to maintain a massive outdoor landscape or retail garden, you will need a commercial compost tea brewer that can churn out larger quantities of quality compost tea. The Progress Earth Organics vortex compost tea brewer is capable of producing 85 gallons of compost tea that can cover an area of approx. four acres with a single brew. One of the stand-out features of this best compost tea brewer is that it can brew 24 hours a day without the need for a water pump. This continuous brewing capability is achieved due to its unique method of biological activation that uses air to create a vortex. This, in turn, creates a vortexial water current that actively blends and aerates the mixture to enliven it with essential microorganisms.
Made with food-grade components, this vortex compost tea brewer can also be used as a mixer for hydrophonic and gardening nutrient solutions. In fact, the company claims that this worm tea brewer can even be used for revitalizing your drinking water. This compost tea kit can be used to its true potential by using the Genesis earth compound as the biological inoculant and Earth tonic as the mineral catalyst, both included in the package.
This large scale compost tea brewer also comes with Earth Kelp and Earth syrup as microbe food, Storch oil that works as a defoamer, and a 6-inch premium applicator hose. The quantities of all these components are enough to give you two complete brews. The unit is delivered plumped and ready to be used. If a large capacity compost brewer is what you are looking for, Progress Earth Organics is the perfect fit.
Specifications
Capacity: 85 gallons
Dimensions: 45 x 57 x 45 inches
Coverage area: 4 acre
Weight: 150 lbs
Vortexial compost brewer with no water pump
Powered by a 10 watts air pump to create the water current
What We Liked
Made of food-grade material
Extraordinarily large capacity
The package includes the catalyst and activators
Can function 24 hours a day without a water pump
Quiet functioning
What Could Be Improved
Occupies a lot of space
Heavy and difficult to move around
It is quite expensive; hence it is best suited for commercial purposes
4. Envirocycle Composting Tumbler Bin and Compost Tea Maker
Amongst all the top-selling compost makers, one model that really caught our eye is the Envirocycle composter compost tea maker. This composter was, in fact, the first model built to collect liquid compost tea as well as create a solid compost pile. With a sleek and modern design, this 2 in 1 model is not only the most gorgeous looking worm tea brewers but is built to last for many years. In fact, its fashionable and compact design makes it ideal to be placed on a deck, patio, or even on the balcony. And despite its sophisticated look, this compost brewer works just as well as any other composter.
Made from post-consumer and post-industrial recycled plastic, this compost tea machine is also one of the eco-friendliest models out there. Its interlocked design seals the lid perfectly to keep the ingredients safe from outside forces. This compost tea kit is food safe, BPA and rust-free, and made of UV and antioxidant protected material. All you need to do is give its drum a few turns every week to get a dark, odorless, and nutrient-rich compost tea every 4-6 weeks.
This best compost tea brewer comes pre-assembled and ready to use. Its removable base comes with eight built-in rollers to keep the barrel rolling and help mix in fresh oxygen with every turn. Its base can collect up to 3.8 gallons of compost tea, and the main unit has a capacity to hold up to seven cubic feet or 53 gallons of compost tea mix. All-in-all, a great-looking compost tea brewer for sale with outstanding durability and cute looks. Brownie points to the manufacturer for also making it in hot pink color.
Specifications
Capacity: 7 cubic feet/53 gallons
Dimensions: 25.4 x 21.5 x 27.7 inches
Weight: 22 lbs
Food safe, BPA, and rust-free
Made of recycled plastic
What We Liked
Compact design that is easy to move around
Can create both solid compost and liquid compost tea
It has an impressive drainage system in the wheel cavities to collect the liquid while rotating the composter.
The design is rodent-proof, and no odor seeps out
It doesn't require water to begin the composting process. It needs 75% green waste and 25% brown organic waste.
Durable construction that will last for more than ten years
The composter design has deep hand groves, which make it easier to roll the barrel and also carry the composter around.
The company offers excellent customer service.
What Could Be Improved
Some customers complain that bugs and small insects are able to enter the compost tea maker.
5. Flo-n-Gro Compost Tea Brewing System
If you are searching for a fuss-free and easy-to-use complete compost brewing device, the Flo-n-Gro is a cheap and reliable option. This compost tea brewer kit comprises a 3-gallon tea brewer, air pump with hose, an Eco 185 submersible pump, fountain kit, and two air stones. Designed in collaboration with Xtreme Gardening, this worm tea brewer also comes with two tea kits to give you your first two batches of compost tea. The brew bucket included in this package is BPA-free and made of polypropylene plastic which is fully recyclable. Another nifty feature of this compost tea brewer kit is the drip-free spigot that makes it easier to dispense out tea doses.
The fountain is designed to contain the foam and also to keep the compost tea fully aerated and well agitated. The air stones that come with this compost tea kit are also quite efficient to maximize the amount of dissolved oxygen in the basket. Plus, you can adjust the flow of bubbles through the stones with the help of the pump. The instruction manual provided by the manufacturer is simple and easy to follow. The only thing lacking in this compost tea brewer kit is the brewing bag.
If you plan to use your own compost, you will need to purchase a brewing bag separately. This compost tea machine will last for several batches, provided you wash and clean it thoroughly after every cycle. If you need to prepare small batches of compost tea for your backyard, this compost tea kit should suffice.
Specifications
Capacity: 3 gallons
Dimensions: 10.1 x 10.3 x 14.6 inches
Weight: 6 lbs
BPA free and recyclable
All-inclusive compost tea maker
What We Liked
Easy to use
Drip-free dispensing spigot
A high-quality pump and fountain that keeps your tea well oxygenated
Includes two tea brewing starter kits
Includes everything you need to begin brewing compost tea
What Could Be Improved
The material of the brew basket is a bit flimsy
Very basic compost tea kit. It is as good as making a DIY kit at home.
6. Volcano 30 Gallon Compost Tea Brewer
The Volcano 30 Gallon Composters is another large scale compost tea brewer that you can purchase for commercial purposes or for bigger gardens. As the name suggests, this compost tea maker has a capacity of brewing 30 gallons of compost tea in a single brew cycle which can cover an area of up to 1.5 acres. Though quite hefty in size, this compost brewer is easy to clean and maintain. Every component included in this worm tea brewer connects via cam locks. Hence it can be assembled and disassembled in minutes. The Volcano 30 comes with a 110 LMP air pump that can boost the oxygen level in the water to over 8.3 PPM in under 15 minutes. The pump is also famous for its ultra-quiet functioning, despite supporting a massive brewer.
Similar to the Progress Earth Organics, this commercial compost tea brewer also has a whirlpool design with a cone-shaped bottom to pour out the tea. Another small but useful addition is that this model has all the instructions provided on the side, which comes in handy while using the brewer for the first time. In addition to the components, this compost tea kit also comes with a brew bag, organic tea, and insect frass to aid the brewing process. This best compost tea brewer also meets NSF/ANSI standards of sanitation and food safety.
Specifications
Capacity: 30 gallons
Dimensions: 24 x 24 x 48 inches
Coverage area: 1.5 acres
Weight: 75 lbs
110 LPM air pump
Cam Lock System
Includes 10 lb Kit Synergy organic tea and 8 lb Synergy insect frass
Includes 400 Micron nylon brew bag
What We Liked
Sturdy stainless steel lower unit
Comes with starter kit
Quiet air pump
Easy to dismantle for cleaning
What Could Be Improved
It is an expensive compost brewer
Occupies large space, fairly bulky
How To Use Compost Tea?
Compost tea can either be diluted and added to the soil bed or used undiluted as a foliage spray. A 5-gallon brew is sufficient to cover an acre of garden area. So you do not need to produce compost tea in large quantities for household use. To use the potion as a soil fertilizer, you can dilute it with water in the ratio of 1:4 or 1:10. Supply this solution to the soil using a sprayer or watering can. In order to see results, you will have to use it more than once, preferably bi-weekly.
Benefits Of Compost Tea
Mentioned below are some of the perks of brewing your own compost tea and using it on your plants.
It works as a broad spectrum organic fertilizer beneficial for the microorganisms in the soil as well as the plants. Compost tea is also one of the best fertilizers for citrus trees.
Increases plant nutrient uptake, resulting in bigger and healthier foliage and fruits
Increases the population of mycorrhizal fungi and predatory nematodes in the soil that defend plants against different pathogens
Reduces pests and prevents plant diseases
Boosts water and nutrient retention in the soil
Breaks down toxins accumulated in the soil and on plant leaves
How To Choose A Compost Tea Brewing Machine?
If you are planning to purchase a compost tea brewer kit, here are the things you need to consider.
Capacity and Coverage Area
Probably the first thing that you should be looking at is the capacity of the compost tea maker. A 3-5-gallon compost tea brewer for sale is ideal for small gardens. If you need the brewer for commercial purposes, the large-scale compost brewers are capable of producing 30-1000 gallons of tea per cycle. Do remember that the compost tea will be diluted with water; therefore, also enquire about the area that the tea can cover.
Pump
If your shortlisted worm tea brewer uses a pump, make sure that it is less noisy and also durable. The pump should be able to supply enough oxygen to the mix to keep the tea sufficiently aerated.
Air Stones
Check the quality and the number of air stones provided in the kit. Several manufactures have also replaced the traditional air stones with their patented tubes and discs. Make sure that in either case, the holes of the stones, tubes, or discs don't get clogged and reduce the oxygen supply.
Brew Bag
Check whether the kit comes with a brew bag and also its durability. In some cases, you may need to buy the bag separately.
Spigot
Spigots can be a handy feature that allows you to pour out the tea without spilling or creating a mess.
Brew time
While some worm tea brewers can give results in 24 hours, others may take a few days or weeks. Some models can produce compost tea throughout the day. So check the brew time of each model before making the purchase.
Prices
You must be certain about how much you are willing to spend on a compost tea machine. While the basic compost tea kits can start from $100, the commercial-grade units can cost thousands of dollars.
Things Included
Also, check the other things provided in the kit, such as a chlorine testing kit, insect frass, activators, etc.
Frequently Asked Questions
Ques1: What is aerated compost tea?
Ans. Aerated compost tea is a regular compost tea that is supplied with enough oxygen to multiply the good microorganisms inside the compost and prevent the growth of bad bacteria.
Ques2: Can compost tea go bad?
Ans: Theoretically, compost tea cannot go bad as there is no chemical reaction taking place to alter the nutrients present in the concoction. Good compost tea should smell earthy and yeasty. However, if your compost tea gives off an odor, something must have gone wrong during the brewing process.
Ques3: Can I use compost tea every day?
Ans: Ideally, compost tea should be applied every 14 to 30 days. But there is nothing as too much compost tea. You can certainly use it on a daily basis, provided it does not have a high nitrogen content. In that case, it can burn your plants.
Ques4: Is anaerobic compost tea bad?
Ans: Anaerobic compost can have environmental implications if it is not given sufficient time to ferment and break down. In such a case, the resulting liquid can contain harmful pathogens. While the by-products of aerobic compost are water, heat, and carbon dioxide, anaerobic decay can produce potent greenhouse gases such as methane.
Ques5: Why does the compost tea start foaming?
Ans: Foaming of compost tea can result from adding fish hydrolysate and other organic acids. If it does happen, take it as a positive sign. It confirms the presence of free proteins, carbs, and amino acids.
Conclusion
Compost tea is truly a potent elixir for revitalizing your plants. If you haven't used it before, now would be a good time to try it out, simply because of the magic that it can do with your greens. We hope that these compost tea kit reviews will help you in selecting the best model to meet your requirements. Have fun brewing your next perfect cup/bucket of compost tea.
If you are interested in more gardening DIYs, do check out our article on how to build shadow box fence.