How To Care for A Jacaranda Tree – Complete Jacaranda Care Guide
Jacaranda prefers to grow in warm humid conditions, full sun, and well-drained rich soil. It also needs sufficient ground to grow and spread.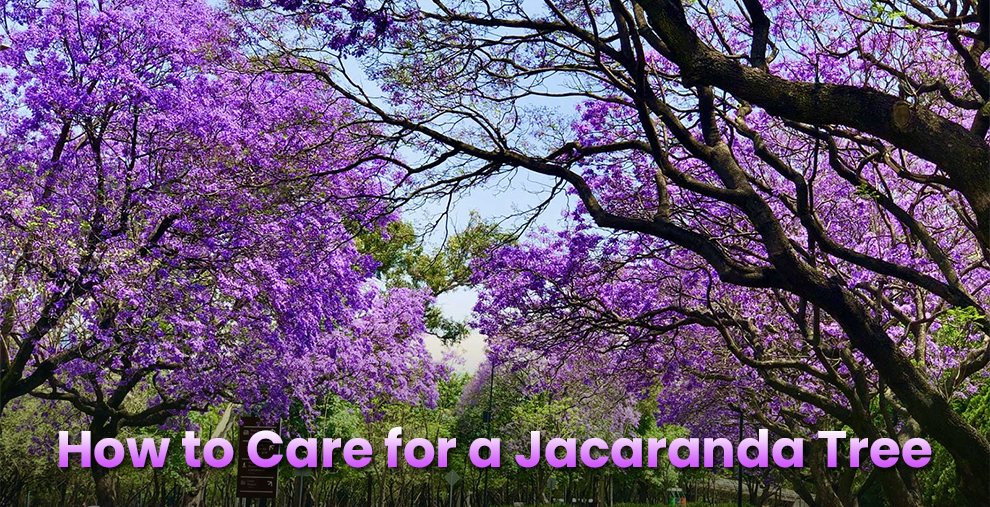 Although the Jacaranda tree is tough and resilient, it does require some care and maintenance to keep it healthy and looking its best. In this guide, we will cover everything you need to know about Jacaranda tree care, from watering and fertilizing to pruning and pest control.
The most important thing to keep in mind when caring for a Jacaranda tree is giving it ample space to grow. It is not only important, but it is non-negotiable.
It is also necessary to water the tree regularly, especially during the hot summer months because Jacarandas require a lot of water to grow properly.
The tree will also need to be fertilized at least twice a year and pruned periodically to prevent it from getting too big and also to maintain its shape.
With a little care and attention, your Jacaranda tree will thrive for years and provide you with years of blossomy site.
How To Care For A Jacaranda Tree?
The Jacaranda tree is a fast-growing beautiful tree that is native to South America. The tree can grow up to 30-40 feet tall and has beautiful, fragrant flowers that bloom in the spring. The Jacaranda tree is a great addition to any landscape and can provide shade and beauty for years to come.
Let us have a detailed look at the specific requirements for the healthy growth of a Jacaranda tree variety.
1. Preferred Location for the Growth of Jacaranda Trees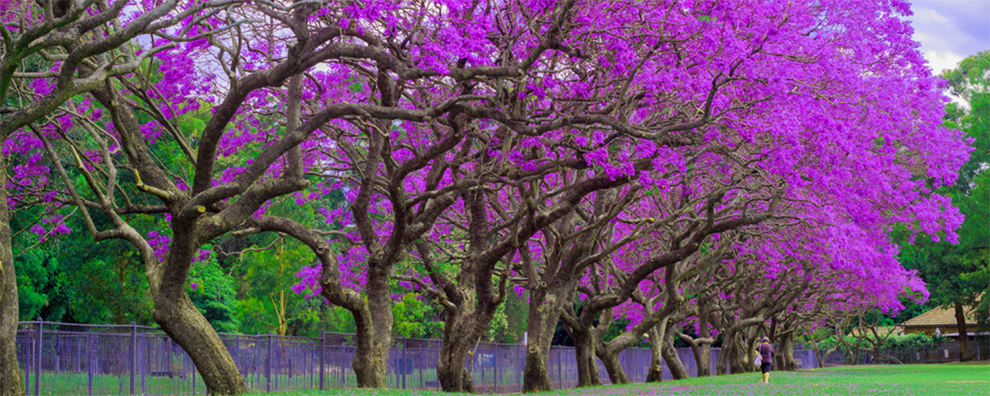 Make sure to plant your Jacaranda tree in a sunny location. Jacaranda trees prefer full sun and thrive when it receives 10 to 12 hours of sunlight per day, but they are able to tolerate some amount of shade as well.
As mentioned previously, Jacarandas are not suited to small gardens. Therefore, remember to place your Jacaranda trees in large backyards with ample amount of space.
Jacarandas are native to subtropical and tropical regions of Central and South America, Mexico, and the Caribbean. They grow best in warm climates with high humidity and ample rainfall.
2. What Type of Soil Do Jacaranda Trees Like?
For Jacaranda tree care you must plant the trees in well-drained, rich, and sandy soil. Over time, Jacarandas have adapted themselves to almost all soil types except extremely sandy soils or waterlogged soils with poor drainage.
The pH of the soil in which the Jacaranda tree grows should be either neutral or slightly acidic (the pH of the soil should range between 6 to 7.5). Make sure you do not plant a Jacaranda tree in alkaline soil as that will stunt its growth.
You can consider adding organic matter to the soil before planting the tree to help improve the drainage of the soil.
3. Water Requirements of Jacaranda Trees

 
Although Jacaranda trees do not require a lot of water after germinating, you need to remember to water Jacaranda trees periodically without fail. Jacaranda trees usually require about 1 inch of water per week.
During extremely dry bouts, you can increase the amount of water to 2 inches per week. Jacaranda trees are dormant during winter months. Therefore, they need very little water during winter. They are drought-tolerant and can go months without water.
If you live in an area with regular rainfall, your Jacaranda tree will likely get all the water it needs from the rain. If you live in an area with little or no rainfall, you may need to give your Jacaranda tree a deep watering once every few weeks.
4. Light, Temperature, and Humidity Conditions for Jacaranda Trees

 
Jacaranda trees prefer a lot of sunlight throughout the day. They thrive in temperatures ranging from 32 degrees Fahrenheit to 27 degrees Fahrenheit but can tolerate as low as 20 degrees Fahrenheit.
These plants prefer warm and humid weather conditions. Since, Jacaranda care includes humid conditions, if you live in a dry climate, you may need to mist the leaves regularly. The trees are also sensitive to cold temperatures and should be protected from frost.
5. What Type of Fertilizers Do Jacarandas Prefer?

 
Fertilize your Jacaranda tree in the spring with a slow-release fertilizer. Jacarandas require a high phosphorus fertilizer for best blooming. A fertilizer with a ratio of 8-10-8 or 10-10-10 is ideal.
Apply the fertilizer in early spring and again in mid-summer. Some natural fertilizers that can be used for Jacaranda trees are compost, manure, and blood meal.
Compost is a great option because it provides a slow release of nutrients and can help improve the soil structure. Manure is also a good choice, but it is important to make sure it is well-rotted so that it doesn't burn the roots.
 
A blood meal is a high-nitrogen fertilizer that can be used to give trees a boost of growth.
6. How and When Should Jacaranda Trees be Pruned?

 
Prune your Jacaranda tree as needed to shape it and remove any dead or damaged branches. The main parts of the Jacaranda tree that should be pruned are the roots while transplanting and the trunk.
The roots can be pruned by cutting out the damaged one, and the trunk can be pruned by removing any branches that are growing too close to the ground or that are growing in an undesired direction.
For the first 15 years, clip any competing trunks at the base every three years to maintain a single trunk. Thin the canopy to encourage the growth of stronger branches, cutting crossing branches and those at odd angles, but never more than 20% of the growth.
Only cut just outside the branch collar in the dead of winter. Poor pruning causes unsightly vertical growth.
7. Mulching Jacaranda Trees

 
For proper Jacaranda care, mulching around Jacaranda trees is beneficial, as it helps to suppress weeds and retain moisture in the soil.
A layer of organic mulch, such as wood chips or bark, applied around the base of the tree will do the trick. Mulching Jacaranda trees is important to their health and vigor.
It helps to keep the roots cool and moist, and also provides essential nutrients. The best time to mulch is in early spring before the trees begin to bud.
Use a thick layer of organic mulch, such as bark or wood chips. Apply the mulch around the base of the tree, taking care not to pile it too high against the trunk.
Do Jacaranda Trees Suffer From Pests and Diseases?

 
Jacaranda trees can suffer from a variety of pests and diseases. Some of the most common include aphids, scale, mealybugs, whiteflies, and spider mites. These pests can cause leaf damage, stunted growth, and even death in severe cases.
Additionally, jacaranda trees are susceptible to several fungal diseases, such as powdery mildew, leaf spot, and root rot. These diseases can also lead to leaf damage, stunted growth, and even death.
Some potential methods for treating diseases on jacaranda trees include pruning away affected areas, applying fungicides or insecticides, and increasing air circulation around the tree.
There are a few things you can do to get rid of pests like aphids, scale, and mealybugs on your Jacaranda tree.
One option is to use a strong stream of water to blast them off the tree. You can also use insecticidal soap or horticultural oil to kill the pests.
Be sure to follow the directions on the label carefully. Another option is to hire a professional pest control company to treat your tree.
FAQs
Q. What grows best with jacaranda trees?
Ans. Some plants that grow well under Jacaranda trees include ferns, violets, and pothos. Ferns and violets grow well under Jacarandas because they thrive in shady, humid conditions.
The dense canopy of a Jacaranda tree creates the perfect environment for ferns to prosper. You can also combine a jacaranda with silky oak's vermillion blossoms or the Illawarra flame tree's bunches of bright-red ornaments. Plant all three for a royal flush of gold, purple, and crimson in the spring.
Q. Can you cut the top of a jacaranda tree?
Ans. Yes, you can choose to cut the top of a Jacaranda tree in order to prune it and prevent it from growing too big. However, pruning the top of a Jacaranda tree is not generally recommended as it can encourage downward growth, which is often undesirable.
Q. How do you overwater a jacaranda?
Ans. Standard Jacaranda tree care guides dictate that you cannot afford to overwater Jacaranda trees. Jacarandas on average just need about an inch of water every week during the spring and just an inch of water every two weeks during the winters when the plant is dormant and anything more than that may result in overwatering.
Remember to water around the drip line, and not at the base of the trunk, where rain naturally falls from the outer branches. Watering the trunk may encourage fungal diseases.
Apply a layer of mulch around the tree to retain moisture and keep the roots cool; however, keep the mulch away from the trunk. Concerning fungal diseases make certain that the tree's crown is not immersed in a hole that may hold water, resulting in crown rot.
Q. How many years does it take for a jacaranda to flower?
Ans. Jacaranda trees have a long lifespan. Although the timeline to flower may vary among different species. It usually takes Jacarandas four to six years on average to bloom and produce vibrant colored flowers that are decorative for your backyard.
Q. How much space do Jacarandas need to grow?
Ans. Plant your Jacaranda tree in a hole that is twice as wide and just as deep as the tree's root ball. Jacaranda trees require at least 10 feet of space to mature. They will not do well in crowded areas where their roots are constantly competing for space and resources.
If you are planting multiple Jacaranda trees, make sure to space them out accordingly to give each one room to grow.
To Sum Up…
Hope you now have clarity on Jacaranda tree care. That is, what kind of soil they prefer, what type of fertilizer they should use, whether you should trim and prune the plant seasonally, and so on.
In conclusion, the best way to care for a Jacaranda tree is to give it full sun, water it regularly, and fertilize it yearly. With proper care, your Jacaranda tree will thrive and provide you with beautiful blooms for many years to come.
With vibrant ornamental flowers that bloom throughout the winter to the spring season, it's time to bring your garden full circle with Jacaranda plants now that you know all about Jacaranda trees.